You've done your research and located the hiring manager for your target role. You want to make a good first impression and not risk harming your chances for an interview. So, now you're wondering, "How do I introduce myself to a hiring manager on LinkedIn?" In this article, I'm sharing the best way to introduce yourself to a hiring manager.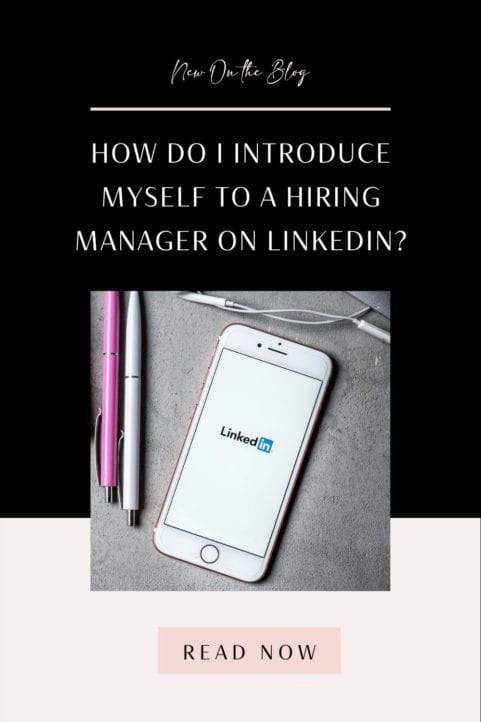 Follow Them First and Engage with Their Posts
Hopefully, you're networking in advance of your next career move, but often that's not the case. If you've seen a position online that you're interested in and you want to contact the hiring manager, you may not have the luxury of time to build a relationship with the hiring manager.
My first recommendation is to find the hiring manager on LinkedIn and follow them. Anyone can follow someone else and see their posts and status updates. You can then comment on their posts and updates. Go ahead and follow them, and if they've shared any updates recently take a few minutes to add an insightful comment.
If time is on your side, take a week or two to follow and engage before sending a connection request with a personal note. If you don't have the luxury of time because the position is already online, the close date is quickly approaching, or you need to make a move now, then skip taking a couple of weeks of engaging with their posts. Go ahead and follow and comment on their posts but head to the next step.
Send a Connection Request with a Personal Note
As I mentioned in the last tip, if you're applying to a position that's open now, the close date is quickly approaching, or you're looking to make your next career move now, then go ahead and send the hiring manager a connection request with a personal note.
If they accept your connection request, then you can send a longer message which I'll cover in the next tip.
If they don't accept your connection request within a few days, try following up with them or finding alternative ways to connect with them.
If they're sharing status updates to LinkedIn regularly, continue engaging with them. You may also be able to find them on Twitter. I know several executive recruiters and search firms who post all their openings to Twitter and direct candidates to their Twitter profile.
Another option is to use an email search tool like Mailscoop.io to locate the hiring manager's work email and send them a message that way. You can also use an email tracking app like Mailtrack.io to view when they've opened your email. This will let you know when they read your message and so you'll know when to follow up with them.
Message Them Regarding Your Interest in the Role
Once you've sent them a connection request on LinkedIn and they've accepted it, follow up with a message. Here are some tips to help you with writing a message to the hiring manager.
Keep it brief—hiring managers are incredibly busy and a lengthy message is less likely to be read. A paragraph or two is ideal.
Outline your interest and fit for the role—mention the position you applied or want to apply for that you saw posted online. Briefly point to your experience or accomplishments that align with the role, and any values alignment there may be between yourself and the company. State your excitement/interest in the position and company.
Not all hiring managers will respond. Do not lose heart. This is the time for perseverance and persistence. Follow up with them. Sometimes hiring managers get busy and forget to respond to an email. It happens to all of us.
Be the squeaky wheel. Follow up in a week or two. In the meantime, continue engaging with their posts and search for others within the company that you can also connect and build a relationship with. The person in the current role, the decision-maker, and past employees are all great options for connections and relationship building.
If you need more help connecting with hiring managers, check out The Complete Guide to Connecting with Hiring Managers in our product shop. It covers how to find the hiring manager on LinkedIn, including a video tutorial, three email templates for reaching out to hiring managers, and how to network with hiring managers.
If you're mid job search and wondering if it's OK to connect with the hiring manager on LinkedIn, you must read this recent article where I am answering this question and also discussing:
How to find the hiring manager on LinkedIn.
The best ways to connect with the hiring manager.
You can read the article here: Is It OK to Connect with the Hiring Manager on LinkedIn?
Also check out: How to Connect with Hiring Managers and Land Your Next Role Faster.
I would love to connect and continue the conversation on LinkedIn. You can send me an invite here.
Jessica Hernandez, President, CEO & Founder of Great Resumes Fast
Hi, I'm Jessica. I started this company back in 2008 after more than a decade directing hiring practices at Fortune 500 companies.
What started as a side hustle (before that was even a word!) helping friends of friends with their resumes has now grown into a company that serves hundreds of happy clients a year. But the personal touch? I've kept that.
You might have seen me featured as a resume expert in publications like Forbes, Fast Company, and Fortune. And in 2020, I was honored to be named as a LinkedIn Top Voice of the year!
I'm so glad you're here, and I can't wait to help you find your next perfect-fit position!
Will your resume impress employers? Take this 2-minute quiz to find out.
Get your personalized plan for a resume that stands out and lands you your dream job!
Need a little help getting hiring managers to take notice? Find out what's standing between you and those magic words "You're exactly who we've been looking for!"