What Most Job Seekers Get Wrong About LinkedIn (Plus, What to do Instead)
Did you know that using LinkedIn as a resume placeholder is likely costing you interviews and job offers? It also restricts your network growth and visibility to recruiters. 99% of job seekers aren't using LinkedIn's 50+ tools and features to accelerate their job search. Are you one of them?
After teaching 600+ job seekers last year, I've found that most people have a sense that there's more they could do to leverage LinkedIn; they just don't know how or what that looks like.
In this post, you'll learn why using LinkedIn as a resume placeholder hinders your job search and discover five new features you can take advantage of to double your interview invitations from recruiters, grow your network 4x, and connect with hiring managers.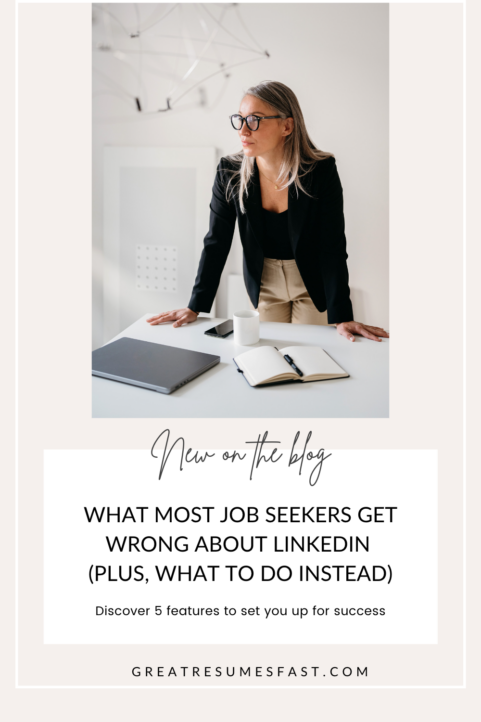 If you want to discover how to message hiring managers so they'll actually respond and how to utilize the other 50+ features LinkedIn has to leverage in your job search, I teach these topics as part of my LinkedIn Unlocked Course.
Are you using LinkedIn as a resume placeholder?
Karen, a Communications Manager, was using LinkedIn as a resume placeholder. She'd been job searching for about 5 months and received no interest, interviews, or offers. Manley, a Sr. Technology Program Manager, used LinkedIn more like Facebook or Twitter — to keep up with colleagues. Both Karen and Manley had a sense there was more they could be doing to make their time on LinkedIn even more effective. They just weren't sure what that looked like.
Using LinkedIn as a resume placeholder costs you interviews, job offers, and visibility with recruiters. It also leaves the hidden job market untapped and fails to give you the best advantage in your job search. Did you know 8 people are hired on LinkedIn every minute in 2023? And that's not coming only from job postings.
There are a whole host of roles that are never posted to LinkedIn's Jobs page, which people are hired for through LinkedIn. LinkedIn users are sought out and contacted by recruiters who use LinkedIn as one large candidate database. There are roles that people share on their LinkedIn feed. Recruiters even post about roles they're hiring for in their LinkedIn headlines, profiles, groups, and status updates.
Here's the thing…if you're not actively engaging on LinkedIn, you're missing out on scores of opportunities that other active candidates are snatching up.
It's not just that you're not seeing them. It's that recruiters don't see you. If recruiters don't see your profile, comments, or posts, you're losing job interviews and offers. It doesn't get much worse than that. The opportunities are out there — to the tune of 8 every minute.
Hopefully, I've now convinced you that scrolling through LinkedIn and using it as a resume placeholder is costing you big time. Let's chat about how to fix that, starting with the five features of LinkedIn that will set you up for greater visibility with recruiters so you can start getting interview invitations.
5 features that set you up for job search success on LinkedIn
I used these five hacks to increase my husband's LinkedIn profile views by 8,500% during his first week job searching on LinkedIn. I teach these five hacks to my LinkedIn Unlocked course students, and the results have been equally amazing. Melissa saw a 1,277% increase in profile views, Jacob a 2,000% increase, and some others increased as much as 12,000%. So, let's dive in.
Optimize your LinkedIn profile headline
Your LinkedIn profile headline needs more than just your job title. It is one of the first things that recruiters and potential employers see. To make your LinkedIn profile more visible to employers and recruiters, update your headline. My favorite headline formula is:
𝐓𝐀𝐑𝐆𝐄𝐓 𝐉𝐎𝐁 𝐓𝐈𝐓𝐋𝐄 | 𝟑 𝐇𝐈𝐆𝐇-𝐏𝐑𝐈𝐎𝐑𝐈𝐓𝐘 𝐊𝐄𝐘𝐖𝐎𝐑𝐃𝐒 | 𝐏𝐄𝐑𝐒𝐎𝐍𝐀𝐋 𝐁𝐑𝐀𝐍𝐃𝐈𝐍𝐆 𝐒𝐓𝐀𝐓𝐄𝐌𝐄𝐍𝐓
My husband's headline update landed him an invitation for an interview with a recruiter within 24 hours. When Karen updated her headline using this formula, she saw her profile views triple.
Add at least two positions
LinkedIn reports that many users add job titles and employment dates to their profiles but don't fill in the work experience details. This hampers your prospects of being contacted by recruiters for interviews and by your network about potential opportunities. Adding accomplishments under each position is important. It lets people know what you do and how you do it. This not only helps you stand out to recruiters but also increases the optimization of your profile as LinkedIn parses skills from your profile to alert recruiters as to whether you're qualified for a role. If your work experience doesn't include relevant skills, you're missing out on opportunities to be considered for positions.
Add a professional photo
Adding a photo increases the likelihood of people accepting your connection requests by 9x. Also, LinkedIn states that profiles with photos are 26x more likely to be contacted by a recruiter than those without photos.
Make sure to check your privacy settings to see whether your profile photo is set up so that 1) all LinkedIn members can see it, 2) no one can, 3) only your connections can, or 4) only your network can. If you want to increase the likelihood that recruiters will see it, then it's best to set it to All LinkedIn Members. You can always go back and adjust it after your job search if you prefer more privacy.
Use skills to increase your profile views by 1,000% or more
This is my absolute favorite LinkedIn hack. This is the one that increased my husband's profile views 8,500% and skyrocketed every LinkedIn Unlocked student's profile views by at least 1,000%. Needless to say, it's incredibly potent, and I recommend stopping what you're doing to go try this — right now.
Go to your profile homepage.
Click on the more button.
Select build a resume.
Click on build from profile.
Input your target job title.
LinkedIn will populate your profile in the form of a resume. Our goal isn't to use our profile as a resume, though. Our goal is for LinkedIn to tell us the most important keywords for that target role.
On the right-hand side, you'll see green checkmarks for your skills that match the job title you used.
Below that, you'll see LinkedIn's recommendations for additional keywords.
These are keywords that LinkedIn has culled from the millions of job openings and profiles of people with the same job title. They deem these the most important.
You should see about 10 keyword recommendations if you have a standard profile.
If you have the Premium version of LinkedIn, you can see 15–25, depending on the role and how many keywords you already have that match the job.
Look through the list; if there are any skills that you possess that aren't listed on your profile, make sure that you add them immediately. And obviously, don't add any that you don't possess.
When it comes to skills, you want to ensure that these hard skills are in your headline, summary, position description, and skills section on your profile.
If you place them in these areas, your profile will be optimized for recruiter searches, and your views will increase. You'll start having more people reach out to you about openings.
Leveraging LinkedIn's most powerful feature
The power of LinkedIn is in your engagement and activity on the platform. Read that again.
The power of LinkedIn is in your engagement and activity on the platform.
If you want your network to grow, if you want to be visible to employers, and if you want to attract opportunities to you, then you need to be posting at least three times per week and investing 15–30 minutes actively commenting on your connections' and target company's posts (again, three times per week).
Commenting and engaging:
Increases your network and recruiter visibility, meaning you get more interview invites.
Expands your connections as you receive more connection requests and followers — which increases your network size and visibility with hiring managers.
Creates a stronger and healthier network as you build solid, mutually beneficial relationships with your connections so that your network can lead you to positions that are not posted publicly.
If you're wondering how to be more proactive in your outreach, here are ten opportunities to reach out to your network.
1. Someone viewed your profile. Send them a connection request. LinkedIn will show you if you have mutual connections. This is an open door.
2. Someone sent you an invitation to connect. Message them to say thanks and introduce yourself if you're not familiar with each other.
3. Your invitation to connect is accepted. Follow up with a personalized message to thank them and introduce yourself.
4. Someone in your network posted about a job change. Congratulate them. Make a note to follow up with them in 30 days to see how it's going and possibly ask how they made a successful career move.
5. Contact gets promoted. Message them or comment on their post to congratulate them.
6. It's a contact's birthday. Send them well wishes.
7. It's a contact's work anniversary. Send them well wishes.
8. The contact is mentioned in the news — an awesome way to follow their work.
9. Your connection updated something in their profile — photo, summary, etc. You know who likes to hear that you like their new headshot? Everybody! Just keep it professional. Women do not like to be hit on. "I like your new profile picture, Betty." is acceptable. "I love your new profile picture, Betty. You look gorgeous — great smile!" is unprofessional, and Betty will likely block you.
10. A contact liked your LinkedIn article. Thank them for their support. I really appreciate it when people take the time to like and comment on my articles and newsletters. It lets me know that the advice and information that I'm providing are valuable to people and that my mission of helping others is succeeding.
Everyone enjoys appreciation and gratitude, even in small, simple gestures. Take the time to show appreciation to someone in your network today.
In my LinkedIn Unlocked course, I share twenty other opportunities for authentically connecting with your network and building genuine relationships. Plus, I provide templates for what to say in different scenarios — including trying to connect with hiring managers.
I also teach my system for consistently engaging with my most important connections and colleagues. The strategies I share helped me become a LinkedIn Top Voice and reach 143,000+ followers without chasing the algorithm or trying to "go viral." They've also helped more than 600 job seekers become in-demand candidates fielding multiple interviews and offers.
3 other effective ways to use LinkedIn in your job search
I'm really excited to share these three new LinkedIn features with you. I haven't written about them before as they're brand new to LinkedIn, but all three of them are going to amplify your job search efforts. 
Let recruiters know you're interested
The new "I'm interested" feature lets you indicate interest in working with a specific company by heading to their LinkedIn Company Page and clicking "I'm interested". Once you click "I'm interested," your profile and information is privately shared with the recruiters at the company so they can keep you in mind for future opportunities.
This is one way to get notified about roles before they're ever posted online for the masses. It also helps recruiters build a pipeline of potential candidates who are likely to respond if they reach out about an opening. This new feature is rolling out across the platform in March 2023, so if you don't see it just yet, hang on because it's coming. As soon as I have access, I'll come back to update the article and post an image.
Share your resume with all recruiters
Another great job seeker-friendly feature is "Share your resume with all recruiters." This feature lets the additional information in your saved resumes on LinkedIn be shared with all recruiters. So, let's say not everything from your resume is on your LinkedIn profile — which is perfectly normal because your LinkedIn profile isn't designed to replicate your resume. Any info on the resumes saved to your LinkedIn profile can then be shared with recruiters, which increases your chances of getting noticed.
I see this feature as another way to optimize yourself for visibility and searchability on the platform. I assume this feature will pull out specific skills, company names, and other search data that recruiters use when searching for candidates using LinkedIn Recruiter. In that case, it will benefit you greatly to turn this feature on because it boosts your chances of popping up in search results. This feature just rolled out, so you may or may not have access to it yet.
Once it is rolled out to you, it's easy to access this feature. Go to the Jobs tab, and on the left side, you'll see Application Settings. Click it. The screen below pops up. All you need to do is toggle the feature on.
Complete an ATS-formatting check
Another new feature LinkedIn offers is the ability to check your resume to see if the formatting will play well with Applicant Tracking Systems (ATS). It will alert you if there are any formatting issues, and even lets you go right into the resume builder tool to fix any issues it identifies. Instead of reinventing the wheel here and in the interest of conserving space, I will point you to a brilliant colleague, Kevin Turner's, Youtube video that not only explains this feature but shows you how to perform it. Happy ATS-checking!
If you want to discover how to message hiring managers so they'll actually respond and how to utilize the other 50+ features LinkedIn has to leverage in your job search, I teach these topics as part of my LinkedIn Unlocked Course.
OK, we've covered why LinkedIn isn't a resume placeholder, how to get noticed by recruiters, and three new features to use when job searching on LinkedIn.
If you enjoyed this article and learned something new, please let me know by liking it and commenting below with "helpful" if it was helpful to you. Now that you know how to get more interview invitations, what about doubling your network size or messaging hiring managers? My LinkedIn Unlocked course will help you with that.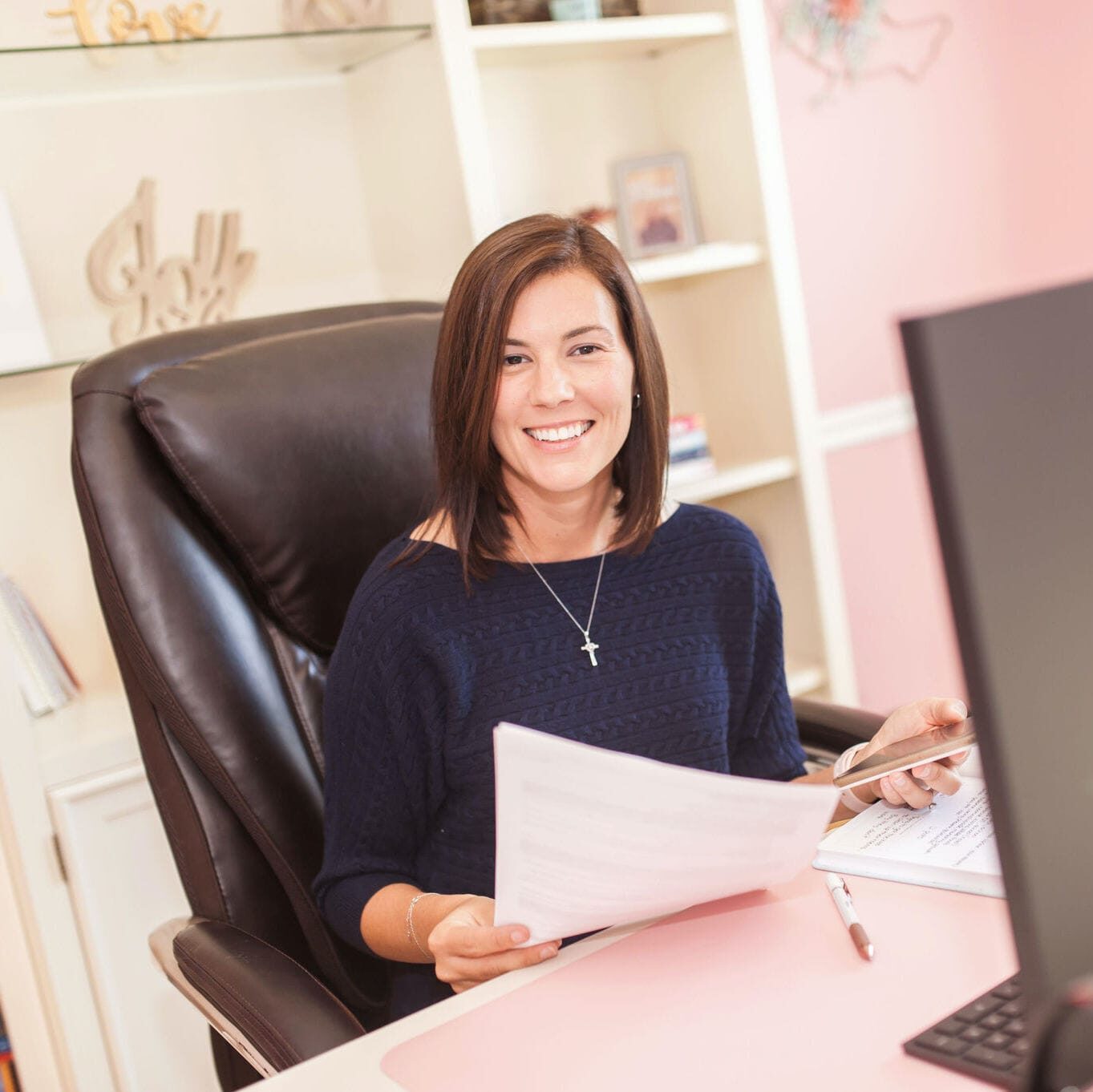 Jessica Hernandez, President, CEO & Founder of Great Resumes Fast
Hi, I'm Jessica. I started this company back in 2008 after more than a decade directing hiring practices at Fortune 500 companies.
What started as a side hustle (before that was even a word!) helping friends of friends with their resumes has now grown into a company that serves hundreds of happy clients a year. But the personal touch? I've kept that.
You might have seen me featured as a resume expert in publications like Forbes, Fast Company, and Fortune. And in 2020, I was honored to be named as a LinkedIn Top Voice of the year!
I'm so glad you're here, and I can't wait to help you find your next perfect-fit position!
Will your resume impress employers? Take this 2-minute quiz to find out.
Get your personalized plan for a resume that stands out and lands you your dream job!
Need a little help getting hiring managers to take notice? Find out what's standing between you and those magic words "You're exactly who we've been looking for!"