A new year means new goals. For many people, career goals are on the list of things they hope to achieve in the new year. If you're one of the people planning on making a move in 2021, there are several ways you can prepare yourself for a job search in the new year to make it a more successful search.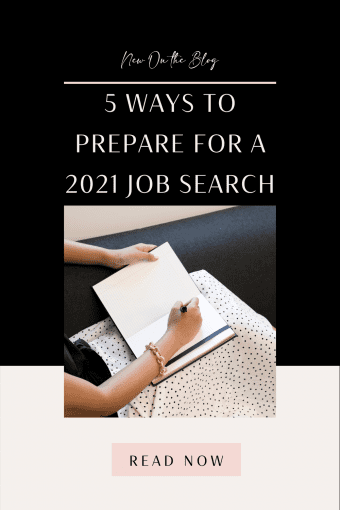 Get in Touch with Your Network
If you haven't been keeping in touch with your network, the start of a new year is a great time to reestablish the connection. A simple question of "How were your holidays?" or just a "Happy New Year!" message are easy icebreakers for an email to someone you haven't spoken with in a while.
If you are fresh in people's minds, they are more likely to think of you if an opportunity arises in their company that matches your skills and career goals. You can mention that you are keeping an eye out for a new opportunity, but it is most important to just stay in touch with your network and not appear out of the blue only when you are asking for something. As I explain in this article, consistent networking is crucial for the continued growth of your career.
It's especially important to keep up professional relationships with people you intend to continue using as references. If you put them on your resume but haven't checked in with them in a year, it's quite possible your professional skills have faded from their memory. It's also just bad form to list someone as a reference and have them get a call about you when they haven't heard from you directly in quite some time.
You should also use this opportunity to make sure your references' contact information is still accurate. Cell phone numbers and emails change, and having a potential employer get a disconnected message when they call a reference whose number you provided doesn't speak well of your attention to detail.
Assess and Update Your Strengths
With each passing month and year of your career you have gained new skills and strengths. Before you embark on your job search in 2019, you should assess your strengths. They will certainly be different than when you last launched a job search. Perhaps you've taken on social media responsibilities at your new job, been promoted and now supervise a team, or have had to prepare new types of reports that you had never had to do in the past.
Social media skills translate to strengthened marketing and digital strengths, supervisory responsibilities mean new management and leadership skills, and any new kind of report or presentation means new strengths in data analysis and possibly new software skills.
Think about what you've taken on in the last few years, write it down, and then write down what you've learned from each new responsibility. You'll probably find that your skills and strengths have grown more than you realized, and that you have new skills that will be particularly beneficial in the modern workplace for 2021.
If you haven't done so, you should also use a tool like the Strengths Assessment 2.0 to learn more about your strengths. Doing so can help you better define not only what you are good at, but also what makes you happy in a job. As you launch your 2019 job search, knowing this about yourself can be a great help.
Use and Update Your LinkedIn Profile
If you don't have a LinkedIn profile, you need to make one. If you do have one, you need to make sure it is updated for 2021 to reflect your current experience and skill level. Just as you would do with your resume, you should also make your LinkedIn profile aligned toward your ideal position.
To prepare for your 2021 job search, you should also actually be using LinkedIn and not just letting your profile sit idle.
Use it to connect with your network, to add connections that you have made since you last used your profile, and use it to research the industry and positions that you have your eye on for 2021. Look at the companies that would be your ideal places of employment, and see what they are doing. This will keep you abreast of their news and well prepared for an interview, as well as keep any job openings they post right in front of you on your LinkedIn feed.
You should set your LinkedIn profile to reflect that you are currently looking for work if you can. Recruiters will be able to find you more easily, opening up more opportunities for you.
You also need to be active on LinkedIn if you want people to find you. Share articles that are relevant to your industry, post examples of your own work if you author articles or do graphic design, or share news items about the company you currently work for. Be professional and be relevant, and your profile will start showing up on more people's feeds more frequently and giving your 2021 job search a boost.
Update Your Resume
It probably seems obvious to say that you should update your resume, but there might be aspects of it that you haven't considered updating. After you've updated the dates and titles of your most recent job, take a look at:
● Strengths/Skills
● Accomplishments
● References
As I mentioned above, you should assess your strengths and skills as you prepare for your 2021 job search. Update your resume with what you've learned and improved upon, and your resume will be a better fit for the jobs you apply to.
You also need to make sure that the strengths you're listing are appropriate for 2021. In 1995, listing Microsoft Office expertise might have given you a leg up on the competition, but it's just expected that everyone in 2021 will have some level of computer aptitude. If the job listing specifically mentions certain programs, that's another story, but listing a general computer skill can make you seem out of touch. On the flip side, noting strengths like a positive attitude or strong written communication skills can make you stand out in a world where internet-encouraged cynicism and abbreviated language are becoming more prevalent than most employers would like.
As you update the strengths on your resume, make sure they are aligned with the job for which you are applying. If you're just updating your resume generally for 2021, determine what your goals are and list out the strengths that reflect your ideal job for 2021.
In this example, you see how John Smith listed out his strengths to both directly address the job he is applying for, but also address areas of strength for which employers are looking in 2021. He lists specifics like CORE Development, which is important to his industry, but also notes his strength in leading multicultural, cross-functional team building.

Along with updating your strengths, you also need to update your accomplishments. Perhaps some of your biggest accomplishments came in earlier jobs, but you need to include at least a couple from your current position to show your continued growth and continued contribution to the companies you've worked for.
I touched on the topic of updating your references earlier in the article, but want to also add that updating your resume should include more than just confirming your references' contact info is correct. You may need to change who you are using for references. If you're still using the references that you used to help get the job you currently have, it's time to freshen them up. You've gained experience, sharpened your skill set and undoubtedly have new projects and achievements to show off. Make sure you have at least one or two more-current references on your resume who can speak to the professional that you are now and what you can offer a company in 2021.
Modernize Your Resume
Modernizing your resume is different from updating your resume. Modernizing it means your resume is ready for the digital world in which we live. You need to make sure it's AI-friendly as well as formatted to appeal to shorter attention spans and fits in with the graphic-heavy world in which we live.
Many employers now use applicant tracking systems (ATS) to weed out resumes. You need to make sure your resume doesn't get blocked by ATS before it hits a human's desk. In 2021, this is a real concern for job searchers. Be prepared ahead of time, and know how to optimize your resume for ATS. Optimizing for ATS doesn't mean speak robot language, but rather that you need to be aware of the patterns and keywords that ATS are searching for when they scan resumes.
When I spoke with Arran Stewart, co-founder and chief visionary officer (CVO) of Job.com, he explained that ATS systems do use natural language. What does this mean for you? It means that you need to be very descriptive in writing your resume—name the companies you've worked for, name the prominent clients you've had, and include industry- and job-specific words throughout your resume. The ATS will flag the relevant words, and hopefully keep your resume moving through the system while it discards those that don't seem to have any relevant experience or connection to the industry.
Other tips for ATS include:
● Be specific with your dates—AI systems evaluate staying power
● Pare down your skill set to what you are best at or what is most relevant to the industry
● Keep your resume to the experience and skills that are relevant to the job you're applying to
Even as you're crafting a resume for the digital age and ATS functions of 2021, you do need to remember that it is still only 2021. That means a human will still at some point be looking at your resume. So keep it readable—use proper grammar and don't overload it with buzzwords just to push it through ATS. It might get through ATS, but a human is just going to throw it away.
For more from my interview with Arran Stewart, as well as more detail on the use of ATS in recruitment, and how you can optimize your resume to get through the system, check out my recent article Artificial Intelligence in Recruiting.
As for modernizing your resume's format for 2021, I recommend that you think about how websites are set up to optimize how people read them and gain information. If you look at modern resumes (some examples are available here), you'll see that there are several ways to offset and emphasize information while maintaining a neat, sleek, and modern look.
Some ideas for modernizing your resume format for 2021 include:
● Add a graphic—use shapes like arrows with text embedded inside them to denote forward motion or upward growth
● Use bordered or color-filled text boxes within a section to emphasize specific information, such as particularly successful projects or impressive clients
● Play around with fonts. This doesn't mean use Comic Sans or a complicated script, but you can use different fonts to convey different ideas. If you're applying for a marketing job, you might use a font that's a bit more casual or creative than someone who is applying for an investment banking position
● Include a graph to demonstrate sales growth or efficiency improvements due to your work

If you're designing your resume yourself, it might be a good idea to not only check with a career advisor to ensure you're hitting the mark, but also to check with a friend who is a graphic designer or who works in web design, publishing, or a related industry. They may have insight into how you can make your resume more readable and aligned with modern design and formatting trends in the professional world. For more resume tips for 2021, take a look at my 7 Executive Resume Writing Tips for 2021.
If you've been waiting to make a career change, the new year is the time to bite the bullet and do it. New years are a time of transition and renewal, and you might as well take advantage of it. As 2021 dawns, get in touch with your network, assess your strengths, use LinkedIn, and update and modernize your resume, and you'll be well-prepared for your 2021 job search.
Need more help improving your resume? Download this free PDF list of 178 action verbs and high-impact phrases. It's easy to switch out the passive phrases on your resume for these words that employers want.
Jessica Hernandez, President, CEO & Founder of Great Resumes Fast
Hi, I'm Jessica. I started this company back in 2008 after more than a decade directing hiring practices at Fortune 500 companies.
What started as a side hustle (before that was even a word!) helping friends of friends with their resumes has now grown into a company that serves hundreds of happy clients a year. But the personal touch? I've kept that.
You might have seen me featured as a resume expert in publications like Forbes, Fast Company, and Fortune. And in 2020, I was honored to be named as a LinkedIn Top Voice of the year!
I'm so glad you're here, and I can't wait to help you find your next perfect-fit position!
Will your resume impress employers? Take this 2-minute quiz to find out.
Get your personalized plan for a resume that stands out and lands you your dream job!
Need a little help getting hiring managers to take notice? Find out what's standing between you and those magic words "You're exactly who we've been looking for!"