LinkedIn is often the first place people think of heading when they're launching their job search, yet so many job seekers underutilize the platform. They don't realize all the tools, features, resources, and best practices available to them in their search. LinkedIn is more than just applying to jobs or scrolling through your feed. If you're an active job seeker, there's so much more you can be doing to maximize this platform.
In this article, I'm sharing five ways you're not using LinkedIn in your job search — but should be if you want to get the most out of the platform.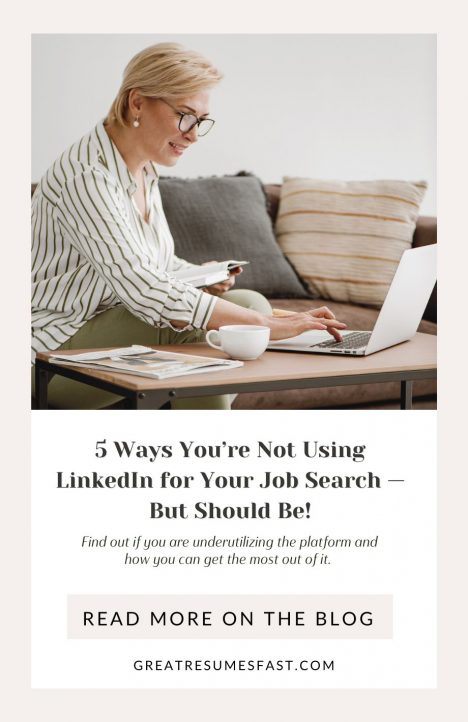 1. Make your profile more visible to recruiters.
If your profile isn't complete, doesn't contain the right keywords, or doesn't include a specific headline, chances are good that recruiters can't find you.
You can increase the discoverability of your LinkedIn profile by making a few changes that will complete your profile.
Add a professional profile photo. Adding a photo increases the likelihood that people will accept your connection requests by 9x.
Add a background photo. Your background is a visual representation of your personal brand and one of the first things people see when they visit your profile.
Update your LinkedIn profile headline. It needs to be more than just your job title. My favorite headline formula is:
TARGET JOB TITLE | 3 HIGH-PRIORITY KEYWORDS | PERSONAL BRANDING STATEMENT
Add at least two positions, and make sure the details are completely filled out. LinkedIn reports that many users add roles but then don't fill in the details. This can actually hamper your prospects of being contacted. Adding accomplishments under each position is important. It lets people know what you do and how you do it.
I created five videos that cover exactly what changes to make and how I applied them to my husband's profile when he launched his job search last March. You can sign up here for my free five-day mini-course to access the videos. 
2. Create a profile that keeps attracting opportunities (passive search).
In addition to the profile updates I recommended above, you need to add high-priority keywords to your profile if you want to be discovered by recruiters. These are simple to locate. Keep in mind that you want industry-specific skills. These will be the search terms recruiters use to find qualified candidates.
If you need help finding the right keywords for your profile, there's a great hack for that. Simply go to the More button on your profile homepage and click Build a Resume. Select Build From Profile and then enter your target job title. LinkedIn will generate a list of keywords — usually between 10 – 20, depending on whether you have the free or premium version of LinkedIn. These keywords are the ones that LinkedIn has identified as the most important for your target role. Make sure that you add the skills you possess to the Skills section of your profile and also work them into the content of your profile. I'd choose the three most important and add them to your LinkedIn headline, too.
Doing this will increase your discoverability exponentially. One of my Linkedin Unlocked course students made this change and saw an immediate 1200% increase in profile views. When I made this change to my husband's LinkedIn profile when he launched his job search last March, his profile views shot up 8500% overnight. It works!
3. Join in conversations (news, industry, coworkers, network, and #SocialSaturday).
Another mistake I often see job seekers make is they log in and scroll their feed but don't interact. This is a huge missed opportunity. You can't build or strengthen your network by being passive and reading what other people post. You have to actively engage with your network.
You do that by commenting on their posts, offering your own insight, advice, or perspective. It works really well if you share insight about how you've overcome a similar challenge or frustration.
One of my LinkedIn Unlocked students employed this method in his search. A recruiter saw his comment on someone else's post, reached out to him, and scheduled an interview. He ended up landing his dream job from a comment he shared on someone else's post.
The secret, though, is that it can't be a one-and-done thing. You have to consistently engage with your network. Comment on news articles that pop up in your feed, reply to other people's comments, follow industry news and comment on it, and encourage and support those in your network who are searching, have just landed a role, or need help/advice.
You can also join #SocialSaturday. It's a new initiative where people hop on LinkedIn on Saturday morning around 9 am and post and connect with others using the hashtag #SocialSaturday. You can use the hashtag to find the posts. It's one way to "meet" new people and expand your network.
4. Engage with companies.
Most job seekers aren't aware that you get spotlighted as a candidate when you engage with the company's LinkedIn page. When you engage with a company's LinkedIn page, posts, or ads and you apply to a job they've posted on LinkedIn, you will be spotlighted in the recruiter dashboard. This spotlight lets the recruiter know you're a supporter who engages with their company and that you're more likely to respond if they reach out to you about an open position.
Engagement is considered a like, share, or comment on a company's post, content, or ad they place on LinkedIn.
You'll also find a section on most LinkedIn company pages called Life. I encourage you to skim this section and look for a trending employee content subsection. Here, you'll see recent posts from employees of the company that you can interact and engage with — making your research and engagement efforts easier. You can even locate active LinkedIn users who are also employees at your target company — double win!
5. Proactively work towards referrals, advice, and interviews.
Referrals are the best way to get interviews. Companies prefer to hire someone that a current employee has referred.
While I don't advise directly asking someone to refer you to a job — especially if that someone is a new connection or someone you've never worked with professionally — it is OK to ask a close friend or contact who knows you and your work to act as a referral.
We want to move towards being able to ask for a referral from our new connections, like those employees of the target companies you've been engaging with on LinkedIn (wink, wink). To progress in that direction, I encourage you to start by asking for advice, information, or guidance — not for a job.
To do this simply and effectively, use a similar message as below:
Hi (name),
I've enjoyed the content you share on LinkedIn and if you don't mind, I'd appreciate your feedback if you have a minute. I'm new to (industry), and I'd like to proactively take steps in my career to work for (target company) one day. Your success as a (position title) in (industry) is inspiring. Is there any advice you would be willing to share that might help me navigate a similar career progression or one day work for (target company)?
Of course, you can adapt or change this language to fit your unique career situation, but you want to keep it short, respect their time, and make sure you're asking for advice or information.
Discover 5 simple strategies to effectively utilize LinkedIn and take your job search to the next level from the #1 LinkedIn Top Voice in Job Search & Careers. Click here to join for FREE.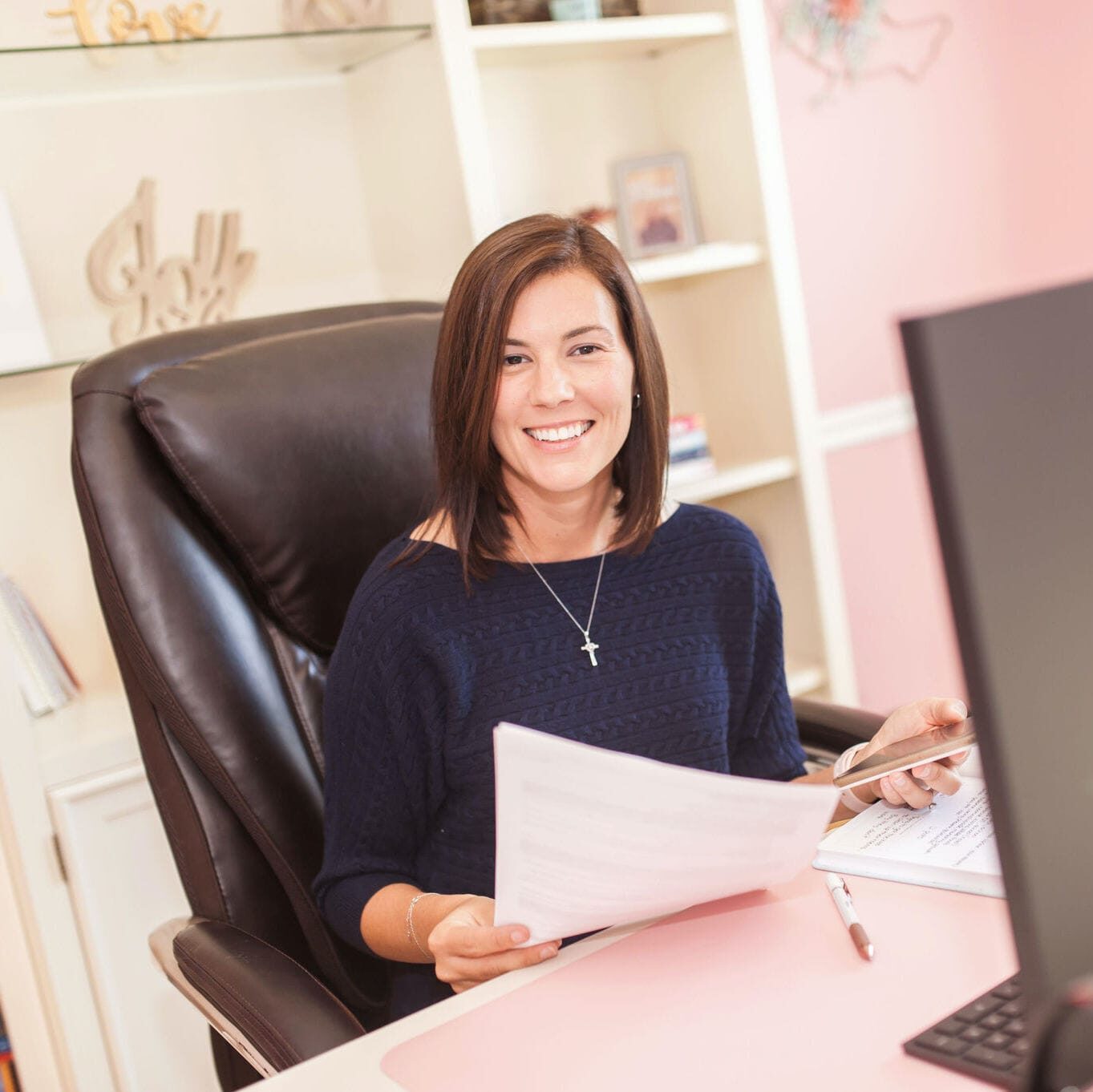 Jessica Hernandez, President, CEO & Founder of Great Resumes Fast
Hi, I'm Jessica. I started this company back in 2008 after more than a decade directing hiring practices at Fortune 500 companies.
What started as a side hustle (before that was even a word!) helping friends of friends with their resumes has now grown into a company that serves hundreds of happy clients a year. But the personal touch? I've kept that.
You might have seen me featured as a resume expert in publications like Forbes, Fast Company, and Fortune. And in 2020, I was honored to be named as a LinkedIn Top Voice of the year!
I'm so glad you're here, and I can't wait to help you find your next perfect-fit position!
Will your resume impress employers? Take this 2-minute quiz to find out.
Get your personalized plan for a resume that stands out and lands you your dream job!
Need a little help getting hiring managers to take notice? Find out what's standing between you and those magic words "You're exactly who we've been looking for!"