Are you changing careers and trying to find a succinct way to summarize how your past experience translates to the new field you want to target? You're not alone. Many career changers find themselves with the same challenge when writing their resume and cover letter. You have a great variety of skills, accomplishments, and years of experience, but you need a way to present it concisely so that hiring managers see how it relates to your new focus.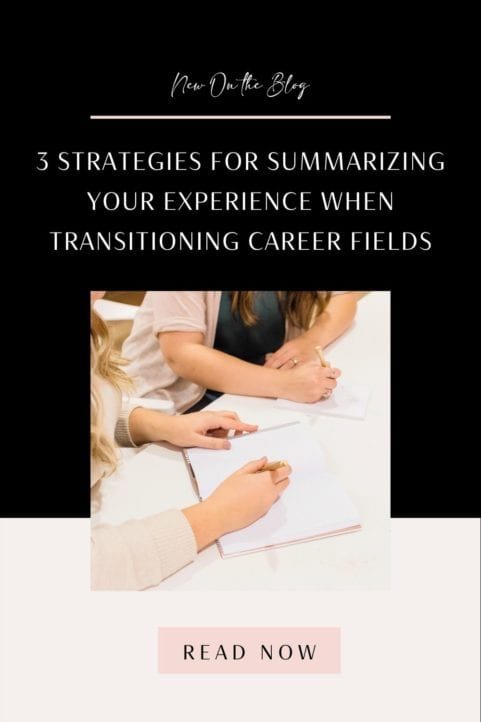 In this article, I'm sharing three resume writing strategies that you can use to summarize your past experience concisely, point to how your past experience aligns with your new job target, and position yourself for a shift in your career field, industry, or position.
Let's get to it.
Make Your Current Job Target Crystal Clear
One mistake I see too many job seekers make is that they don't put the position title at the top of their resume. Some don't know the direction they want to head next, others use a section header like professional summary, career summary, or executive profile.
If you're making an industry or career change, here are a few questions you need answers to before you dive too deep into updating your resume.
What type of role will you be targeting with this resume?
What skills are critical to success in that position?
What types of companies will you be targeting with this resume?
What are their current challenges?
How does someone in your position add value to the company/organization?
What skills/experience do you possess that you want to highlight?
What skills, experience, or qualifications do you possess that are different from your peers who may apply to the same position?
If you're making a change and you're not including your target job title at the top of your resume, you're missing an opportunity to tell the hiring manager the position you're targeting. And when you're making a career transition this isn't always clear.
It's better to tell them plainly.
You can do this very easily by simply putting this at the top of your resume:
Job Target: (Position Title)
Now the role you seek will be clear.
Including the position title in your career summary and on your cover letter are two other places where you want to reinforce the new position/field you're pivoting to.
Use Language That Translates Well
One of the most important aspects of updating your resume for a career change is knowing where to put the focus.
When we work with clients making a transition, we strategically choose what to include (plus what to leave out), and use language that shows how their past experience translates well to the new role.
To identify the right information to include, ask yourself questions like these:
What skills from your past experience will be most important to the new position you are targeting?
Where do you need to acquire new skills to be successful in your new field?
How will your diverse experience be of benefit to the employer?
What might you bring that other candidate might not?
What skills will be most important to the employer? When have you used those skills?
What positions from your past will be most applicable to the positions you are targeting?
How will you bring more value than an applicant who has spent the majority of their career in this line of work?
Also, even though your accomplishments may not be in the same field, it's still important to show the breadth of your success. What have you learned and mastered? Where have you succeeded or contributed to success? Tap into your rich background of experiences because employers love to hire winners. Take time to show them where you've won in the past and how it related to the work you want to do in the new field you're targeting.
Include Relevant Keywords
LinkedIn is a great resource for finding relevant keywords. You can complete a People Search to find other people in the exact position you're targeting, then review their profiles to see what keywords surface. I recommend checking their headline, "About" section, and the skills they're endorsed for to gather ideas.
Another way to conduct keyword research is to search for the target position title on LinkedIn.
For instance, if I search for "executive director" in jobs in the LinkedIn search bar, it pulls a list of executive director positions. I click on the first position and review the job description. If you scroll about halfway down you'll see a list of "Top Skills" for the role. LinkedIn will tell you how many of these skills you already possess.
Make a list of the ones that are most important to the role (check other positions, too, and note the ones that are common among multiple listings). Make sure that you include these top skills in your resume and your LinkedIn profile.
This is the most effective and quickest way to do keyword research and it gives you current insight into the top skills that employers are seeking when hiring for your target role.
When you include these skills on your resume, here are a few places you can incorporate them:
Include three of the top skills underneath the position title you put at the top of your resume.
Choose three important technical or professional skills to include in your career summary.
Create/utilize a key skills section underneath your career summary where you include 12-15 keywords. Mix professional, technical, and academic hard skills here.
Use keywords (hard skills) in your resume bullets when you discuss your experiences and accomplishments.
Pro tip: Use bold text to draw attention to keywords on your resume.
Challenges
There are challenges that come with making a transition into a new field. Aside from the fact that you may not have held a similar role before or ever worked in the industry.
You may be tempted to downplay experience or take a step back to make the transition. Let me share this: just because you're transitioning to something new doesn't mean you have to settle for something less.
Your depth and breadth of experiences and accomplishments are valuable to employers. It's about strategically communicating that value so they can see what you offer that other candidates who've been in the industry cannot offer.
You may not be sure what to keep / what to leave out of your resume. There's a temptation to include everything for fear of leaving something out that an employer may want to see. Don't fall for this temptation. Keep your main goal in your mind at all times and frame all of your experience and skills in relation to that goal.
When writing your resume, use future-focused language to show the employer what you can bring to your next role.
Need a little help identifying your standout resume success formula?
I'm thrilled to share with you a new quiz I created that delivers detailed insights into your personal resume success formula and how to incorporate it into your resume. I provide lots of detailed guidance, insider tips, and strategies, and share expert advice I don't offer anywhere else. Take the quiz now to find out your standout resume success formula and improve your resume today.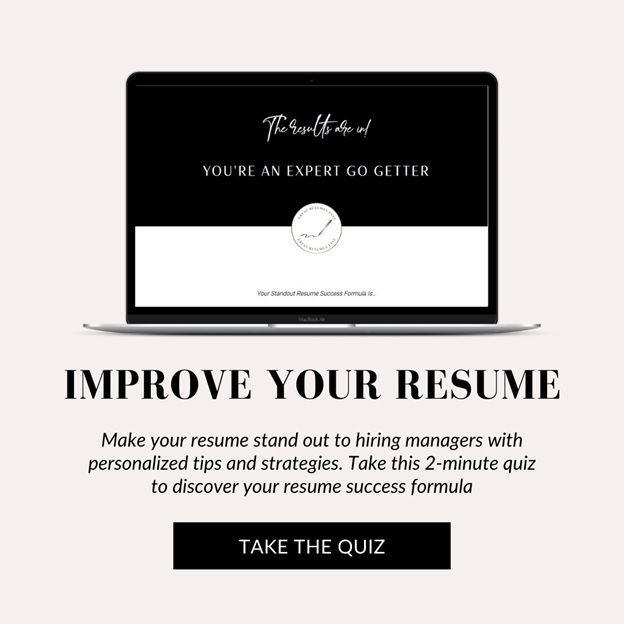 If you are looking for ways to ace applicant tracking system screenings and boost your chances of landing an interview, here is a quick guide on finding and using the right resume keywords. You may also want to check out 3 Strategies to Give Your Resume a Competitive Advantage.
Also, I'd love to connect with you and continue the conversation on LinkedIn. You can find and follow me here.
Jessica Hernandez, President, CEO & Founder of Great Resumes Fast
Hi, I'm Jessica. I started this company back in 2008 after more than a decade directing hiring practices at Fortune 500 companies.
What started as a side hustle (before that was even a word!) helping friends of friends with their resumes has now grown into a company that serves hundreds of happy clients a year. But the personal touch? I've kept that.
You might have seen me featured as a resume expert in publications like Forbes, Fast Company, and Fortune. And in 2020, I was honored to be named as a LinkedIn Top Voice of the year!
I'm so glad you're here, and I can't wait to help you find your next perfect-fit position!
Will your resume impress employers? Take this 2-minute quiz to find out.
Get your personalized plan for a resume that stands out and lands you your dream job!
Need a little help getting hiring managers to take notice? Find out what's standing between you and those magic words "You're exactly who we've been looking for!"