I often have clients ask, "Should I use resume bullet points or sentences?" And I always reply, both!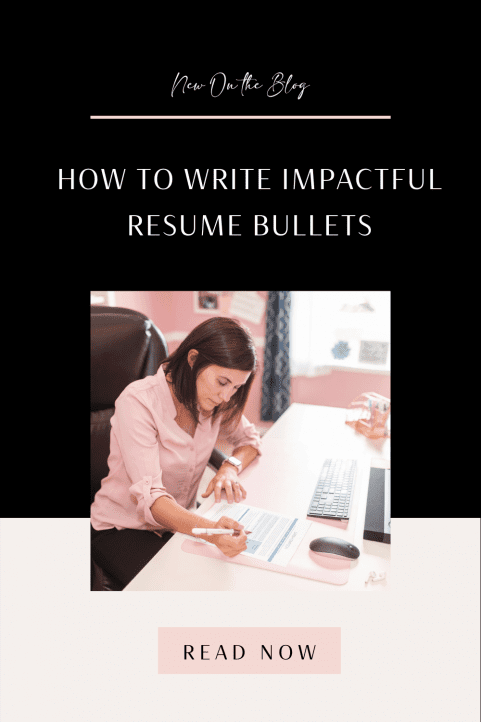 Bullet points are short, organized lists of keywords, skills, or achievements on your resume. These perform a multitude of tasks in a small amount of space, which is why I say there's more to resume bullet points than meets the eye.

Bullet points break up the text density of your resume, making it easier to tackle and read in its entirety. They also make it faster for hiring teams to find your hottest selling points. Once you grab their attention, your career accomplishments can take center stage and prove why you deserve to land in the interview round.

Here's the small hiccup: writing impressive, impactful resume bullet points can be challenging. You must distill and deliver succinct snippets that wow, which takes a bit of clever thinking and writing finesse. If you're used to writing sentence/paragraph-only resumes, structuring your career history like this may take a few drafts to get right.

So today's quick guide on writing resume bullet points will help point you in the right direction (pun maybe intended).
Table of Contents
Here's a peek at the topics this resource covers:

3 Reasons Resume Bullet Points Work in Your Favor
FAQ: Will Bullet Points in My Resume Make Me Look Lazy?
How to Use Bullet Points in Your Resume
I recommend reading this guide in its entirety and using these links to go back to the sections you need later on during your resume writing.

To start, let's cover why a resume lacking bullet points usually winds up in the trash after an initial scan.
3 Reasons Resume Bullet Points Work in Your Favor
When you read articles online (like this one) or news in your social media feed, are you more likely to finish a huge block of text or an easily-digestible three- to five-sentence blurb?

Most people would take the bite-sized intel over the dense novella. And this is especially true with busy hiring teams.

Bullet points are a must-have when it comes to what your resume should look like in 2021 because:
1. Bullet Points Break Up Resume Text Density
If you think you're well qualified for positions you've been applying to, yet haven't scored many interviews, you may want to seriously assess the format of your resume. Does it contain wall-to-wall sentences and loads of chunky paragraphs?

Text-dense resumes like this make the wrong first impression on prospective employers, recruiters, and hiring teams. As we dished in our guide on why resume text density matters, an information overload intimidates, overwhelms, and turns off readers right from the start. And if your resume appears too difficult to tackle, many readers simply won't read it.

Bullet points create white space to break up information into concise, easier-to-read statements. Your resume format appears cleaner and more easily accessible, which encourages readers to pick it up and actually finish it.

Using the winning combo of both robust bullet points and engaging paragraphs makes the most of the available space on your resume while simultaneously attracting the reader's eye.
2. They Quickly Highlight Your Greatest Selling Points
To get a potential employer to understand why they should hire you, they must first want to put the time into learning about your qualifications and prior successes. You can make your resume format do that work for you.

Bullet points help hiring teams read your resume faster. They help draw attention to the most important or impressive aspects of your career accomplishments as they relate to each specific position. When a busy hiring manager scans your standout bullet points, your achievements will pique their interest and compel them to invest their time in your potential.

3. Resumes Utilizing Bullet Points Leave a Memorable First Impression
The most impressive resumes quickly convince readers that a candidate's career history and skills are exactly what the company needs. Clearly laid-out lists of these reasons give recruiters and potential employers a much-appreciated "cheat sheet" of intel about why you might be the perfect candidate.

The CEO resume example below demonstrates this strategy well:

We used a light blue box to corral and highlight her most significant career achievements for readers. We then used a bulleted list to make these points easier to read and remember. Underneath those, you'll also see a section of neat, organized keywords.

All these strategies help create a stronger first impression for readers. It stands out, unlike resumes that bore readers with massive walls of generic text and sound like every other candidate.
FAQ: Will Bullet Points in My Resume Make Me Look Lazy?
Absolutely not! It takes more skill to refine your lengthy and accomplished career history into small tidbits of impactful, impressive information. Bullet points help hiring teams find precisely what they're looking for, making their job faster and easier. Where I'm from, I call that being efficient and conscientious—the very opposite of lazy.

Just check out a few of the bullet resume samples on our site to see what I mean. Each of these 2020 executive resume examples utilizes bullet points effectively. These clients increased their incomes by 20%-50% while securing promotions or landing positions with Fortune 500 organizations and employers like Google, Amazon, and Apple. Again, the very opposite of lazy.
How to Use Bullet Points in Your Resume
An effective resume takes a combination of well-written, persuasive paragraphs and impactful bullet points. A resume format incorporating both paragraphs and bullets makes for easy reading, while allowing you to present your work experience, skills, and achievements with a bit more description than bullet points alone would permit, and in a less word-heavy manner than only using paragraphs.

To get these in cohesive harmony:
Balance Bullet Points with Paragraphs
Your resume requires just the right balance of information and visual interest. Bullet points can help accomplish that by highlighting your skills and experience. But just like paragraphs, they must not be overused.

Follow these tips:

#1. Paragraphs should contain just three to five sentences each. Any more than this will lose the reader's attention.

#2. Lists should contain no more than three to five bullet points. Since these should spotlight your most significant achievements and selling points, adding too many may detract readers, dilute their value, and have crucial points get lost in the mix. If you have more than five bullet points, try breaking them up with subheadings.

#3. Bullet lists of keywords should contain no more than 15 terms. Adding industry-specific keywords in a small bullet list in the top third of your resume catches the eye and increases your chances of applicant tracking software (ATS) moving your resume to the next round (i.e., a human reader).

In the executive resume example above, we include a section for "Signature Strengths & Competencies" to list industry-specific keywords matching both her experience and what hiring teams included in the job ad, hitting a home run with ATS and human readers alike. This section is organized and easy-to-read, with a separate heading and evenly-spaced columns to show off these 15 terms without overwhelming.
Follow This Resume Bullet Point Formula for Your Career Accomplishments
Most resume readers get lost somewhere in the career accomplishments bog. Here, candidates often get long-winded about their job duties and responsibilities, which tends to diminish a reader's interest.

To avoid that, here's how I like to organize each section of work experience on a resume:

#1. Use a short, three- to five-sentence paragraph to describe/introduce your responsibilities in that role. Address the primary details you want readers to know.

#2. Add three to five bullet points below that introductory paragraph. List out key accomplishments and relevant skills that directly address the needs outlined in the job description for the position to which you're applying.

In the resume sample above, we describe each position in her career highlights section using a short paragraph (between three to five sentences long), which we also highlighted in gray. Beneath this, we chose three to five concise bullet points to spotlight the most impressive takeaways relevant to the position she's after.
Get Selective and Keyword-Focused
How short should resume bullet points be?

That all depends on the design of your resume. A clean, modern resume format has separate, organized sections of bullet points for keywords, skills, and career accomplishments. So some points are just a single keyword while others are closer to a brief sentence.

Translation: There's no concrete rule about how long each bullet point should be.

My advice? Trim as much as possible. Get to the point. Effective resume writing is all about presenting substantial, relevant, and compelling information concisely. How do you convey a career of experience in just three to five bullet points?

Prioritize and rank the best points. You undoubtedly have many accomplishments. But they won't all be relevant to the position to which you're applying. So write out all the bullet points you want to make. Then, rank each bullet point with a number (#1 being the most important point you want to convey). Use the top three to five highest-ranking points.

Since you should tailor each resume for each position, you can rearrange or swap out bullet points in different versions to make each resume most effective.

Keep a list of action verbs handy. Action verbs effectively and accurately convey how your employment history and relevant skills will benefit the company. They make your writing stronger and get more intel across in fewer words.

Steal inspiration. Stuck on which points to highlight? You can create your own resume bullet point generator by learning how to find and use resume keywords. Choose the ones that most apply to your history and go from there.
If You Need More Than 3-5 Bullet Points . . .
Executives and professionals in the C-suite often have lengthy lists of accomplishments. So to stick with the three- to five-bullet-point rule, it's smart to:

Divide up your accomplishments by the type of responsibility they fall under. Then you can list each group of achievements (i.e., each bullet point list) under headings describing that area of expertise.

Save impressive points that require a long paragraph to convey for your cover letter. Your cover letter should be written in paragraph form anyway, so you'll have more room to introduce a giant selling point like this.

Turn a bullet point list into a visual element. If you have too many bullet points, consider which of them could be better represented with a chart, graph, or infographic. Modern resume layouts with visual elements like these can grab attention, make a professional first impression, and emphasize your achievements without adding extra words or a deep dive into numbers.

As you can see from the resume example above, we opted to display her recent revenue growth using a chart. Rather than adding more bullet points to highlight higher profit margins and contract closings, we let the easy-to-create visual speak volumes and make a stronger first impression.
The Final Word on Resume Bullet Points
An effective executive resume requires a careful balance of relevant information and visual appeal. Adding bullet points to your resume tackles both these tasks, and then some.

You'll present busy hiring teams and recruiters with the intel they need ASAP, which helps you better connect and make a killer first impression. Don't be surprised if you land more interviews by simply reformatting some of your resume paragraphs into easy-to-read bullet points.

If you need more inspiration for resume power words, I wrote this article with 178 words and phrases that you can incorporate into your resume.

You may also want to check out this one on planning your 2021 job search.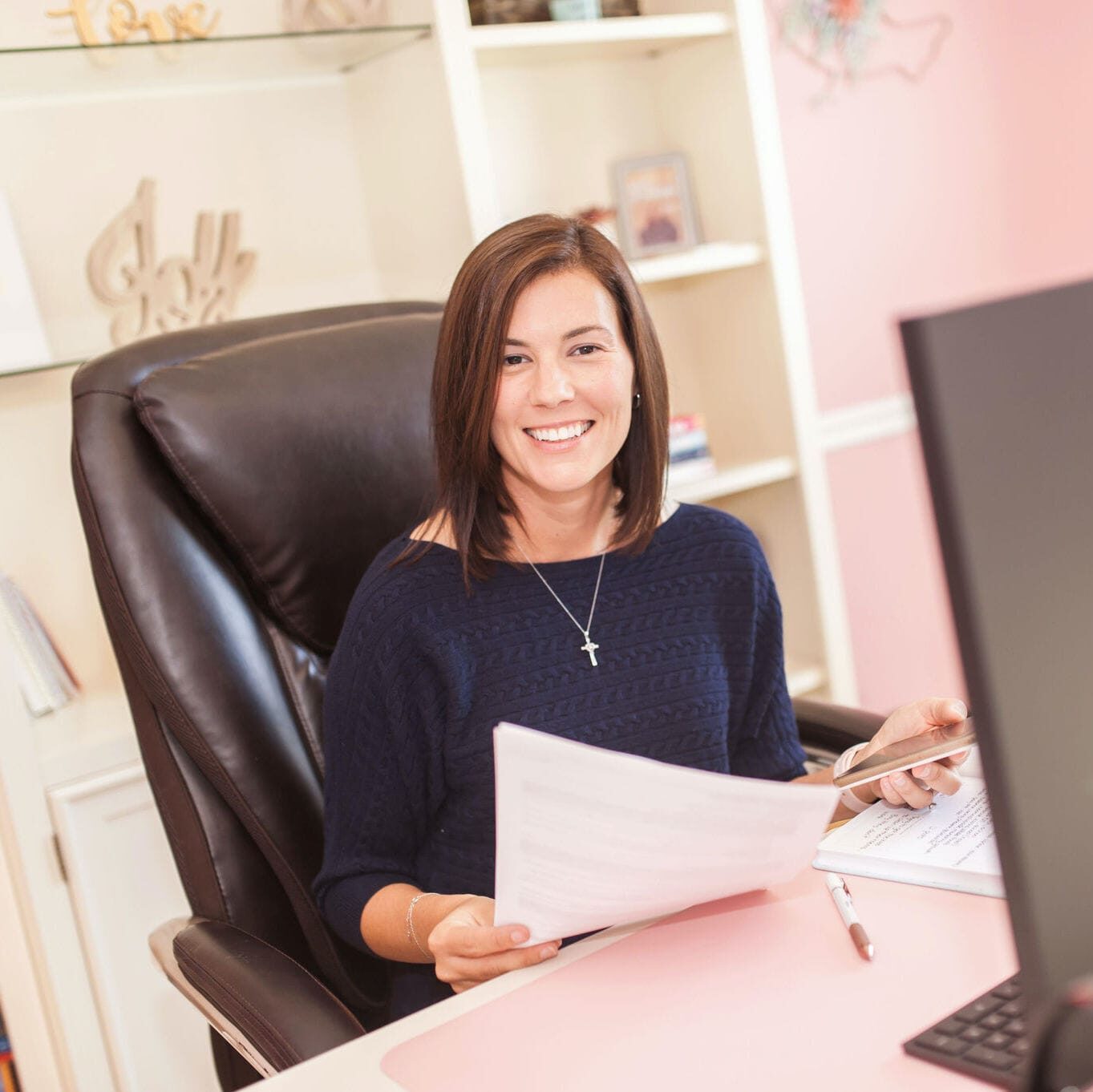 Jessica Hernandez, President, CEO & Founder of Great Resumes Fast
Hi, I'm Jessica. I started this company back in 2008 after more than a decade directing hiring practices at Fortune 500 companies.
What started as a side hustle (before that was even a word!) helping friends of friends with their resumes has now grown into a company that serves hundreds of happy clients a year. But the personal touch? I've kept that.
You might have seen me featured as a resume expert in publications like Forbes, Fast Company, and Fortune. And in 2020, I was honored to be named as a LinkedIn Top Voice of the year!
I'm so glad you're here, and I can't wait to help you find your next perfect-fit position!
Will your resume impress employers? Take this 2-minute quiz to find out.
Get your personalized plan for a resume that stands out and lands you your dream job!
Need a little help getting hiring managers to take notice? Find out what's standing between you and those magic words "You're exactly who we've been looking for!"