Wondering how to make your resume stand out to employers in the 2023 job market? It's not easy to write a resume that translates your past experience in a way that will resonate with today's hiring managers. It's an even greater challenge when you're striving to identify and share your accomplishments without feeling like you're overselling yourself or bragging. Who's comfortable with sounding like a bragger? The real challenge is identifying and conveying accomplishments in a humble way that impresses employers and gets you interviews. If that's what you need then you're in the right place.
In this article I'll share:
The three things your resume must have to make it stand out to employers.
Which words to avoid using in your resume at all costs.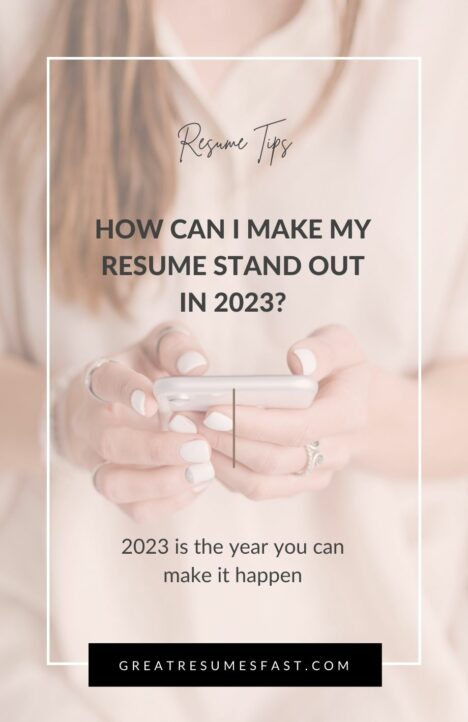 Three things your resume must include to stand out to employers
The entire purpose of your resume is to get interviews for the job that you want next. That's why your resume is a marketing tool. Many people think that it's a professional biography, sharing details on everything you've ever done or been responsible for at every place you've worked. This isn't the case. Your resume should be written to the future – to the position you want to obtain next in your career. In order to do that, your resume needs these three things: personal branding, a wow factor, and quantifiable accomplishments. Combining these three makes a powerful first impression that helps you stand out from other applicants.
PERSONAL BRANDING
Personal branding in the world of resume writing is simple. It's telling the story of your qualifications and successes while weaving the golden thread of your passion, personality, work/leadership style, and other unique identifiers in a bold way. It's saying this is who I am, and this is who I am not, on your resume.
To create a branded resume, start with a strong branding statement at the top of your resume. You'll combine your headline and branding statement to create a value proposition that appeals to your target employer. To be successful this statement must be clear, concise, and resonate with hiring managers.
Here are three examples from past clients of how we combined a job target title (otherwise known as a resume headline) with a personal branding statement to immediately make our client stand out to employers.
CEO, LANEY DUKE
BUILDING TOP-PERFORMING LOGISTICS TEAMS THAT RAISE THE BAR ON SUPPLY CHAIN EXCELLENCE
RN CASE MANAGER
Diving deep into social determinants of health to define more proactive care solutions and remove barriers to health plan success, both medically and nonmedically.
Head of Learning & Development
Driving innovative organizational development and culture through strategic learning and organizational development initiatives.
Try combining your target job title with a one-line statement that points out how you add unique value.
If you're one of the many who struggle to identify and communicate your personal brand it's part of our 5-step Perfect-Fit Process when we work with clients. We'll be happy to discuss how we can help you develop your unique personal brand and incorporate it into your documents during a resume strategy session.
THE WOW FACTOR
What do I mean by wow factor? Wow factor refers to what is the most important, impressive, and valuable information about you as a candidate for THIS job. I say this job because your goal for your next career move is always the compass pointing the direction you need to take.
Your resume must communicate the few things you instantly want employers to know about you so that they'll be interested and eager to contact you.
Your wow factor also differentiates you from other candidates so that you're not blending into the stack. You don't want to bury your wow factor and you don't want it to sound like all the other candidates who share similar skills and qualifications.
Your wow statements need to be specific. They must tell the hiring manager what you did, not what you were responsible for or expected to do.
Your wow statements will go in your summary, experience section, honors and awards section, and education section, if applicable.
I also advise starting your career profile (summary) off with a big wow, your best achievement specific to the role you're targeting. The benefit of this is that it immediately conveys success to the employer. Their first impression of you will be a good one.
Below are three examples of wow statements from a few of our past clients. These will give you an idea of what a wow statement needs to look and sound like. Note that these statements don't start with "responsible for" or "duties include".
Developed and deployed curriculum that reached 4,000+ team members, implemented new strategies at the pace of business – rapidly shifted learning from in-person to virtual programming during COVID-19.
Navigated URAC accreditation to halt 60% loss of business within first 8 months by overhauling clinical operations, building policies and procedures, and revamping training.
Overhauled processes and practices to deliver $10M in soft savings through 4x increases in efficiencies and productivity.
Notice how each wow statement includes metrics, high-priority keywords, and strong action verbs that convey impact? These statements resonate with employers.
Quantifiable Accomplishments
Want to instantly capture the hiring manager's attention? Then you must write with meaning and power. If you want to write with strength and impact one of the best ways to do that is to steer clear of writing like this:
I was responsible for creating a new office procedure manual.
Instead, write with meaning and power like this:
Decreased costs 22% after developing and launching new office procedure manual.
Numbers, dollars, and percentages are powerful because they communicate factual data that is proven. They're measurable and they show employers the value you're capable of delivering. It's hard to argue with factual data.
Finding the data to include in your resume is its own challenge. I hear from job seekers all the time who say "what if I don't have any numbers?" There are times when you may not have numbers and that's OK, you'll have to rely on other resume strategies to carry you through but sometimes we're just not digging deep enough or just not comfortable sharing our own successes (queue humble blushing).
If that's the case for you, here are some questions you can ask yourself to dig a little deeper and uncover those hidden gems in your career history.
Am I responsible for people, projects, functions, organizations, revenues, or profit? If so, ask yourself how much/how many.
What specific challenges have I faced in this role?
Were you promoted? If so, how quickly? Or based on a specific reason? For example, recruited into a role to transform a negative P&L?
Did the company's revenue increase while you worked there? Did you impact that increase directly or indirectly?
How did their revenue compare to before or after your tenure, or in comparison with competitors?
How did you do in comparison with your competitors, industry averages, company averages, or your predecessors/colleagues?
What are you most proud of?
Where were you first or best?
What did your leaders compliment you on?
What do your LinkedIn recommendations or performance evaluations say about you?
What would fall apart at your current workplace if you weren't there?
How did you contribute to the company's bottom line?
WORDS TO AVOID
Writing with meaning and power is important but if you really want to sharpen your writing and make your resume sound better it's not just about what you put on your resume but what you also leave off of it. To strengthen your resume and make a better first impression leave off these three things.
Passive phrases
If you want your resume to be strong and effective then you need to avoid passive phrases and opt for action verbs. Here are a few passive phrases that tend to sneak into resumes:
Responsible for . . .
Duties included
Seasoned
Worked with / served as
Instead, start your bullets with verbs that convey action that will show employers that you did something. Follow the verb with a quantifiable accomplishment and you have a winning formula.
One more tip, make sure you vary the verbs you use. Too often, I see resumes that reuse led, managed, and created. There are so many options out there that you can use instead. Here are a few verbs to get you started:
---
Accelerate
Achieve
Avance
Align
Analyze
Arrange
Assess
Brainstorm
Catapult
Command
Compare
Compel
Devise
Detect
Double
Earn
Edit
Educate
Forge
Form
Helmed
Implemented
Improve
Influence
---
Those last four are some of my favorite verbs. This is only a sampling of the verbs you can use. For a list of 170+ verbs download this free PDF guide. 
Space Wasters
Two of the biggest space wasters I see on resumes are demonstrated success in and proven results.
They don't convey detailed success or results. There's nothing factual or proven in those statements. It's better to use metrics because actual data does a lot of convincing. It's always better to share the specific result.
You also want to eliminate small filler words like a, an, the, and by. These words take up space on the page when every single word counts. Eliminating them makes your writing tighter and cleaner which gives your resume more impact.
Words that really say… nothing.
When writing your resume you want to tell your whole career story in the least amount of words possible because readers have short attention spans and most readers skim versus reading word-for-word. That's where this tip comes in. If you only have your reader's attention for a few seconds and chances are their first interaction with your resume is a quick skim read you want to give them powerful information instead of empty words.
Eliminate these words that communicate nothing of value:
Successful/success
Results-driven/results-oriented
Excellent communication skills
And be careful that you're not mentioning 'team player' too often either. It can actually be detrimental to your resume. 
Instead of taking up space saying that you're successful, results-driven, and possess excellent communication skills (there went half your career summary, I hear you saying) go back to those accomplishment-based statements and wow statements. Use those to guide your writing so you don't fall back on these same but valueless words.
It's not easy writing a resume that will stand out, especially in an unpredictable job market but it is possible using the strategies that I've shared in this article. Focus on incorporating your personal brand, add your wow factor, and avoid words that reduce your impact. If you're struggling to identify and convey your personal brand, accomplishments, and unique value we can help. Schedule a resume strategy session to discuss your goals for your next career move and walk away with a plan of action to get you there.
Jessica Hernandez, President, CEO & Founder of Great Resumes Fast
Hi, I'm Jessica. I started this company back in 2008 after more than a decade directing hiring practices at Fortune 500 companies.
What started as a side hustle (before that was even a word!) helping friends of friends with their resumes has now grown into a company that serves hundreds of happy clients a year. But the personal touch? I've kept that.
You might have seen me featured as a resume expert in publications like Forbes, Fast Company, and Fortune. And in 2020, I was honored to be named as a LinkedIn Top Voice of the year!
I'm so glad you're here, and I can't wait to help you find your next perfect-fit position!
Will your resume impress employers? Take this 2-minute quiz to find out.
Get your personalized plan for a resume that stands out and lands you your dream job!
Need a little help getting hiring managers to take notice? Find out what's standing between you and those magic words "You're exactly who we've been looking for!"