One of the toughest interview questions interviewers ask is about your past experience. Job seekers often ask me how to answer when they don't have enough experience. Have you ever wondered what to say when you don't have the experience for a job?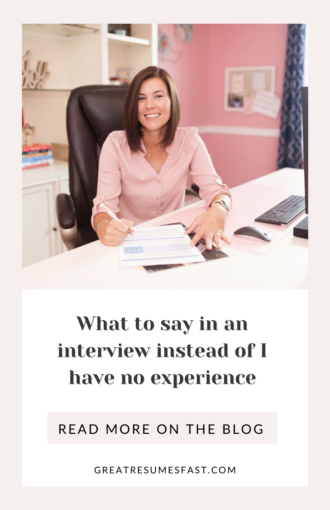 It's different for every person—and every position. But one thing about this question is the same … it starts out like this: Do you have experience doing … (insert whatever responsibility, duty, etc. that the employer is looking to find in someone). Employers want to know that you have the experience and the ability to perform the essential functions of the job. And you can usually tell where their biggest "hurts" are by the questions they ask during the interview. If they need someone with special expertise or experience in a given area, they will make sure they ask you about that experience. So how do you answer this all-important question in the best way possible?
Tell Them About A Time When …
The first way to respond to the 'experience question' is to use an example from your past experience about a time when you did XYZ—and, of course … the successful turnout that resulted. This is the best-case scenario when answering the 'experience question.' But what do you do if you don't have the experience they're asking about? Then how do you answer?
Tell Them You're Confident
Just because you've never done something doesn't mean you can't do it. And it surely doesn't mean you can't excel at it. If you're asked a question about prior experience regarding something you've never done, the best way to answer isn't to say, "No, I've never done that." Or, "No, I don't have experience in that area." The best way to handle the question is to say something along these lines: While I have not had any direct experience in XYZ, I am a fast learner, and I am confident that I could (do, manage, direct, handle, etc.) XYZ successfully and exceed your expectations. And an effective way to enhance your previous confident response would be to share with the hiring manager about a time when you did do something very similar—or something that could in some way relate to the experience they are asking you about.
However, no matter how you approach the question, be sure to emphasize that you're confident you can do whatever it is they're asking you about.
It makes a potential employer feel better to know that you're confident in your abilities and talents—and it's also a far better alternative than just telling them, "No, I don't know how to do that," and possibly excluding yourself from consideration. As I mentioned earlier, just because you haven't done something previously doesn't mean you can't do it … or never will be able to … And who knows? With time, you may even do it very well!
What to say in an interview instead of I have no experience
We've discussed answering the question by providing a time when you did something similar and explaining that you're confident you could tackle the new skill. Is there anything else you can do?
Yes, you can be proactive. If you know ahead of time that a specific skill is needed for the type of role you're targeting, go ahead and start working on learning the new skill. That way, when the employer asks if you have experience doing (insert skills or qualification required) you can answer with this,
"I know how important learning Salesforce is to this role. I've already enrolled in a Salesforce Mastery course and will have the certification completed by the end of the month. In plenty of time, that I would be able to hit the ground running with your team."
By doing this, you're proactively addressing a concern that you know they have with your candidacy. This also works with other professional, technical, or academic skills.
If the interviewer mentions a situation or skill that you weren't aware of beforehand and therefore do not have a plan in place, but it's an essential skill for the role, you could also state something like this,
"I'm available and willing to fast-track learning this new skill that is important to the role. I'm confident that I could pick up quickly. In my last role, we deployed a new CRM software, and I was the first to learn the program and even taught it to a team of 25 other account executives." 
Stating something similar to the above takes your claim of being a fast learner a step further by providing an example of how you've mastered new skills, programs, etc., in the past and can do it again.
Are you struggling to create an executive resume that will impress employers?
Download this free executive resume template and receive a series of 10 emails with expert guidance on how to write resume content that resonates with employers so you get more interviews.
Jessica Hernandez, President, CEO & Founder of Great Resumes Fast
Hi, I'm Jessica. I started this company back in 2008 after more than a decade directing hiring practices at Fortune 500 companies.
What started as a side hustle (before that was even a word!) helping friends of friends with their resumes has now grown into a company that serves hundreds of happy clients a year. But the personal touch? I've kept that.
You might have seen me featured as a resume expert in publications like Forbes, Fast Company, and Fortune. And in 2020, I was honored to be named as a LinkedIn Top Voice of the year!
I'm so glad you're here, and I can't wait to help you find your next perfect-fit position!
Will your resume impress employers? Take this 2-minute quiz to find out.
Get your personalized plan for a resume that stands out and lands you your dream job!
Need a little help getting hiring managers to take notice? Find out what's standing between you and those magic words "You're exactly who we've been looking for!"