When you're in the middle of a job search, you're probably asking yourself how you can make your resume better and wondering what you should avoid in a resume. Let's take a look at some advice that can help you on both accounts.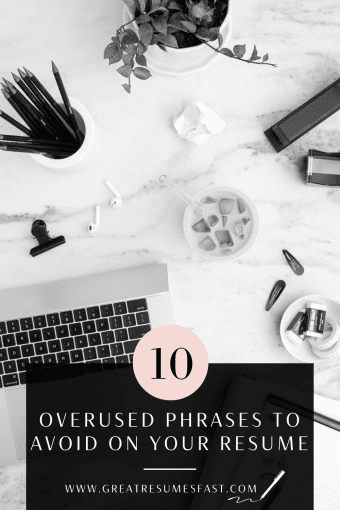 Lately I've noticed a trend—the use of phrases that have been creeping their way into resume career summaries and just killing any chances candidates have of presenting any individuality or distinctiveness. Isn't the goal of a resume to set you apart from your competition? Shouldn't it present you as uniquely qualified and unmatched by other people applying to the same job? Don't you want an employer to see what value YOU bring to the table?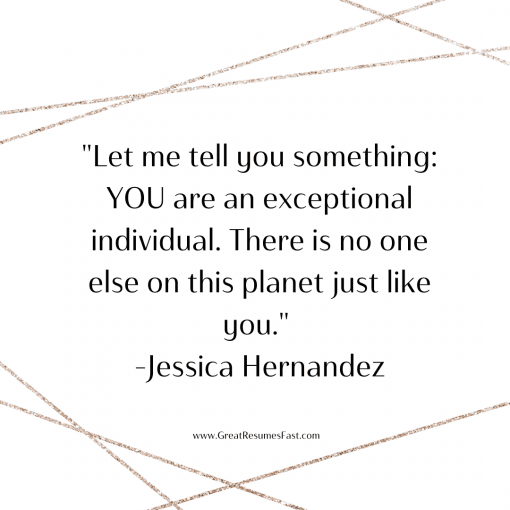 Let me tell you something: YOU are an exceptional individual. There is no one else on this planet just like you. That might sound a little cliché, but it's true. Think about it from a fairly simple standpoint—does anyone else possess the exact work history and work experience as you? The exact skill set? The same list of achievements? Never mind things like your personality and goals that set you apart. You deserve a professional resume that proclaims your incomparable talents, achievements, and expertise. You know that you need to tailor your resume to fit a different industry or different job opportunities, so why wouldn't you tailor your resume to emphasize what sets you apart from other applicants to increase your chances at getting that job you want?
Your resume is the chief evangelist of your career and best instrument for securing employment. So please, during your resume writing process take care to ensure that you're presenting yourself and your qualifications in a distinguishable and favorable way. Writing a resume is an exercise in persuasive writing. Take the time to do it right. Applying for jobs can be time-consuming and tedious, but when you do it right the extra work to do so will be worth it when you land that interview or get the call from a recruiter.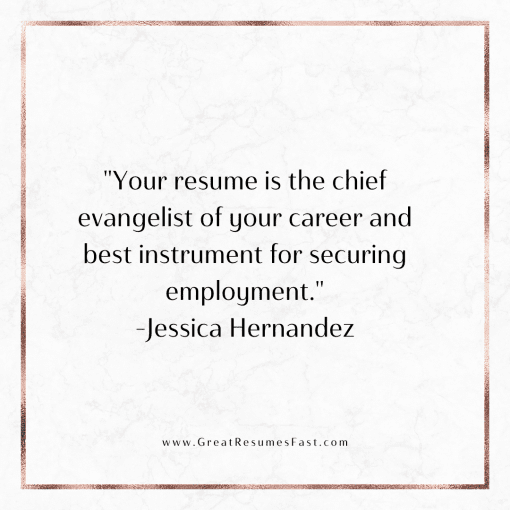 A Tip for Creating an Effective Resume to Distinguish Yourself
There are a lot of resume tips out there, and if you're in the middle of writing your resume or in the midst of a job search you've probably read through quite a few of them. Here's a major resume tip from me—someone who has spent years working in human resources and as a professional resume writer—choose your words carefully. This is pretty broad for a tip, so in this article I want to focus on one aspect of choosing your words carefully: avoiding words that are overused.
I encourage you to review your resume (especially the career summary statement—where these phrases so often appear), and eliminate any instances of these worn-out phrases that dull the shine of your individuality:
–          Demonstrated excellence
–          Proven ability to
–          Accomplished professional—or any statement that includes professional
–          Demonstrated success driving results and hitting goals in challenging and fast-paced corporate environments
–          Confident leader
–          Uniquely skilled at
–          Team player
–          Able to excel in fast-paced environments
–          Works well independently or with a team
–          Excellent communicator (or its counterpart: Excellent verbal and written communication skills)
–          Results-oriented, results-driven, or proven ability to deliver results
The Phrases to Use Instead
OK, that was more than 10, but once I got started I got a little carried away. The point is, most of these are such blanket statements they fail to substantiate your value to potential employers.  Whenever you think it's a good idea to utilize one of these vague statements, try replacing it with a fact or figure unique to you. Here are some examples:
–          Instead of saying accomplished professional, use the actual job title you're targeting: customer service manager, project manager, or chief executive officer, for example. The more specific you are, the better idea a hiring manager will have about your experience and how it might include transferable skills that would benefit you in a new position. Using specific titles will also help if a potential employer is looking for keywords in a resume or cover letter.
–          Instead of saying demonstrated success or demonstrated excellence—prove you've been successful by articulating it. Be specific about your accomplishments. A good resume always has numbers in it. If you led a team of 200+ customer service representatives to exceed their quota by 20%—bringing in an extra $5 MILLION in revenue—USE THAT INSTEAD! See how specific that information is to you, and how it speaks to your success? It tells me you're a great leader and that you drive strong financial gains. But it tells me in a very specific way, without making a vague statement such as: drives strong and sustainable financial gains. A potential employer would much rather see numbers and have a good idea of what you bring to the table than to see the word "strong" in the tenth resume of the day with no actual numbers to back it up.
–          Confident leaders don't have to state they're confident. If you're a confident leader, use facts and figures that highlight your results to show me how you've exuded confidence to your team. Use action verbs to talk about how you've been an effective leader. Anyone can just say they're a confident leader—not everyone has the relevant evidence to back it up. If you do, make sure you're including that evidence so a hiring manager can immediately see that you are, in fact, a strong leader.
–          Team player, thrives in fast-paced environments, strong communicators (most of us are these things). Employers don't assume you're not a team player or a great communicator because you didn't write this on your resume. These are soft skills that most every job requires you have to some degree in order to be successful. A potential employer will interview you and determine your communication skills at that time. They can also glean something about your level of writing skills from your cover letter and resume. They'll ask you specific questions about how you functioned within a team, the role you played, and the outcome of a project to ascertain your ability to be a part of the team or to function in a high-pressure environment. Use examples, facts, and figures to be more specific and set yourself apart. Don't take up valuable space on your resume to say phrases that in the end don't mean much to a potential employer and that they will see over and over again on everybody's resume during the hiring process. Set yourself apart—talk accomplishments, and leave discussion of soft skills for the interview.
–          Try to avoid using the word "results." If you ever feel tempted to use this word on your resume, ask yourself: What WAS that result exactly? Then write about what you delivered for the company or for clients instead of just the word. Vague descriptions add nothing to your resume. Instead, think in terms of outcomes; this will help you to write about facts and figures as opposed to generalities. No matter the field you are applying in, facts and figures are much more likely to help you catch the eye of recruiters and prospective employers.
– "Uniquely skilled at" – If you are including skills on your resume, they need to be relevant skills or strengths that you do have a special aptitude for or are specifically requested in a job description. For example, everyone should know how to use Microsoft Word—that's not a special skill—unless a job description specifically asks for it you should leave it off.
No other candidate will have your exact, identical work experience. Use this to your advantage, and be exact; prove yourself with examples and metrics whenever possible. Use formatting to your advantage to do so—highlight special achievements using simple graphics or charts. Don't get stuck in the pattern of just listing out cliché phrases or having an excessive list of bullet points under each item in your work experience.
Need a quick-start guide for adding high-impact words and action verbs to your cover letter and resume? Download your FREE PDF guide here it includes 178 action verbs and high-impact words you can use to improve your resume right now.
Jessica Hernandez, President, CEO & Founder of Great Resumes Fast
Hi, I'm Jessica. I started this company back in 2008 after more than a decade directing hiring practices at Fortune 500 companies.
What started as a side hustle (before that was even a word!) helping friends of friends with their resumes has now grown into a company that serves hundreds of happy clients a year. But the personal touch? I've kept that.
You might have seen me featured as a resume expert in publications like Forbes, Fast Company, and Fortune. And in 2020, I was honored to be named as a LinkedIn Top Voice of the year!
I'm so glad you're here, and I can't wait to help you find your next perfect-fit position!
Will your resume impress employers? Take this 2-minute quiz to find out.
Get your personalized plan for a resume that stands out and lands you your dream job!
Need a little help getting hiring managers to take notice? Find out what's standing between you and those magic words "You're exactly who we've been looking for!"