If you've been perusing resume examples, you might have noticed that some include a resume objective statement and others don't. So what is a resume objective, and, should you use an objective statement on your resume?
A resume objective is a statement that says what you want—what specific position, or what professional goals you're trying to achieve. My advice on writing a resume objective? Don't do it. There are better ways to create an effective resume, so do not waste your time writing an objective statement—at least don't do it the way it's poorly done so often.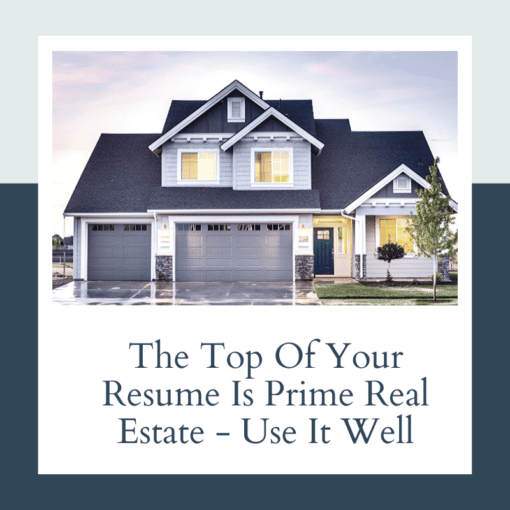 I get the idea behind a resume objective statement; I really do. You want the employer to know what your job search goals and career goals are. But the problem with objective statements is the way they're written. I've never seen an objective on a resume that was not broad and unclear. They're basically a waste of crucial real estate on your resume. In the spot where a resume objective usually goes, you could be using strong keywords to describe your qualifications and value to a potential employer rather than telling them what you want from them.
There are better ways to let an employer know what position or type of employment you're seeking—make it clear in your cover letter, for example. Or put it towards the bottom of your resume rather than at the top where you need to put the most important information about your relevant accomplishments and skill set that will impress the person making hiring decisions.
Below, I'm going to list a few poorly written resume objective examples. I think you'll agree they really don't tell the employer much about the candidate and do absolutely NOTHING for setting the person apart from anyone else applying for a job. Instead, these resume objective examples are self-focused, vague, and boring. And these aren't exaggerations from career objective statements I often see on resumes.
So here they are, bad sample resume objectives:
Bad Objective Statement Number 1:
To secure a challenging position with a well-established organization with a stable environment that will lead to a lasting relationship in the field of finance.
Bad Objective Statement Number 2:
Seeking a position that will enable me to use my strong organizational skills, extensive work experience, educational background, communication skills, and ability to work well with people.
Bad Objective Statement Number 3:
To obtain a position within an organization that provides the opportunity to use my education and experience to promote the company and myself.
During my human resources career, and now, as a professional resume writer, you would be surprised how many resumes I have seen that include these exact statements or something extremely similar. The problem with statements like these (even if you're seeking an entry-level position) is that they're generic, vague, overused, and they talk about what you want—not what you're capable of offering a prospective employer.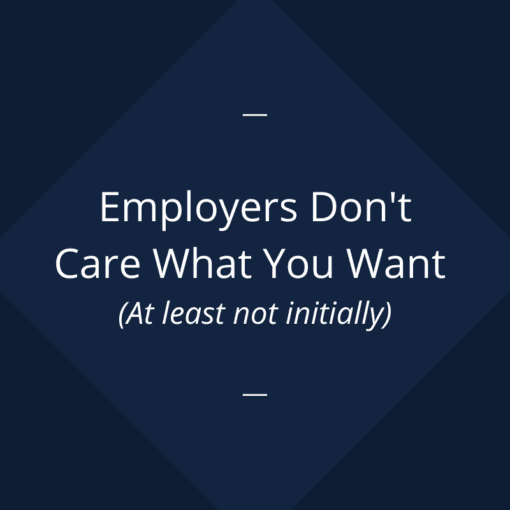 In today's job market, employers don't want to hear about what you want (not at first, anyway). They don't care what your career objective is—they care how your qualifications can help them. Your resume—especially the first third of it—should not be focused on what you're hoping to gain from an employer. Instead, when you write a resume you should be focused on marketing what you can offer the employer. Sure, your career objective may be helpful to this prospective employer, but don't ever frame it as "I want this job because it's good for my career." When you're writing a resume, frame it in such a way that you are telling them why you are good for their company.
If your resume has an objective statement—or even an ambiguous career summary—I suggest you take some time to really think about your personal brand, what sets you apart as a candidate, and what value you offer as a professional. Then rewrite this introductory profile so that it is a career summary statement that speaks to who you are, and no one else. Rather than writing an objective statement, write a branding statement that sets you apart from other candidates for the job and gets the attention of a recruiter or hiring manager.
For more resume writing tips and general career advice, visit the Great Resumes Fast blog. Here, you'll find hundreds of articles offering advice on everything from how to write an effective resume to how to make a great first impression at an interview. You can also find resume examples on our resume sample page. Here, you'll find examples of effective resumes across several industries.
Need help developing your personal brand or figuring out exactly what to write in a resume? Collaborate with one of our exceptional certified resume writers. Our professional resume writers are masters at drawing out information to communicate the value and benefit you offer the employer and then translating that material into a marketable, interview-winning resume. Outsmart your competition today and advance your career—partner with one of our resume writers! Learn more about our resume writing team here.
Are you tired of your resume being rejected by applicant tracking systems? I know how frustrating it is to submit your resume and receive no response. I hate seeing qualified people never break through the screening process. It shouldn't be that way. That's why I created this guide and I encourage you to download the FREE PDF so you can start seeing better resume response rates!
Jessica Hernandez, President, CEO & Founder of Great Resumes Fast
Hi, I'm Jessica. I started this company back in 2008 after more than a decade directing hiring practices at Fortune 500 companies.
What started as a side hustle (before that was even a word!) helping friends of friends with their resumes has now grown into a company that serves hundreds of happy clients a year. But the personal touch? I've kept that.
You might have seen me featured as a resume expert in publications like Forbes, Fast Company, and Fortune. And in 2020, I was honored to be named as a LinkedIn Top Voice of the year!
I'm so glad you're here, and I can't wait to help you find your next perfect-fit position!
Will your resume impress employers? Take this 2-minute quiz to find out.
Get your personalized plan for a resume that stands out and lands you your dream job!
Need a little help getting hiring managers to take notice? Find out what's standing between you and those magic words "You're exactly who we've been looking for!"