Executive resume writing and sending in executive job applications can be an extensive process, to say the least. There are many considerations you'll want to keep in mind along the way in order to ensure you catch the attention of recruiters and hiring managers who read your resume and cover letter.
By the time you've reached the executive level, you undoubtedly have a list of achievements and a strong skill set to present to potential employers and executive recruiters. Nonetheless, you may still be wondering how you can improve your executive resume to get noticed by the companies you want to work for.
Here's one of my resume tips—incorporating the right keywords as you are writing an executive resume is an effective way to improve the results of your job search. Plus, it's a relatively simple change to make to your executive resume.
Certain keywords can help you add great depth to your executive resume while increasing your chances of scoring an interview for that C-level executive position you have your eye on.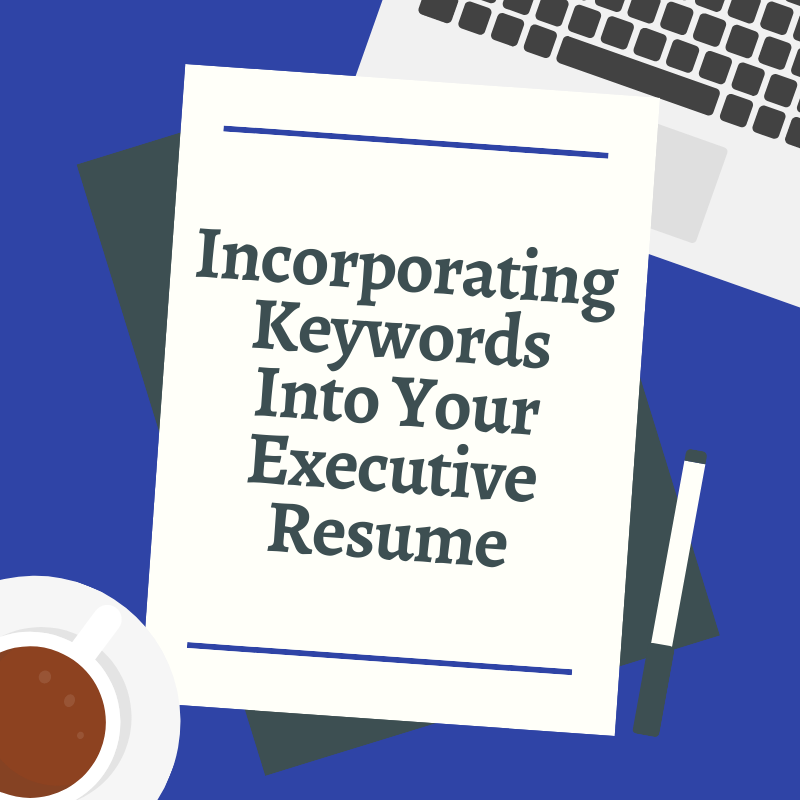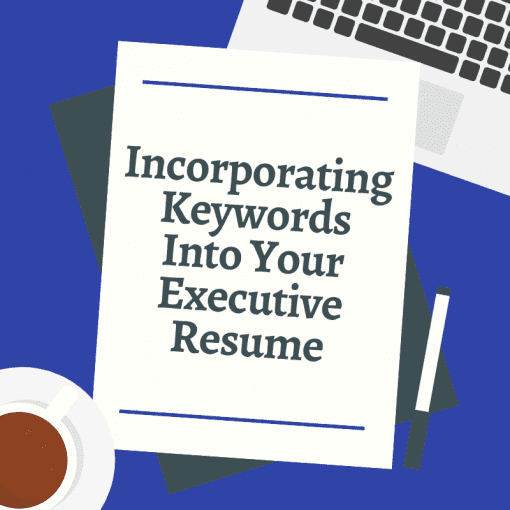 The Importance of Keywords
There was a time when keywords were not crucial to resumes. That's not to say that it hasn't always been important to add carefully chosen words that showed you had the required expertise in your field. But in the past, the lack of certain keywords probably wouldn't have stopped a candidate from being considered for a position as can be the case in the present day.
This is because many companies are now using screening technology (also called applicant tracking systems) in order to make sure resumes include certain keywords. If they don't, the applicant tracking software usually will "decide" that the candidate is not qualified enough for the position and will immediately send the resume to a decline file. Without the right keywords, there is a good chance that your resume will never be seen and assessed by a human hiring manager or recruiter.
The problem with this automated approach to the hiring process is that many candidates are indeed qualified but simply did not know which words to include. While it may help human resources cut down the number of irrelevant resumes that they have to go through, it may also mean that some good resumes are being missed because a keyword search done by software is missing them. That's why it's a great idea to take the time to explore the right keywords for resume writing in your industry, field, or for the position you are seeking.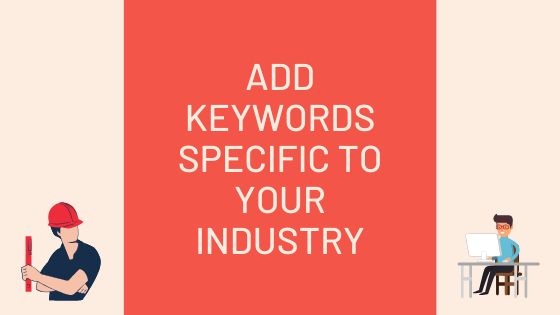 Adding Keywords for Your Industry
It's most important when writing your executive resume that you add keywords specific to your industry. For instance, if you are an executive chef and are applying for a new position in one of the top restaurants in your area, you might want to consider sprinkling relevant keywords and phrases within your job target, career summary, and work history that make you more marketable. If you are including a separate section for your skill set, include keywords there as well.
In this instance, some of the best resume keywords and phrases to consider are "strong culinary background," "full-service," "high-volume/high-publicity experience," "guest-oriented," "service-oriented," "passion for food," etc. Notice how these are relevant to a chef position and the hospitality industry.
What about a job as a bank manager? In that case, when writing your resume you will want to use words geared toward the financial industry, as well as relevant towards any particular skills outlined in the job posting. For example, the particular bank you are applying to may be looking at hiring someone who can spearhead an improvement of client relations. In that case, "client services" might be a good keyword phrase to use alongside more banking-oriented terms.
The good news is that the job postings you run across are likely to clue you in to the words you can add based upon what the companies are looking for. If you're not sure where to start for good keywords to use, always check the job description for the position you are applying to.
Great Generic Keywords to Consider
There are also some great generic keywords to consider that can add depth to your resume. Some you might want to include are: "budgeting and finance," "crisis management," "world-class organization," "performance optimization," "strategic planning," "decision making," "project management," and "profitability improvement."
While using generic keywords is definitely a better strategy than using no keywords when you write a resume, I strongly urge you to think about using keywords that are more targeted to your field and the company to which you are applying. A targeted resume that addresses a company's specific needs is more likely to be effective in the overall hiring process.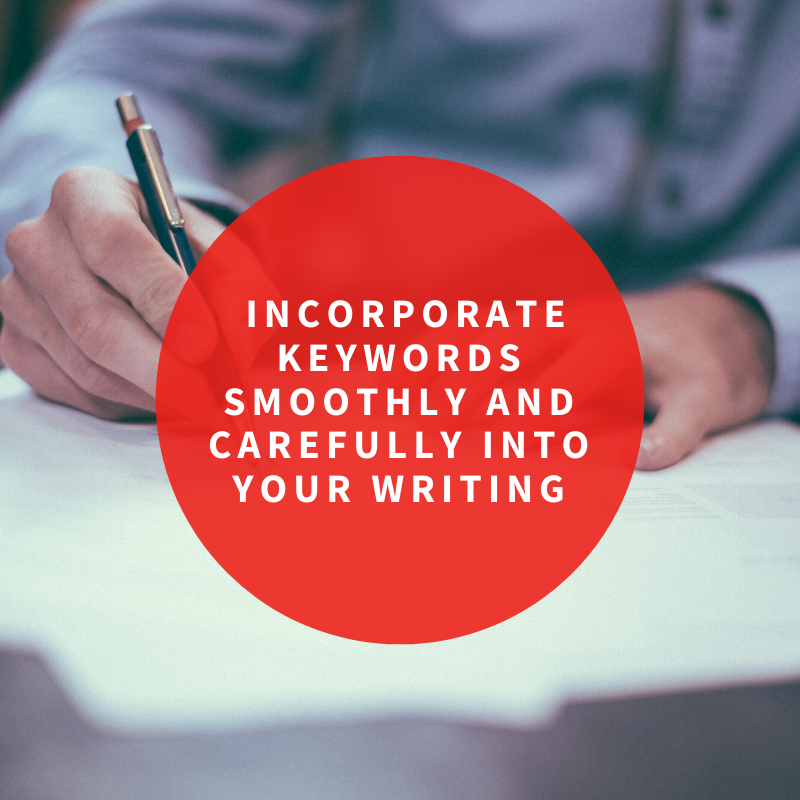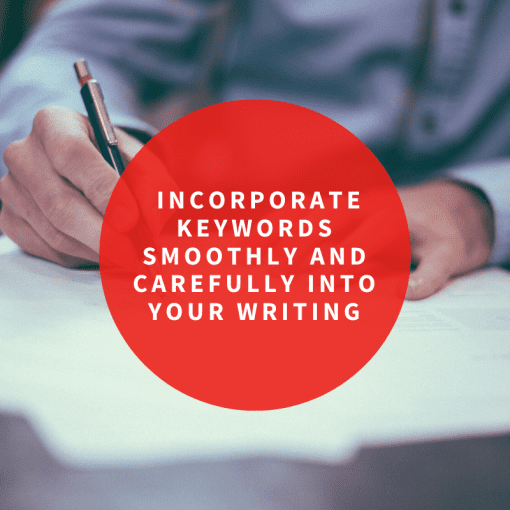 Incorporating Keywords Into Your Executive Resume
While you want to be sure you have relevant keywords and that you have enough of them, it is important to remember that their use needs to be well balanced. You don't want it to appear as though you're simply adding keyword phrases as fluff, nor do you want them awkwardly inserted so it's obvious you are just plugging them in as keywords. Consider how you can tell when someone has obviously just taken a thesaurus, picked the first words they come across as a synonym and replaced a word with it even though it doesn't quite fit. You don't want a prospective employer shaking their head as they read your resume and realize you did something similar. Remember—your resume isn't just a listing of your work experience, it's also an indicator of your communication skills.
Executive resume keywords should be incorporated smoothly and carefully into your writing. Keywords in your resume should also not just be buzzwords—when used well, they should actually say something about your experience and your value as an employee. Take the time to do some research and thinking about strong keywords for your field and position, and then do some writing and rewriting of phrases that incorporate them while effectively and smoothly communicating your skills, work experience, and accomplishments.
Here are a few tips to come up with a resume keywords list:
● As I mentioned above, read through the job description
● Check out the company's website and social media pages
● Read through a resume keywords list online. Here is a keywords list broken down by industry on the Great Resumes Fast blog.
● Brainstorm on your own – if you were a hiring manager, what would you want to see an applicant say about themselves?
Once you have a list of keywords, consider which most strongly apply to your experience and desires for employment—then incorporate them strategically throughout your resume.
For additional tips and advice on resume writing, cover letter writing, as well as other career advice, follow us on Twitter @GreatResume or visit our blog.
To see executive resume examples, visit our resume sample page. In these resume samples, you may find some good keywords for your executive resume!
If you'd like to work with a professional executive resume writer to craft a strong executive resume that gets results and helps you to achieve your career goals, contact the team of professional writers at Great Resumes Fast today.
Are you tired of your resume being rejected by applicant tracking systems? I know how frustrating it is to submit your resume and receive no response. I hate seeing qualified people never break through the screening process. It shouldn't be that way. That's why I created this guide and I encourage you to download the FREE PDF so you can start seeing better resume response rates!
Jessica Hernandez, President, CEO & Founder of Great Resumes Fast
Hi, I'm Jessica. I started this company back in 2008 after more than a decade directing hiring practices at Fortune 500 companies.
What started as a side hustle (before that was even a word!) helping friends of friends with their resumes has now grown into a company that serves hundreds of happy clients a year. But the personal touch? I've kept that.
You might have seen me featured as a resume expert in publications like Forbes, Fast Company, and Fortune. And in 2020, I was honored to be named as a LinkedIn Top Voice of the year!
I'm so glad you're here, and I can't wait to help you find your next perfect-fit position!
Get your personalized plan for a resume that stands out and lands you your dream job! Need a little help getting hiring managers to take notice? Take this 2-minute quiz and find out what's standing between you and those magic words "You're exactly who we've been looking for!"