Americans are on the hunt for new opportunities. Better compensation, better benefits, more flexibility, and the opportunity to move up are driving the surge for a switch. 2022's job market is the ideal time to prep your resume for a promotion.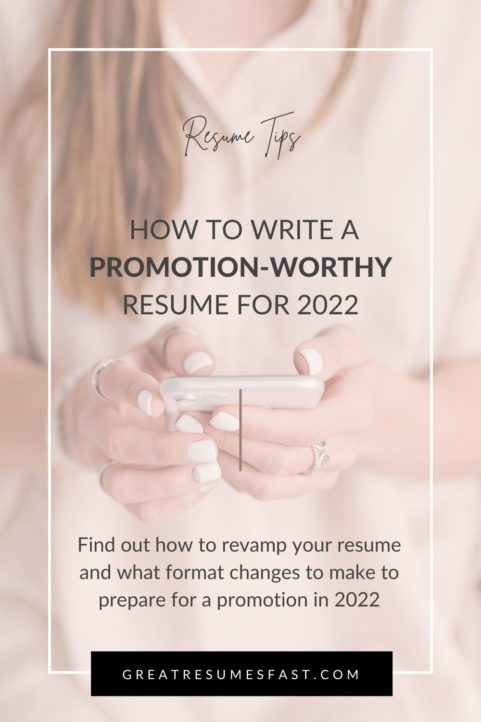 Write to the Future
Before updating your resume, make sure you're positioning yourself correctly for the step up you're targeting.
Your experience, achievements, and qualifications are all a part of your resume, but equally important is what information you include, how, where, and why—all of which are based on your goals for your next career move.
When you write your resume, you're not just writing about your past. You're writing to the future. You're positioning yourself for the promotion you want.
A resume is not a historical career narrative. It's a marketing tool. The content on your resume needs to point to where you want to be, not simply where you are right now.
To do this:
Review job postings for the step up you want (or very similar roles) to gather data and insights. Where do you have related skills, experience, or educational qualifications?
Identify your top skills and experience that align with the promotion you're interested in.
Reweight your skills and accomplishments. Put the emphasis on the professional, technical, and academic skills that align with the role.
When you write about your accomplishments, give a prominent position to those that are relevant to the requirements of the higher-level position.
Integrate critical keywords, specifically the professional, technical, and academic hard skills that are essential to the role.
Do not be vague in your objective. I don't even recommend including an objective on your resume. Instead put the target position title at the top of your resume in bold. It's specific and leaves no question about the role you want.
Show Accomplishments, Don't Just Tell
If you're applying for a promotion, you clearly believe you deserve it. That means you have accomplishments to speak about, accomplishments that have benefited the company. When you're applying for a job within your current company, it's extremely easy for the hiring manager or committee to check on claims you make, and if you're vague about your accomplishments they might not even bother and just set your resume aside.
When you refresh your resume, get specific for a better chance at getting that promotion. People are busy, and they want to be told directly what they need to know.
Saying "Successfully increased 2021 sales" might tell that you did something good, but it is nowhere near as clear as saying, "Increased sales by $2 million per quarter through the acquisition of four new clients in 2021."
Instead of listing out the responsibilities for the role, jump straight into your top accomplishment in the position. You're immediately conveying success in the role when you start with your top achievement.
I recommend including at least two to three major wins under each role. If you're struggling to come up with impressive content for a certain role, ask yourself when you have been first or best in relation to the role. You can also think about the number one thing you achieved in the position. Make these answers to these two questions your first two to three bullets.
Here are examples of bullets from a CEO client's resume under the experience section:
Established a value-added board of directors that were fully aligned with the mission and vision of the organization and primed to take the business into the future.
Produced consistent gains across NPS, customer service, sales conversion, and quality with a largely Fortune 500 client base.
Navigated the sale of the organization to a private equity group—creating a successful exit for investors with a return of 3.5x investment.
Ask yourself at every bullet and every sentence, how can I make this stronger and show evidence of this accomplishment?
Be Specific
It's really easy to use the words "accomplished" and "proven track record." The problem is that these overused words are generalities that do not provide credible or distinctive information to a prospective employer.
Here's an example of bullets that are specific:
Boosted employee satisfaction 15% despite headcount reductions—transformed the team culture with renewed focus on training and professional development while breaking down barriers and silos.
Produced $4M in annual cost savings—deep dived into cost and risk assessment to balance the area's cost and risk profile and devise forward-action strategies.
This resume is for an accomplished vice president of operations, but now we have a clearer picture of what she's accomplished and how. Two things that will distinguish her from other candidates.
When you're tempted to use phrases like "accomplished," "results-driven," or "proven track record," instead, stop and gather the data about your accomplishments, results, and track record and share that information instead. It will have more meaning and impact on hiring managers—which means you'll get more interviews.
Quick Tips
In addition to revamping the content of your resume to make it more effective for a promotion in 2022, you might also consider making formatting changes. Does the following need to be updated?
● Resume font—use Arial or a similar clean and professional font
● The resume file format you save and send your resume in (PDF is best—it works across all systems and preserves formatting)
● Your email address—it might be time to upgrade from AOL or Hotmail to show you are in sync with today's technology. Not to sound like your kid or grandkid, but what are you doing with an AOL email address?
If you are serious about getting a promotion in 2022, you need to revamp your resume to reflect both your current skill set and experience level as well as to better fit the modern needs of recruiters and hiring managers. Format can make as big a difference as content in today's world, so keep your resume easily readable while you highlight your major points rather than keeping them hidden among blocks of text.
Thanks for reading! Want more job search and resume tips? Check out these 6 free resources on my website that have helped more than 25,000 job seekers land their next job.
Also, Check out this year's list of eight resume writing tips for 2022. It includes eight different practical strategies with examples and lots of actionable advice that you can implement right away. I've included strategies for writing better accomplishment bullets and giving your resume more "wow" and impact, and I've also pointed out lots of things you definitely want to avoid. My favorite is the list of 10 cringeworthy words that repel recruiters.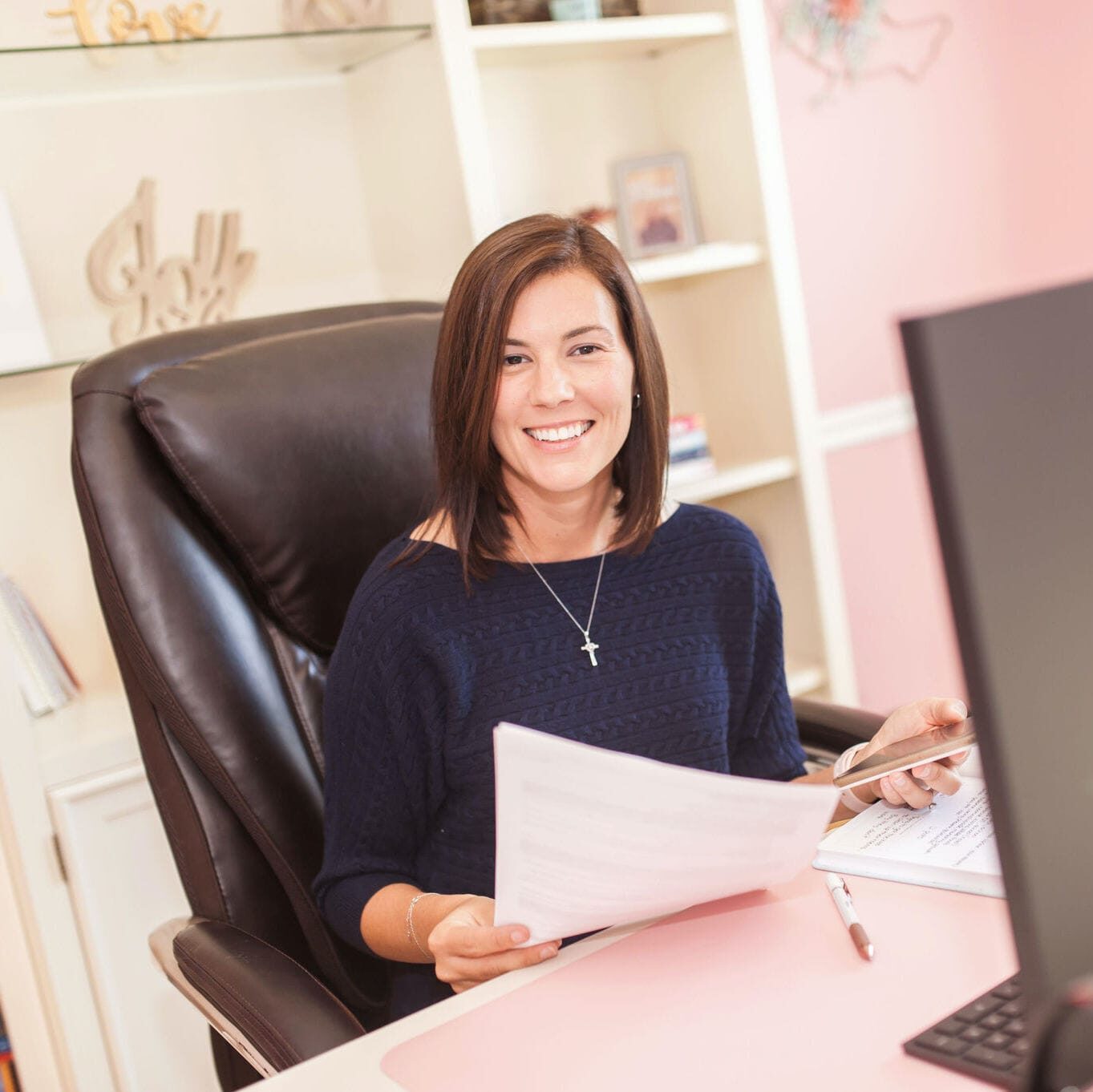 Jessica Hernandez, President, CEO & Founder of Great Resumes Fast
Hi, I'm Jessica. I started this company back in 2008 after more than a decade directing hiring practices at Fortune 500 companies.
What started as a side hustle (before that was even a word!) helping friends of friends with their resumes has now grown into a company that serves hundreds of happy clients a year. But the personal touch? I've kept that.
You might have seen me featured as a resume expert in publications like Forbes, Fast Company, and Fortune. And in 2020, I was honored to be named as a LinkedIn Top Voice of the year!
I'm so glad you're here, and I can't wait to help you find your next perfect-fit position!
Will your resume impress employers? Take this 2-minute quiz to find out.
Get your personalized plan for a resume that stands out and lands you your dream job!
Need a little help getting hiring managers to take notice? Find out what's standing between you and those magic words "You're exactly who we've been looking for!"