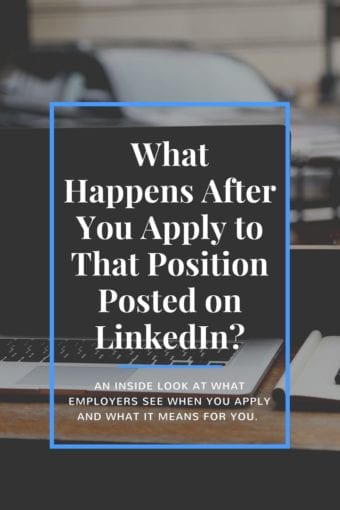 Do you ever wonder what happens after you apply to the position you saw posted on LinkedIn?
I recently posted a position for a new client services manager on LinkedIn. I thought I'd share with you what I received as an employer so when you're applying to positions on LinkedIn you know exactly what information LinkedIn is providing to the employer. I hope that this will help you to change how you apply, update your profile and make the most of your job search strategy!
When you apply you're added to the recruiter's candidate database along with everyone else who has applied and an email is sent to the employer alerting them that a candidate has applied to their position. In that email the employer receives a snapshot of your profile information.
What is included in the profile snapshot the employer receives?
At the very top of the email here's what the employer sees:
Your headshot
Relevant skills
Connection degree
Location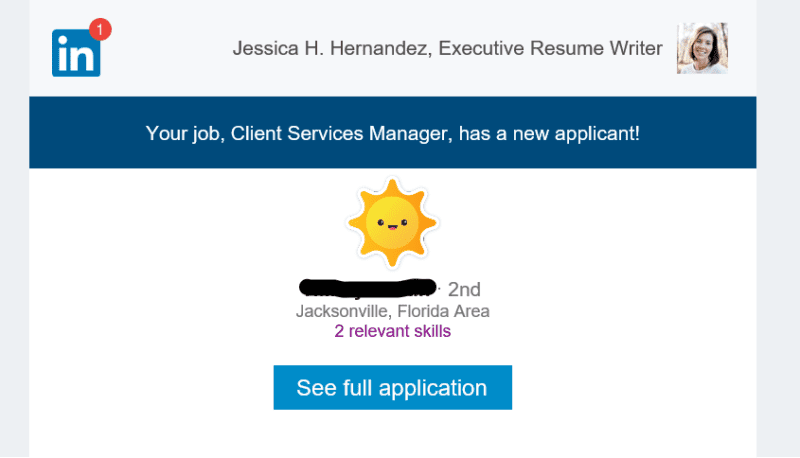 The "2 relevant skills" highlight in blue or purple is clickable and links to the candidate's application. The skills refer to endorsed skills on your profile that match the specific skills the employer included in the position posting. As part of the job description LinkedIn asks employers to list the top skills for the position then LinkedIn alerts the employer as to how many the candidate has that are a match.
Endorsed skills on your profile are important if you're going to be applying for jobs on LinkedIn.
Underneath the top section LinkedIn includes your current experience, past experience and employment dates. It looks like this:
Current Experience
(Job Title) at (Company Name), Start Date – End Date
Executive Resume Writer at Great Resumes Fast – 2008 to 2018
How can you get the employer to decide you're a fit or take time the time to review your resume, full application or LinkedIn profile if they only receive your job title?
According to Andy Foote in his article on LinkedInInsights.com there is a 100-character maximum in the position title field. My advice is to maximize that space and give the employer a quick glimpse into your brand and ROI.
I love what my colleague Marie Zimenoff does on her LinkedIn profile in her current position title: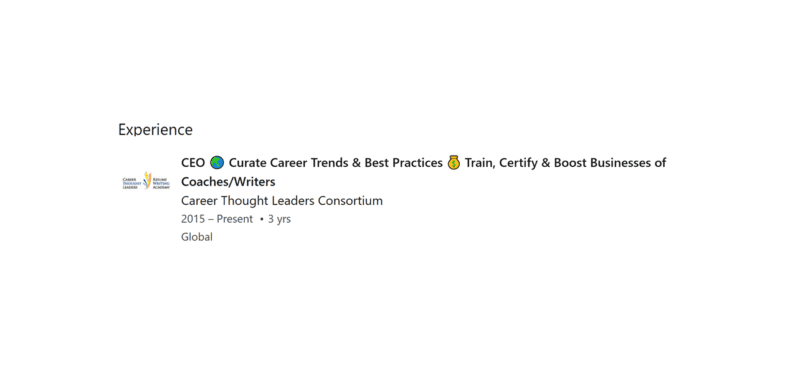 Doesn't it give you a great picture of the value she offers her ideal clients?
Let's apply that to your target audience – employers. Can you come up with a brief way to highlight the value you can offer employers and incorporate that into your position titles on LinkedIn?
This is an excellent and strategic way to make the most use of the information employers will read in the snapshot before they make a fit/no fit decision.
I recommend including a value-added statement / ROI statement to each position title in your LinkedIn profile.
Each of the application emails I received contained a maximum  of 14 lines of information on the applicant's current experience, past experience, highlights and education. I couldn't tell a rhyme or reason to how many positions or lines of text they decided to include in each section.
For instance, some applicants had 8+ past positions listed but LinkedIn chose to only include the first 5. For others, they may have had 8 lines of content in the current experience section but LinkedIn only included the first 4 lines.
The most recent positions are listed first and then go in reverse chronological order.
Possibly my favorite part of the candidate snapshot email is the section called Highlight.
The Highlight section informs employers if the candidate is connected to anyone who currently works for the company, anyone who is connected to them, or if they've hired anyone previously from your alma mater.
It looks like this: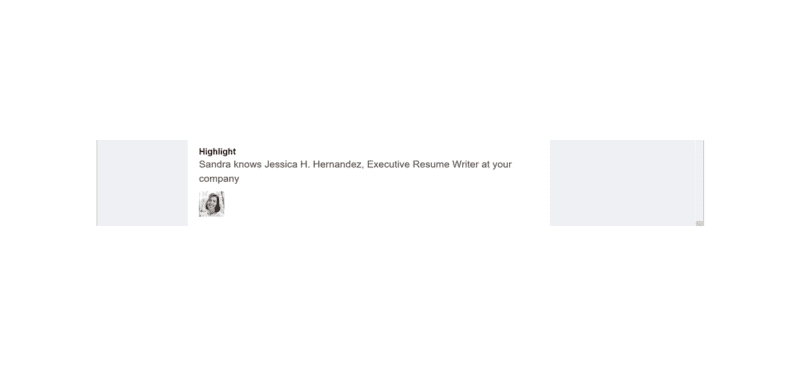 The employer can click a link in the email to view your full application or go to their dashboard to review all the applicants. From the candidate dashboard the employer can view the same snapshot information of all the candidates but with some added information.
On the candidate dashboard the employer can mark a candidate as a good fit, not a fit, message them, click to review their resume, or share the profile with someone else for their review and feedback (by selecting the three dots visible in the screenshot).

If you're marked as a good fit it moves your application to a new section of the dashboard where the employer can contact you through their Recruiter Inbox, track their contact with you and any messages exchanged, and document how you're progressing through the interview and selection process. It's actually very streamlined and intuitive.
Here are my tips to maximize your chances of being selected as a "Good Fit":
Start seeking endorsements for skills that match the types of positions you're targeting.
Build your network now and connect with others who are employed with companies that you want to target.
If you're already connected with someone who works at a company you're applying to, reach out to them for an informational interview and, if that goes well for you, consider asking for a referral or recommendation to the employer.
Maximize the character count in your position titles to include how you add value and deliver ROI.
If age discrimination is a concern for you be aware that graduation dates are included in the education section of the snapshot.
Employment dates are included in the current experience and past experience sections so if you've job hopped or you have employment gaps it will show up. Minimize this by seeking out referrals, using your position titles to highlight ROI.
ALWAYS attach your resume to your application. It's super easy for the employer to click the word "resume" and view your resume which will give the employer MUCH more detail about your career history, accomplishments and personal brand. You NEED to include this with your application.
OK folks, that's your behind-the-scenes peek into what the employer sees when you apply via LinkedIn. I hope this information helps you as you pursue your next great career move. If you found this article useful, please like and share so others can be helped too!
If writing your resume or LinkedIn profile is creating stress and taking up too much time, review these professionally-written resume samples or find out more about working with an executive resume writer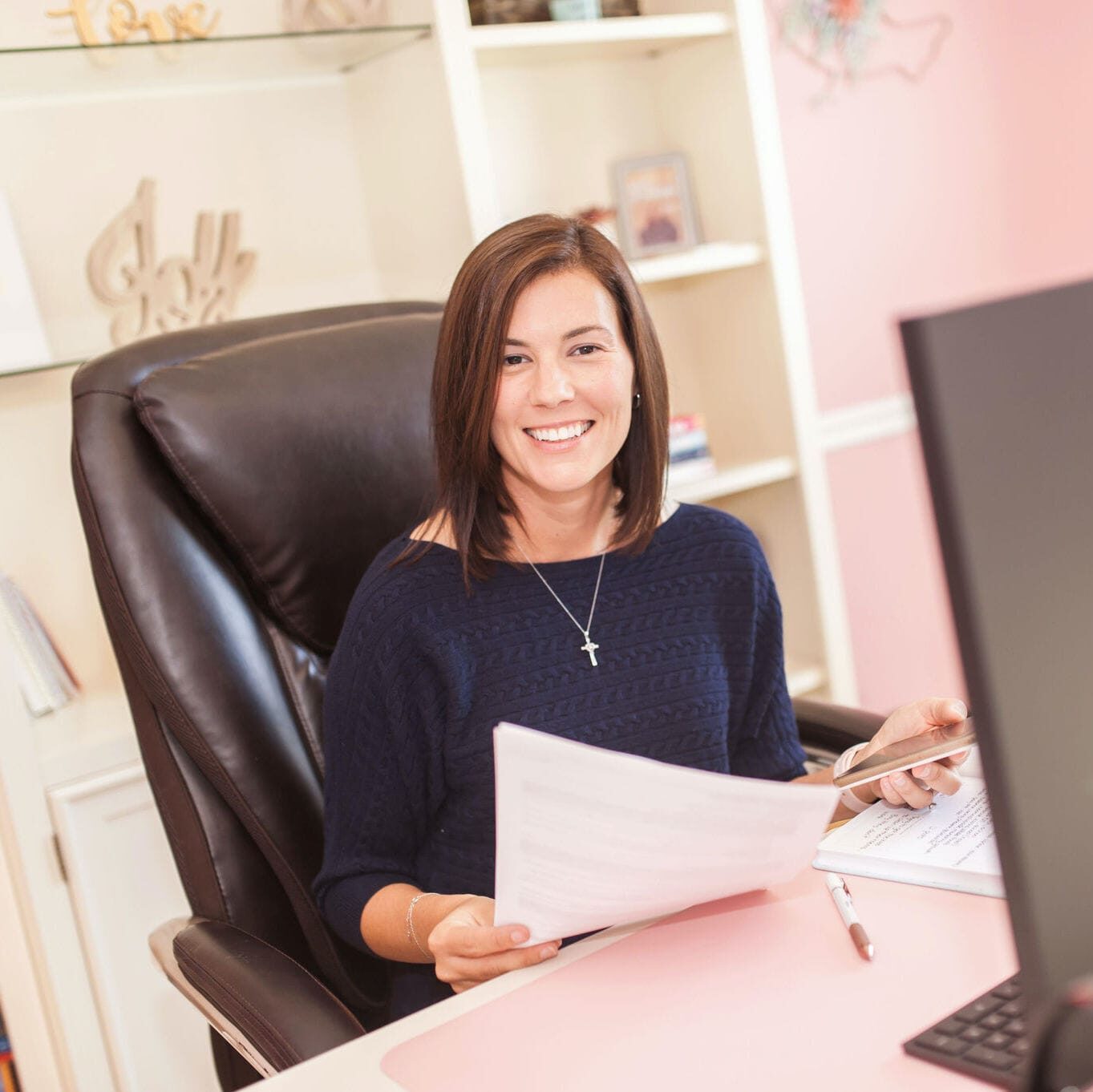 Jessica Hernandez, President, CEO & Founder of Great Resumes Fast
Hi, I'm Jessica. I started this company back in 2008 after more than a decade directing hiring practices at Fortune 500 companies.
What started as a side hustle (before that was even a word!) helping friends of friends with their resumes has now grown into a company that serves hundreds of happy clients a year. But the personal touch? I've kept that.
You might have seen me featured as a resume expert in publications like Forbes, Fast Company, and Fortune. And in 2020, I was honored to be named as a LinkedIn Top Voice of the year!
I'm so glad you're here, and I can't wait to help you find your next perfect-fit position!
Will your resume impress employers? Take this 2-minute quiz to find out.
Get your personalized plan for a resume that stands out and lands you your dream job!
Need a little help getting hiring managers to take notice? Find out what's standing between you and those magic words "You're exactly who we've been looking for!"