Trying to condense 20-30 years of experience into a two-page resume can feel overwhelming and impossible. It's not just deciding which roles and milestones to include but showing the scope and diversity of the roles you've held without robbing them of their significance or ending up with a 12-page resume. It's no easy task. I often hear from job seekers, who say something like, "With so many roles and milestones under my belt, how do I even begin to decide what to include and what to leave out?" That's what I'm here to answer in today's article.
I'll share five strategies for condensing 20+ years of leadership experience into a two-page resume without losing impact, important information, or what hiring managers needs to see.
Let's dive in.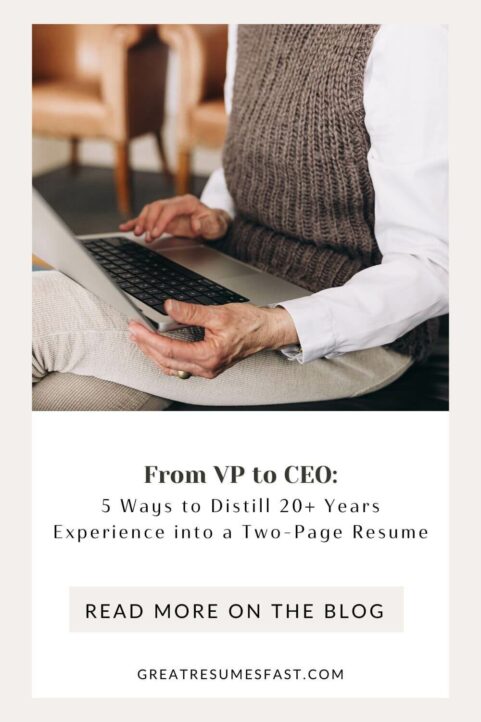 Focus on Impact, Not Tasks:
Sarah was a marketing executive who was having trouble distilling her career trajectory in a way that connected the dots for employers. Her career history was full of rich accomplishments, yet her resume told a story of tasks and not impact. It had been over a year since she'd received any job offers. We asked targeted questions to understand her roles and accomplishments. Then, we crafted a clear trajectory of her career showing how each role contributed uniquely and progressively to her career. Always focusing on impact and not daily tasks.
It's impractical to try and detail every responsibility or role you've held over the past 30 years. In fact, your resume should only go back to the last 10-15 years. If there's important information from before that time that must be included (think: career gap or industry change), then pull it in by creating an "earlier experience" section that highlights big wins but doesn't include dates.
Next, don't get hung up on specific tasks. At this point in your career, it's more important to focus on impact. List key achievements, and big wins, that made a significant difference at the company. Avoid vague statements like, "managed a sales team." Be specific and tangible. For example, you could state how you "Led a sales team of 10 and forged five new partnerships with Fortune 500 companies, directly contributing to a 20% boost in annual revenue in 2022."
This example is specific, it uses action verbs (Led, boost), numbers (10, five, 500, 20% 2022), key phrases (team, partnership, annual revenue), and clients (Fortune 500 companies).
Here are more examples of focusing on tasks vs. focusing on impact:
Vague Statement (What NOT to do): "Managed multiple projects across various departments."
Improved, Specific Statement: "Spearheaded three cross-departmental projects in 2022, resulting in a 15% increase in operational efficiency and saving over $500,000 in annual costs."
Task-Focused Statement (What NOT to do): "Oversaw budgeting, scheduled meetings, and coordinated with various departments."
Impact-Focused, Specific Statement: "Optimized a $3.4 million annual budget, resulting in 11% cost reduction, and enhanced cross-departmental collaboration, leading to 28% quicker project turnarounds."
Utilize the Prime Real Estate:
You've probably heard the common refrain that recruiters only spend 7 seconds scanning a resume. This is based on a 2018 eye-tracking study by The Ladders. The top third of your resume is by far the most important. It's the first thing recruiters lay eyes on and often serves as a litmus test for whether they'll continue reading or move on. Unfortunately, many executives miss out on this golden opportunity by filling this section with vague, generic, or passive career summaries.
An example of what not to do might read, "Experienced leader with many years in various roles, adept at managing teams and projects."
This kind of statement is broad and lacks specificity, leaving recruiters with more questions than answers.
Instead, the top portion of your resume should be a specific, tangible career snapshot, filled with numbers, impact, hard skills, and industry keywords. Prioritize your most recent and relevant roles to immediately demonstrate your expertise and leadership. Rather than a generic opener, consider an executive summary that succinctly encapsulates your leadership philosophy and core strengths.
A more effective career snapshot might read, "Strategic VP of sales who generated $50 million in annual revenue, pioneering three company-wide digital transformations, championing a collaborative culture evidenced by a 20% increase in team efficiency." It immediately conveys a wealth of information, positioning you as a candidate of substance and impact.
Generic and Vague Career Summaries for a VP of Sales (What NOT to do):
"Seasoned sales leader with extensive experience in various industries. Proven track record of managing teams and achieving sales goals."
"Dynamic VP of Sales with a history of driving growth and spearheading sales initiatives. Skilled in team leadership and strategy development."
Specific, Tangible Career Snapshots for a VP of Sales:
"VP of Sales in the SaaS sector. Generated $53M in annual revenue in 2023, expanded sales team 152%, and sealed partnerships with 7 industry giants, including Microsoft and Salesforce."
"As VP of Sales, accelerated revenue growth 22% YoY, pioneered a training program slashing onboarding time 31%, and led campaigns targeting and capturing 3 Fortune 500 accounts in 2023."
I invite you to download this executive resume template for free. Because every application you send out should be a step closer to your dream job, not just another entry into the void.
Group Similar Roles:
This is a great strategy when you're worried about redundancy on your resume. Especially if you've held multiple positions that are similar, you can group them together under one executive umbrella word like "Leadership Experience" or "Sales Leadership Roles."
This strategy is a win/win because now you've brought the focus to your leadership experience, maintained brevity on your resume so you're not ending up with a five-page document, and you're able to show the breadth and depth of your experience.
Instead of getting lost in the minutiae of daily tasks, focus on presenting a brief, yet powerful, overview of the most pivotal accomplishments that resonated throughout your leadership tenure
Here's an example of what the grouped and condensed approach might look like for a VP of Sales:
Leadership Positions in Sales (2012-2023)
VP of Sales, TechSnap Solutions | Director of Sales, GreenEco Innovations | Sales Manager, Big Apple Corp.
Cumulatively drove over $123M in sales across tech sectors, including SaaS, green technology, and digital solutions.
Established and managed teams totaling 100+ sales professionals, maintaining an average retention rate of 87%.
Orchestrated the acquisition of 21+ major enterprise partnerships and successfully launched 5 flagship products.
Introduced and optimized CRM systems and sales pipelines, leading to a 17% overall increase in sales conversions.
I chose to bold the important numbers to draw attention to them. This helps direct the hiring manager's eye where we want it to go. The above example would also make a great key accomplishments section in the top third of the resume or a separate leadership profile, depending on your goals for your next career move.
Opt for a Hybrid Resume Format:
The hybrid or combination resume format is my absolute favorite for executives. It blends the best of a functional format (its focus on key skills and accomplishments) and a chronological format (experience and longevity).
Here are the benefits of using a combination/hybrid resume format:

Highlights Skills and Accomplishments: The hybrid format allows executives to showcase their top skills and achievements right at the top of the resume. This is invaluable for those with three decades of accomplishments under their belt, ensuring the most impactful achievements of your career aren't buried deep within your resume but are front and center.
Chronological Clarity: While emphasizing skills and achievements, the hybrid format doesn't neglect your work history. It offers a clear timeline of your career progression, enabling potential employers to see your career growth.
Flexibility: This format is adaptable. You can tailor it to the specific role they're targeting, placing emphasis on the most relevant skills, experiences, or achievements pertinent to your target role.
Combats Potential Age Bias: By front-loading the resume with skills and significant accomplishments, executives can lead with their expertise rather than the sheer length of their experience. This can be a strategic way to navigate potential age biases in hiring.
Tackles Career Gaps or Transitions: The hybrid format is adept at smoothly handling career gaps or significant transitions. By grouping similar roles or focusing on overarching accomplishments, any periods of hiatus or shifts between industries become less glaring, ensuring the resume maintains a cohesive narrative.
Optimized for ATS (Applicant Tracking Systems): A well-written hybrid resume can be optimized for ATS systems, which 98% of Fortune 500s use to filter applications. This ensures that despite its brevity, the resume captures the right keywords and qualifications.
The executive resume template that I created is an example of a combination or hybrid format resume. You can grab it for free here. Enter your email address and I'll send you the template, plus a few emails with my advice for writing a great resume with the template.
Tailor for the Target Role:
I say this all the time, but a generic resume will not work. Employers want to hire specialists, with relevant experience, who possess the skills for the job.
Targeting a specific role gives you a clear vision of what your resume needs to accomplish. With a well-defined target position, it becomes easier to eliminate non-essential details and focus on the experiences and achievements that resonate most with that role and the audience.
Thirty years of leadership experience includes a multitude of positions, projects, and achievements. Writing for a specific position means that only relevant expertise is shown—those experiences that best demonstrate your fit and qualifications for the job.
Tailoring your executive resume to a specific position makes it easier to choose the career achievements that will support the goal of your next career move, helps you streamline your career narrative, and improves recruiter engagement when reading your resume. The number one thing recruiters look for when scanning a resume is relevant experience.
When you understand your audience—be it a tech startup, a multinational conglomerate, or a non-profit organization—you can tailor your language and tone accordingly. This not only makes communication efficient but also demonstrates your adaptability and understanding of diverse organizational cultures.
Great job on taking the step to work on your resume.
That alone shows perseverance and proactivity. But I know the process can sometimes feel overwhelming. Even with a template in hand, there's that nagging question: "Am I doing this right?"
It's not just about filling in the blanks. It's about making sure every part of your resume, cover letter, and LinkedIn profile truly represents who you are and what you bring to the table.
That's where we come in.
I'd love to offer you a complimentary phone consultation. It's a chance for us to chat, discuss your goals, and help you figure out the best way forward in your job search.
Our 360 Personal Brand Makeover Service is designed to give you a well-rounded, professional presence across all your job search materials. But more than that, it's about giving you the confidence that everything you're putting out there is the best version of your professional self.
Want to chat and see how we can help?
Book Your Free Consultation Now
Let's get you one step closer to your next great role.
Wishing you the very best in your journey,
Jessica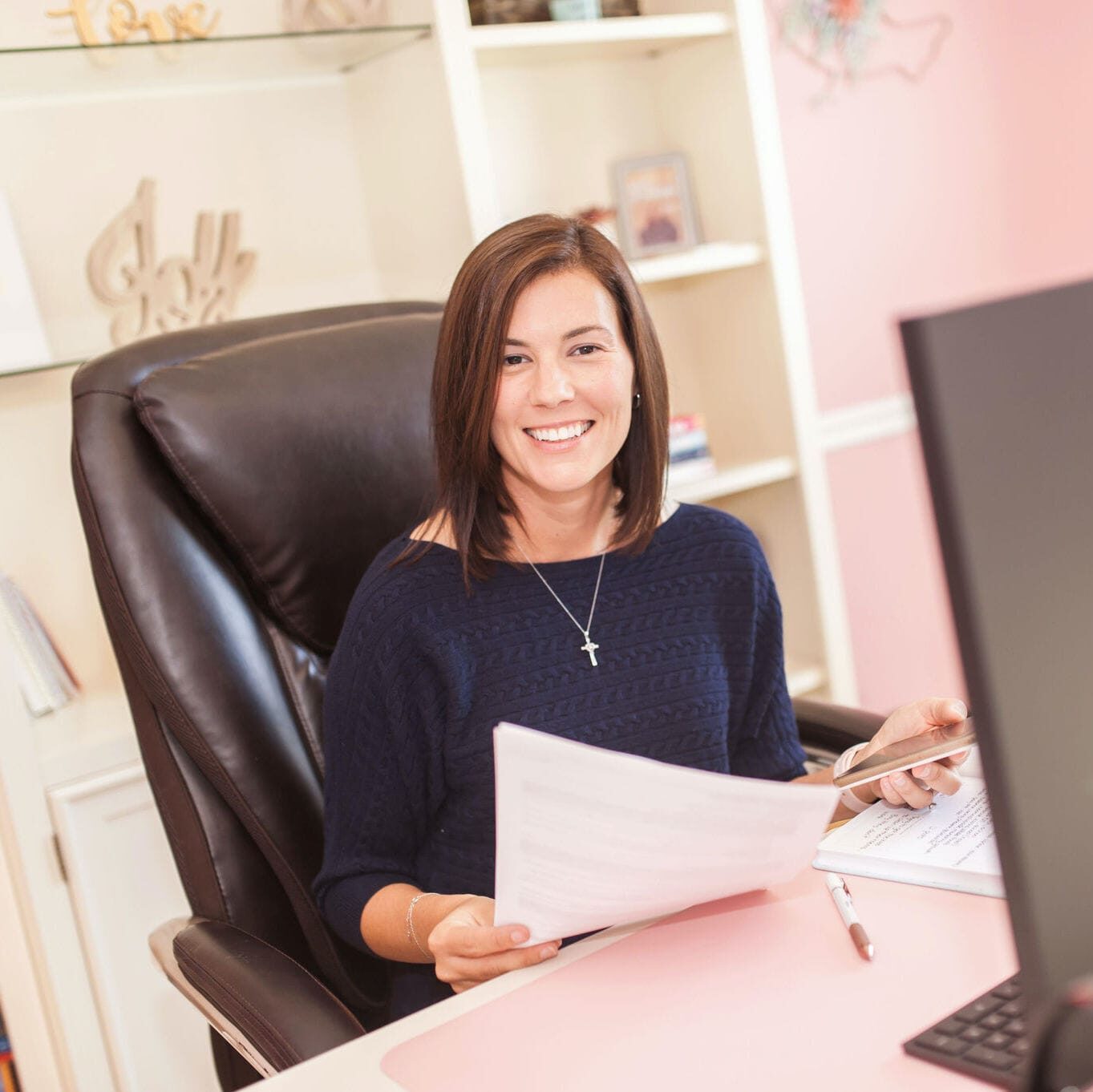 Jessica Hernandez, President, CEO & Founder of Great Resumes Fast
Hi, I'm Jessica. I started this company back in 2008 after more than a decade directing hiring practices at Fortune 500 companies.
What started as a side hustle (before that was even a word!) helping friends of friends with their resumes has now grown into a company that serves hundreds of happy clients a year. But the personal touch? I've kept that.
You might have seen me featured as a resume expert in publications like Forbes, Fast Company, and Fortune. And in 2020, I was honored to be named as a LinkedIn Top Voice of the year!
I'm so glad you're here, and I can't wait to help you find your next perfect-fit position!
Will your resume impress employers? Take this 2-minute quiz to find out.
Get your personalized plan for a resume that stands out and lands you your dream job!
Need a little help getting hiring managers to take notice? Find out what's standing between you and those magic words "You're exactly who we've been looking for!"