Being a mom, working from home, running a company, and raising a family is no easy task. That's why I'm sharing my 5 favorite books for mompreneurs.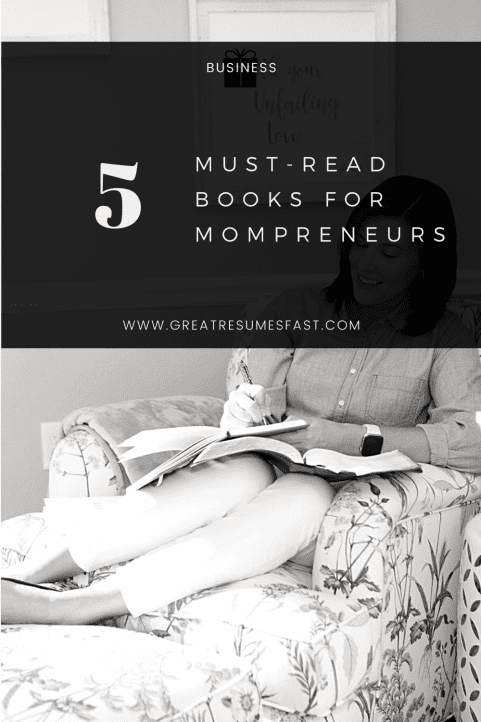 I've been in the trenches of growing a company and raising a family for 13 years, and the challenge of trying to balance both is daunting and most days not likely to happen. Some days the company gets more time, other days family needs more time, and on rare occasions, the clouds part and a hallelujah chorus of angels come down and I'm able to devote time to both and accomplish a lot in a day.

Can you relate?

Over the years I've invested in a lot of business books, parenting books, and even tried a few books that mix both. And, there are really only a few. There aren't many books that I know of that tackle being a mom and growing a business. Here are some that I've found that I've gleaned a lot from, and hope that you will, too.

GRACE, NOT PERFECTION
One of my favorites is Emily Ley's book, Grace, Not Perfection (use this link for a $10 off coupon on the book). While it's not inherently about growing a business, it is about the balance of life when you're a mom and running a business. She's authentic and real in the book and fights against comparison and unrealistic expectations that end up leaving us frazzled. I highly recommend it. She also has three other books, they're on my reading list to tackle next. Head to her website and click on the books link to check out all of her books. By far she nails it when it comes to books for mompreneurs.

WHAT MOST SUCCESSFUL PEOPLE DO BEFORE BREAKFAST
Laura Vanderkam's book What Most Successful People Do Before Breakfast was a quick read that packs a big punch. She dives into the morning routines of the most successful people alive today and finds the commonalities between their routines. All of her suggestions are also backed up by research and science, which is detailed in Rest, another book on my list of recommendations. This particular book also includes two other short reads: "What the Most Successful People Do on the Weekend" and "What the Most Successful People Do at Work." I'm confident you'll find several practical and tangible strategies that you can incorporate into your daily routine as a mom and business owner that will make life run more smoothly for you. I found so many ideas that I started taking notes and saved them in my phone to refer back to.

DESIGN YOUR DAY
Design Your Day by Claire Diaz-Ortiz is another great book on productivity and time management. And, as a busy mom, when don't you need to make the most of your time?

I loved her acronym for mornings, PRESENT:

P – Pray
R – Read
E – Express
S – Schedule
E – Exercise
N – Nurture
T – Track

I follow this exact routine almost every single morning and I can't sing the praises highly enough. It helps set the tone for my entire day. I'm able to fill my cup before pouring out into my six children and growing business. If you're a mom that struggles to fit in self-care, this book and the PRESENT routine are for you!

REST
Rest: Why You Get More Done When You Work Less by Alex Soojung-Kim Pang is by far the most eye-opening book I've read on work. It's heavy on research and science, which makes my nerdy research side incredibly happy. So if you don't love getting bogged down in all the academic talk I recommend reading through it slowly. I read a chapter a day or every other day.

The biggest "AHA" moment I had was reading his chapter on what you can accomplish during four hours. I love how he weaves in stories from all these great writers, scientists, and creatives who've implemented the principles in the book. Each chapter starts by sharing the stories of real-life people from past and present times who have implemented the practice the chapter is explaining. Then in the second half of the chapter, he shares the research and science behind the practice and why it's beneficial.

It will rock your world if you're a workaholic or someone who believes hustling and working 60-hour workweeks is the only way to get ahead. Give yourself the gift of freedom, mama. This is a must-read book for mompreneurs!
ATOMIC HABITS
Atomic Habits by James Clear explains how habits bring us success in life and business. I love his perspective because he discusses how it's not just about creating the new habit, but it's about the consistency of it that brings success. While the book is not strictly business and it's not geared towards moms particularly, the strategies and methods in this book are incredibly helpful when you're a mom and a business owner.

He provides so many practical ways to start and incorporate new habits—whatever they may be—into your routine. One of my favorites is his section on what he calls "The 3rd Law: Make it Easy." He outlines how to walk slowly but never backward, how to stop procrastinating, and how to make good habits inevitable and bad habits impossible. It's definitely worth your time to read!
TWO MORE GREAT RECOMMENDATIONS
These two books are not inherently about motherhood and business ownership, but they've both helped me to be a better mom and a more authentic business owner.

If you're looking for something new to add to your reading list, I highly recommend these two:

Gifts of Imperfection by Brene Brown

Let Go of the Guilt: Stop Beating Yourself Up and Take Back Your Joy by Valorie Burton

My house is full of bookshelves that are full of books. I'm an avid reader and I usually have four to five books going at one time. I'd love to hear your recommendations for anything that I should add to my reading list.

Do you know of any good books for mompreneurs? Share them in the comments below!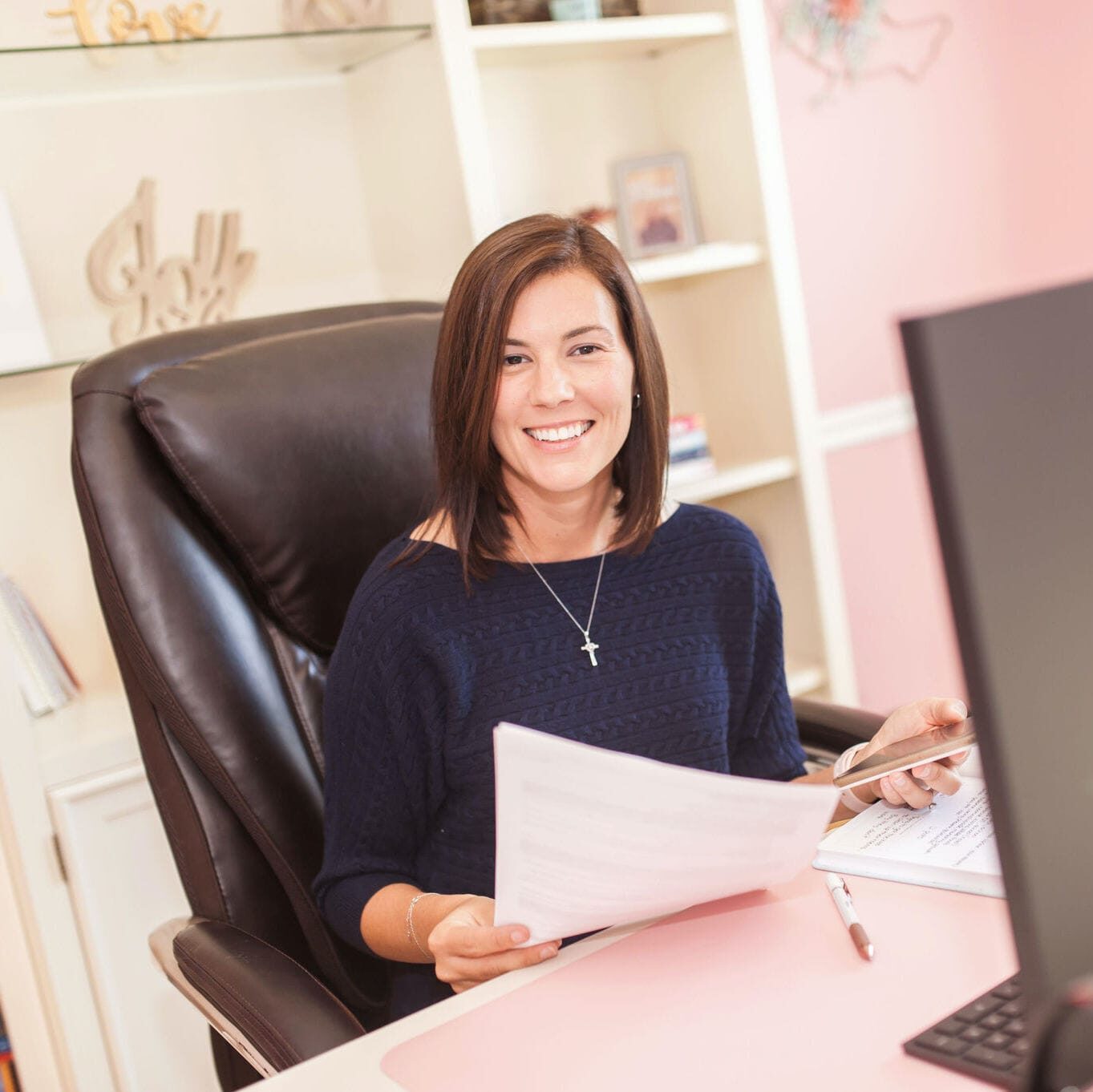 Jessica Hernandez, President, CEO & Founder of Great Resumes Fast
Hi, I'm Jessica. I started this company back in 2008 after more than a decade directing hiring practices at Fortune 500 companies.
What started as a side hustle (before that was even a word!) helping friends of friends with their resumes has now grown into a company that serves hundreds of happy clients a year. But the personal touch? I've kept that.
You might have seen me featured as a resume expert in publications like Forbes, Fast Company, and Fortune. And in 2020, I was honored to be named as a LinkedIn Top Voice of the year!
I'm so glad you're here, and I can't wait to help you find your next perfect-fit position!
Will your resume impress employers? Take this 2-minute quiz to find out.
Get your personalized plan for a resume that stands out and lands you your dream job!
Need a little help getting hiring managers to take notice? Find out what's standing between you and those magic words "You're exactly who we've been looking for!"