An elevator pitch, positioning statement, or elevator speech is a very concise statement that shares who are you, what you do, industries you serve, and how you add value or contribute.
You want to prepare your statement in advance and memorize it so that when you share it you do so with confidence.
Elevator pitches are great for networking events, sharing with family and friends, using on LinkedIn as you build/expand your network, during interviews, and throughout your job search.
I've put together an easy, 3-step template for creating your own elevator pitch and have also included three examples that you can draw from as you start to write your own.
#1: Start your elevator pitch with the following statement:
I am a ______________ (fill in position title) with ___________ years of experience in _____________. (industry/industries)
Step one of writing your elevator pitch is to share your position title, years of experience, and industry.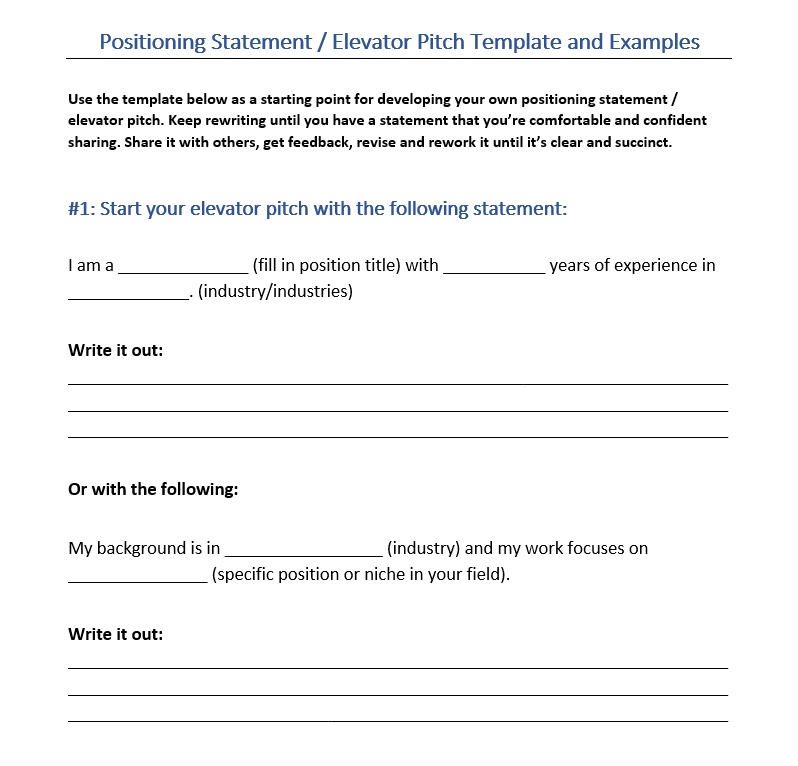 #2: Continue your statement with a second sentence that adds:
My strengths include ___________, __________, and _________. (Use three desired skills that are also strengths)
Or with the following:
I have special expertise in ________, ________, and __________ (Use three skills/strengths)
Step two of your elevator pitch is to share your strengths. Use three skills that are important and relevant. Examples include: leadership, problem-solving, communication – think soft skills that matter to employers!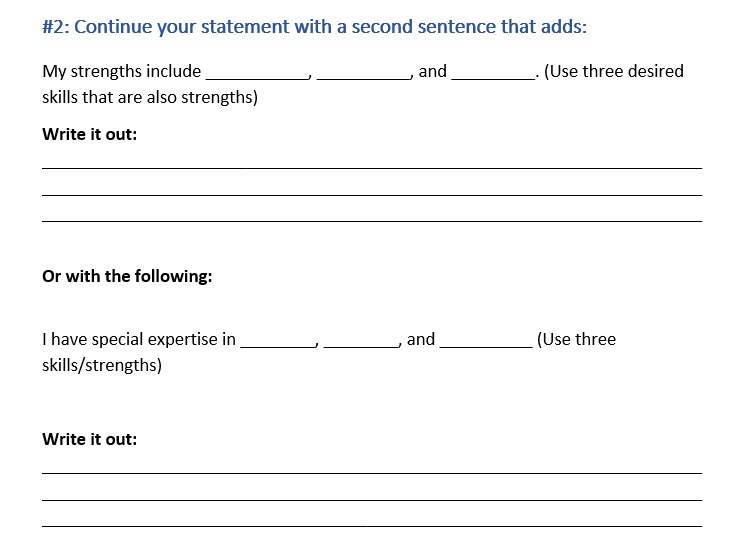 #3: Wrap up your positioning statement with what's next:
I enjoy / I am most proud of: ___________, _____________, and ____________. (Three areas you excel and deliver results)
Also include:
I am looking forward to, I am looking for, or I am exploring opportunities in ___________ (Desired role, type of position, or industry) so that I can _______________ (Type of pain or problems you solve or how you'll contribute).
Step three of your elevator pitch is to highlight what you enjoy, are most proud of, and what you're looking forward to or exploring in your NEXT POSITION.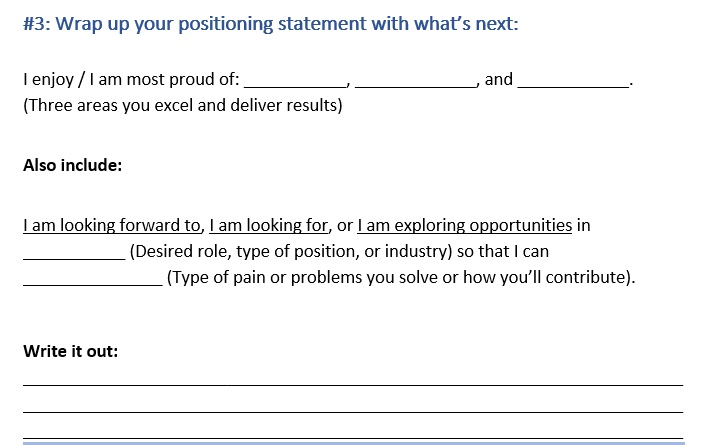 Examples of positioning statements/elevator pitch.
Example of elevator pitch #1:
I am an executive resume writer with 18 years of experience in human resources and career support services. My strengths include personal branding, executive resume writing, and job search coaching. I enjoy teaching and equipping job seekers with all the tools, techniques and career-marketing documents they need to land their ideal careers and improve their quality of life. I look forward to continuing to grow and expand Great Resumes Fast to serve more job seekers and help them skyrocket their careers and transform their lives.
Example of elevator pitch #2:
I am a human resources business partner with 15 years of experience in corporate HR. I have special expertise in leadership, problem-solving, and analysis. I enjoy building relationships, providing the best resources, and developing strategies to meet the needs of the whole organization. I am exploring leadership opportunities, specifically a CHRO role that will provide me the opportunity to have a greater impact on workforce strategy and policy implementation.
Example of elevator pitch #3:
My background is in supply chain management and my work focuses on LEAN restructuring of organizations and teams and well as overall supply chain strategy. My strengths include operations strategy and leadership, process redesign, and budgeting and forecasting. I am most proud of my ability to analyze situations quickly, think creatively, and make optimal decisions at hyper speed. I am exploring senior-level positions where I can use my problem-solving, leadership, and lean-thinking to drive organization growth and empower teams to reach their potential.
Your positioning statement can be used when speaking with family and friends about what you do, on social media sites like LinkedIn, during your networking efforts, in interviews, throughout your job search and your career. It's an important statement to practice, memorize, and deliver with confidence.
One common misconception that I believe is important to address here; a positioning statement is only one piece of a full career portfolio. Just as a resume is not the only tool you need in your toolbelt. Managing a career involves multiple tools, techniques, and resources to be successful. Too many people sell themselves short by not utilizing the many different tools available to them in managing their own careers.
Ready to make your next career move?
Schedule a resume strategy session and we'll be happy to discuss your goals for your next career move and make recommendations on the best steps to get you there.
Other articles you might enjoy:
The 7 Mistakes People Make When Writing an Executive Resume
Improve Your Executive Resume Format to Increase Executive Job Search Success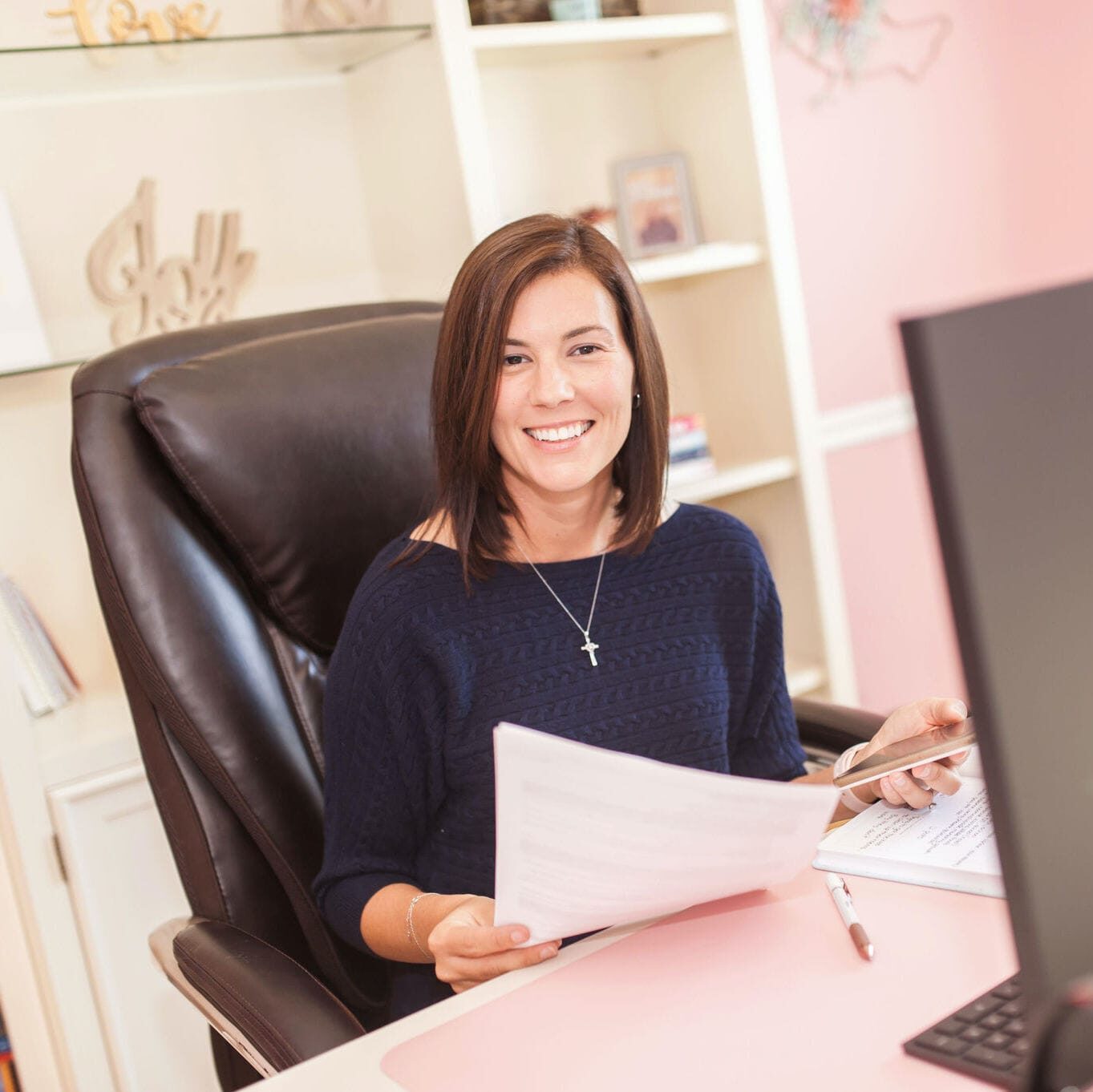 Jessica Hernandez, President, CEO & Founder of Great Resumes Fast
Hi, I'm Jessica. I started this company back in 2008 after more than a decade directing hiring practices at Fortune 500 companies.
What started as a side hustle (before that was even a word!) helping friends of friends with their resumes has now grown into a company that serves hundreds of happy clients a year. But the personal touch? I've kept that.
You might have seen me featured as a resume expert in publications like Forbes, Fast Company, and Fortune. And in 2020, I was honored to be named as a LinkedIn Top Voice of the year!
I'm so glad you're here, and I can't wait to help you find your next perfect-fit position!
Will your resume impress employers? Take this 2-minute quiz to find out.
Get your personalized plan for a resume that stands out and lands you your dream job!
Need a little help getting hiring managers to take notice? Find out what's standing between you and those magic words "You're exactly who we've been looking for!"