Are you trying to figure out how to balance the demands of raising a family and managing real-life while growing your resume or at-home business?

Man, I've been there. Since starting my company in 2008, I've gone through a divorce, been a single mom, remarried, and our family grew from one child to six kids! We homeschool five of our six kiddos and two of my children have special needs.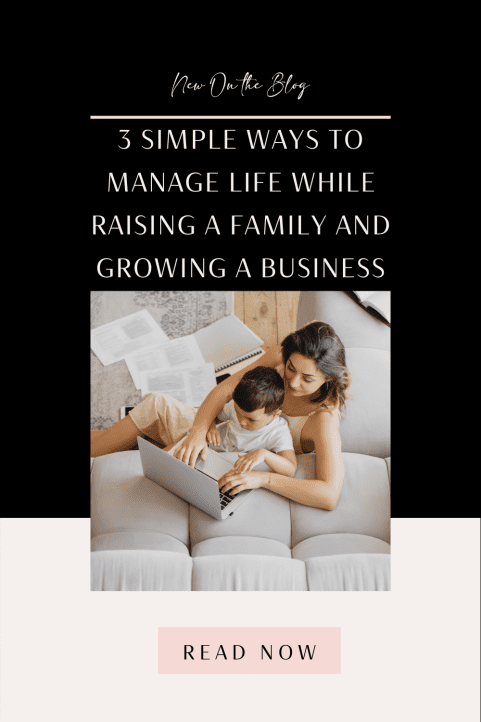 I get how hard the juggling act can be and my heart goes out to you. Today, I want to share three of the strategies that have helped me to manage the many demands of large family life and balance a growing business.

When I first started writing resumes in 2008, I had no idea that one day I would have a team of 25 and be inches from seven figures in revenue annually. Some of the strategies I'm going to share are things that I fell into through trial and error over the years, and others were intentional and consistent.

My goal for you is to see that it is possible to balance family, life, and growing your business by maximizing your productivity and planning your time. You can have a schedule in place and feel more productive starting tomorrow.

PLAN OUT YOUR DAYS
Creating a schedule for your work and family responsibilities is the very first step to balancing the demands of both.

I'm a natural planner and I thrive with a steady and predictable schedule, but it wasn't until the last few years that I actually started writing it down. Writing your schedule down may seem like a given, but you'd be surprised how the days are much more productive and accomplished when you can see what you're supposed to be doing and check it off when it's done.

Each night of the week I sit down and plan out my next day with my Full Focus Planner from Michael Hyatt. It's my favorite work planner because it has you list your "Daily Big 3." These are the three most important tasks you need to accomplish that day. (You can save $10 on your own planner here).

Some days my planner has mostly personal/family tasks on it and other days it's all work tasks. But it helps me stay focused on the three most important things that need to happen that day, and I know as long as I accomplish those three things it was a successful day.

It also has space to chart out the week ahead and work on your quarterly goals, which can then be broken down into weekly goals and daily actions that can be added to your Daily Big 3 in your planner.

If you don't have a planner you already love, I highly recommend it. It's helped me manage my days for over a year and I've accomplished infinitely more because of it.

If you're a new homeschooler (thanks to COVID, or by choice) then you probably already know how crucial planning is to get the day's schoolwork accomplished.

To plan our homeschool schedule, I use a Google doc to write out my lesson plans for each day of the week. Notice how each assignment has a little check box?

Oh yes, I love the satisfaction of ticking off that box once we've finished an assignment. I sit down on Sunday and plan out our lessons for the week. You may not need this step if you aren't homeschooling your kids or if they're doing virtual school. If so, feel free to skip it.
The best piece of advice I can offer you when it comes to planning is to actually sit down and do it. Sunday afternoons are the best time for me to sit down and plan the week ahead. I take time on Sunday afternoons to plan our meals for the week. (It's not easy feeding a family of eight who are home for three meals every single day, and don't get me started on our grocery bill. YIKES!)

I also take time to plan:
Our weekly grocery list
The kid's assignments and school schedule
My big three goals for the week
My entire list of Monday to-do's + errands I need to run. Monday is my errand day. I group all of my errands together in one day so I don't have to gather all the kids up and leave the house every single day to go out and do something. This saves a ton of time. If you can, try to schedule all your appointments on the same day. If you have certain hours you have to be online for your work, then you may want to shift your errand day or grocery run to a weekend day.
Review my husband's schedule and input any new activities into the Cozi Family Planner app. We also add any appointments the kids may have so that we can both see what's going on in our family for the week. This helps us not miss any appointments and keeps us on track. As I said before, with eight people things can go from calm to chaos in no time.
Try to take five to ten minutes at night to plan out your top three tasks for the next day. Jot down the three things that are most important for you to accomplish that day, and then cross them off the list when they're finished. At the end of the week you'll be surprised at how much you were able to get done.

MAKE THE MOST OF YOUR MORNINGS
I have *always* been a morning person. No kidding. Growing up, my parents didn't have to drag me out of bed for school, I popped up like a Pop-Tart and was ready before my Mom most days.

However, maximizing my morning routine has been the biggest game-changer for me and my ability to get stuff accomplished for work.

One of my favorite books is Design Your Day by Claire Diaz Ortiz. She discusses so many tips for making the most of your mornings, but my favorite is her acronym PRESENT. She advises spending the first few moments of your morning by being present. The acronym stands for:

P – Pray
R – Read
E – Express
S – Schedule your day
E – Exercise
N – Nurture
T – Track

Before I even knew the acronym I was already doing most of these in my morning quiet time.

It's how I maintain my sanity. No joke.

I've found over the years that when I start my day with my own quiet time before the kids are up and about, I have so much more peace and feel infinitely more productive.

You know that funny meme with Gandalf from Lord of the Rings that says "So It Begins"? (Boy, I am really showing my nerdy side . . .)

Anyway, this meme is my life summed up in 13 words.

Oh, and also this one . . .
If you're still around after that, let's continue.

One of my other favorite books is Rest: Why You Get More Done When You Work Less by Alex Soojung-Kim Pang. This book delivered a truly AHA moment for me.

When Alex discusses the research and science behind a four-hour day I was nodding my head saying "Hallelujah!"
Listen, society glorifies workaholism and hustle. And, it's NOT healthy. Especially for those of us who will give and give and give until we're all given out.

I am all for hard work. When I first started my business, I woke up ridiculously early and I worked for two hours before waking my daughter up, driving her to preschool, going to my full-time job for nine hours, and commuting an hour home to pick her up. I'd spend two hours with her before she went to bed and then I worked on my business for another couple of hours at night.

So, I get it. I see you busting your tail. Hard work is required if you want to improve your life.

I'm not saying don't work hard, what I am saying is don't overwork yourself.

There is a point where you cross over from productive work to unproductive work. Figure out where your threshold is, and stop before you get there.

Science shows that when we push ourselves to be workaholics (thinking a 50- to 60-hour workweek or more is a badge of honor), we're actually costing ourselves creativity, productivity, and our mental and physical health. For the data and science behind this, definitely read the book. The research makes a case for it and it will surely be an eye-opener.

Now, I devote two hours in the morning and two hours in the afternoon to uninterrupted work time without the guilt I once let hold me hostage for not "working enough" or "doing enough."

You could put all four hours together in the mornings or break them up throughout the day in 90-minute blocks. Do what works best for you in this season of life.

You might have littles at home and you need to get your four hours of work in during nap times.

Or, your kids might be in school during the day so 9 a.m. to 1 p.m. works best for you. Do what works best for you in the season of life you're in.

If you haven't read Alex's book, it will rock your world and your perspective on what you can reasonably get accomplished in one day, and why the quantity of time doesn't necessarily correlate to the quality of results we see.

If you're a mom who works from home and is trying to grow a successful business and raise a family, it will help set you free from the guilt we feel to always be doing more or feeling as though we're falling short and not doing enough.

When I made the shift to more productive mornings and committed to two uninterrupted hours in the morning, my productivity shot through the roof.

The very first week I made the shift to working a couple of uninterrupted hours first thing in the morning, I created a new opt-in freebie, set up an email list, wrote out and scheduled a five-email welcome sequence, wrote my LinkedIn posts for every day including creating infographics to go with each post, scheduled a month's worth of Pins that led back to the newest blog article I wrote that week, and promoted the blog on my other social media accounts. Plus a whole list of other things I knocked off my to-do list finally.

It was my most productive week in months, and I was only investing four hours of productive time a day: two in the morning and two in the afternoon.

Seriously, if you're getting in four hours of work a day, you're killing it.

RescueTime is a productivity app I use to track where I'm investing my time.

Seeing where your work time goes (or the time you spend on your phone) can be a shocker. The numbers don't lie, and you might be spending way more time scrolling Facebook or Instagram than you realize.

Laura Vanderkam recommended using the app or one like it in her book, What the Most Successful People Do Before Breakfast. (Which, by the way, is a great book if you've never read it.)

Can you tell I'm a reader and I like to share? (Here are my top 5 books for mompreneurs if you're a reader like me).

Back to the point—stay consistent.

I cannot shout the praises enough of having a structured morning time for you to start your day and to get uninterrupted work in before the kid's feet hit the floor in the morning.

Obviously, adjust the timing to what works best for your family. When some of my littles were infants they were very early risers, and getting work done between 7 and 9 a.m. just wasn't going to happen. But now that my youngest is four, and they tend to sleep in until at least 8 a.m., I have more flexibility.

Honestly, it's the showing up consistently every single day that delivers the results. Making the most of your morning time and planning your day will help you show up consistently.

FOCUS 80% OF YOUR TIME ON THE 20%
This is one of those business principles that I just fell into by accident. When I first started my company, I marketed the business and wrote the clients' resumes and did ALL THE THINGS, but as we grew and I started getting more clients than I could possibly work with by myself, it came time to hire my first team member.

I hired another resume writer out of necessity because I couldn't do it all. It was hard, ya'll. It's not easy trusting someone else with your "baby." I hear your worry over handing things over to someone else.

At the time I was still working my full-time job, and hadn't made the leap of faith yet to run my company full time. It was only a matter of time before I did make the jump.

What I learned during that time though, was that I loved working on my business way more than I enjoyed working in my business. I loved educating job seekers through blog posts and managing a team and finding new ways to market the company for free (I'm a nerd and love to research so this was right up my alley).

So, I started hiring writers to work one-on-one with clients and I invested 80% of my time into doing the 20% of activities that brought the biggest wins. For me, this looked like blogging, PR, marketing, advertising, growing a social media following and an email list, focusing on website improvements, and conversion rate optimization.

My question to you is, what do you enjoy doing most with your time in your business?

Maybe you live for speaking with clients and writing resumes. You're a writer first and foremost. Hire someone to help you manage the marketing and social media part of your company.

Or, perhaps you love the QA process and you want someone else to complete the client interview and write the resume and you want to proofread it and offer improvements to make it really next-level.

Then again, maybe you're like me and you find joy and purpose in the education, business development, and marketing aspects of running a business.

Look at the big picture. Make a list of what you enjoy doing most in your business and then look at the numbers.
Where do most of your clients come from?
How do your ideal clients find you? LinkedIn? Pinterest? Facebook?
What brings the most growth and revenue to your company?
What brings meaning to your days?
What do you get fired up about and excited to work on come Monday morning?
These questions will help you find your 20%. The activities that you need to focus most of your time and effort on.

I can already hear you asking, "But Jessica, what do I do with the other 80% of stuff that needs to get done in my business?"

The answer to that is outsource.

You can outsource ALL kinds of things in your business.

I use Fiverr to find affordable help with all sorts of tasks like video editing, blogging, content creation, and design work.

I have an online business manager who helps me with payroll, new writer screening and onboarding, social media management, client inquiry responses, and the list goes on.

I didn't start here, though. I started by hiring a subcontract resume writer and a part-time editor that I paid per project. That way, if I didn't have clients coming in, I wasn't out $$.

I bootstrapped my company and built it completely debt-free to multi-six figures. Don't despise humble beginnings (Zech. 4:10). We all start somewhere and grow as we're able.

Another area of outsourcing, but not directly related to business, is housekeeping. When my husband and I first got married, we were stationed in Germany, and this guy (bless his heart) liked for the house to be super clean (I blame it on his Type A personality and 20 years of military service) . . . and we had two preschoolers at the time. I, on the other hand, did not have aspirations of sacrificing my work time to keep the house spotless.

I read a book by the late Mary Kay who spoke of how she balanced growing her business and caring for her family. She shared how she figured up what she could afford and then put an ad in the paper for a housekeeper at $7/hour. Someone wonderful responded and she hired her.

I always remembered that story, and when the time came, I did the same. I found a cleaning service that charged $30 to come and clean and help with laundry for four hours a week. I could afford it, and it was time that I could spend focused on work and family. It was worth it all those years ago.

Since 2012 when we moved into our home, we've had a housekeeper who comes every Monday and helps with laundry, dishes, and deep cleaning. After almost nine years, she's become a member of our family and we're so glad to see her each week.

Her help gives me back time to focus on my business and my family.

Where can you outsource? Remember it took me years to get where I am now. Look at where you are right now.

What can you delegate?
What activities, items, chores, etc. can you take off your plate?
Is there a teen in your neighborhood who would gladly come wash dishes, help with laundry, or play with your littles while you get some much-needed work done?

ONE LAST BONUS TIP . . .
I'll surely have to dive more deeply into this topic in an upcoming post but I couldn't end without sharing with you about batch work.

One of the best ways I've found to increase my productivity and make the most of my time is to batch similar activities together. For instance, Monday is blog writing day. I spend my four hours of productive time writing a month's worth of blog articles. Tuesday is social media promotion day. I'll spend my time Tuesday scheduling social media posts for the week, creating new social media graphics in Canva, or working on the next email to schedule into my welcome sequence.

Do you batch your work into themed days to maximize your time and productivity? If so, share your schedule with me below! I'd love to hear what's worked for you.

There you have it, my three go-to strategies to manage life while raising a family and growing a business.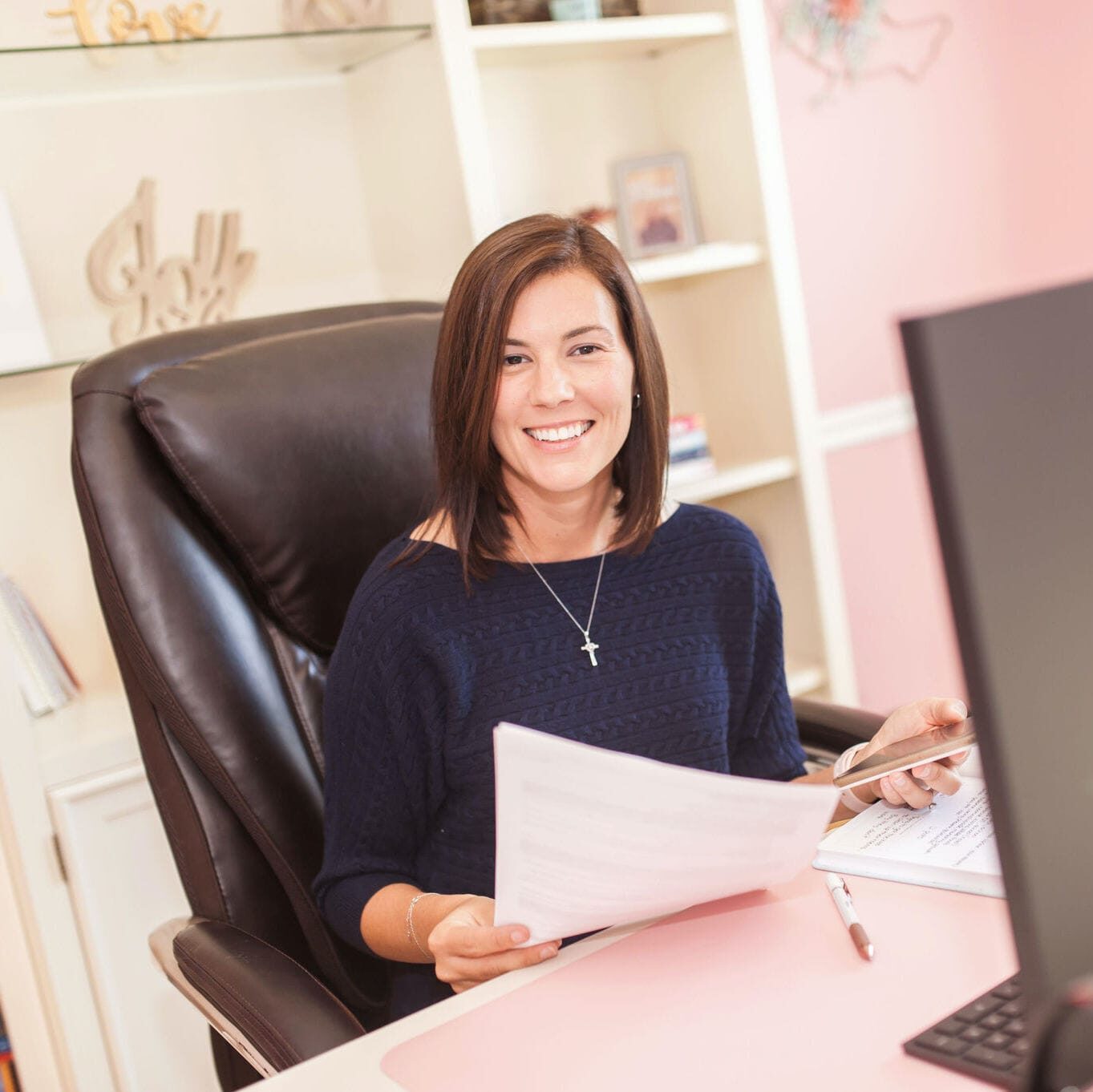 Jessica Hernandez, President, CEO & Founder of Great Resumes Fast
Hi, I'm Jessica. I started this company back in 2008 after more than a decade directing hiring practices at Fortune 500 companies.
What started as a side hustle (before that was even a word!) helping friends of friends with their resumes has now grown into a company that serves hundreds of happy clients a year. But the personal touch? I've kept that.
You might have seen me featured as a resume expert in publications like Forbes, Fast Company, and Fortune. And in 2020, I was honored to be named as a LinkedIn Top Voice of the year!
I'm so glad you're here, and I can't wait to help you find your next perfect-fit position!
Will your resume impress employers? Take this 2-minute quiz to find out.
Get your personalized plan for a resume that stands out and lands you your dream job!
Need a little help getting hiring managers to take notice? Find out what's standing between you and those magic words "You're exactly who we've been looking for!"