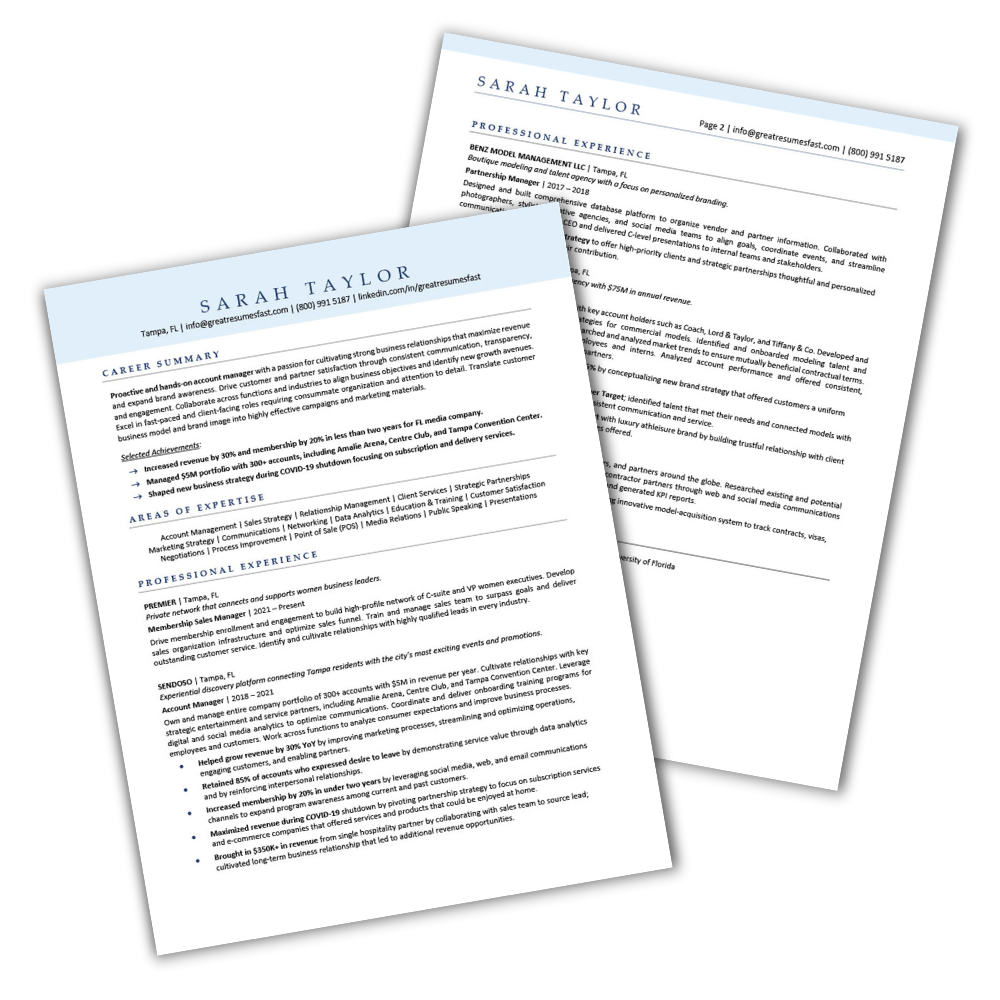 How Great Resumes Fast helped this marketing manager go from a year of no offers to working at her dream company in just 3 months
"I think a huge part of getting this position was having a strong resume and a very strong cover letter." - Sarah, Marketing and Membership Manager
Sarah, marketing & membership manager
Sarah is a top-performing business leader who wanted to leverage her past achievements into a position at a company she deeply admired.

Connect the dots of a "scattered" career path to showcase what Sarah really brings to the table
At every company she's been hired by, Sarah achieved a lot in record time. So when she went looking for her next position, she was surprised to find she wasn't getting many interviews. 
"The interviews I was getting were few and far between, and also the quality of the interviews wasn't good. They were for positions that were more junior to where I should have been, with my level of experience. But I took them anyway just to see because sometimes you never know, and I would take the first or second interview, and then I would realize: this is really not for me right now, at this point in my career. "
She suspected the problem might be that it was hard for companies to see the intentional path behind her career decisions, which made it challenging to envision how she would fit in on their team. 
So, on the advice of her career coach, Sarah reached out to Great Resumes Fast with the objective of rewriting her resume to connect the dots between her different positions. 
Her goal? To highlight the true value of her achievements in previous positions and tell a cohesive story about her journey that would showcase her as the skilled, in-demand professional she was.
"I am much younger and fresher than I looked on my resume, and I thought it had served its purpose for when I was at a more junior level in my career, but now it was outdated. Also, it felt very random. I would say I am a bit of a generalist because I have done so many different things, but my resume made it look way too scattered. As you go up in your career, your resume needs to get more targeted, and now I understand that."
Great Resumes Fast's focus on crafting your career story
Great Resumes Fast paired Sarah with a skilled storyteller on their writing team, Claire. Claire was able to focus Sarah's varied experiences into a narrative that felt intentional and got results.
Here's how:
Asking strategic questions to uncover the clear trajectory running beneath Sarah's different experiences
"Our initial phone call where we went through all of my experience really stood out because Claire would ask the same question in different ways in order to get a better idea and understanding of what it was that I did and my accomplishments. And I had never had that experience with a resume writer before where they were so detail-oriented. I was so impressed with her level of attention."
Highlighting the standout value of Sarah's achievements by quantifying them clearly
"My new resume was much more quantitative. Claire was very adamant about having certain numbers in there, and I was able to get percentages or time frames or general revenue numbers in order to strengthen my accomplishments."
Optimizing for applicant tracking systems (ATS) without sacrificing readability
"It's important that you have all these keywords in your resume to trigger applicant tracking systems, but they were incorporated very seamlessly. It didn't seem like my resume was just barfing keyword after keyword after keyword. It was very elegantly written as well. It was such a great balance: A robot can read it and a human could read it, and it would hit both of those positively."
Showcasing Sarah's skills in a brand new way that was appropriate for the next stage of her career
"I had so much more confidence because I felt like they could look at my resume and it would prove that, 'Here are my skills, and they're spelled out right here, and they're packaged very nicely.' It doesn't change what I did. It's just the way it is conveyed is so important because it needs to resonate. And in order to do that, it needs to be . . . well, it needs to be written by Claire at Great Resumes Fast."
After Claire took Sarah through the Great Resumes Fast process, everything changed for her. 
Keep reading to find out what happened next . . .
Sarah landed a position at her dream company within 3 months, including an increase in salary
Before finding Great Resumes Fast, Sarah had been applying to different companies, to no avail, for a year. So when she discovered a company that she genuinely admired and seemed like a wonderful fit for her, she found herself hesitant to apply. With her old resume, she was worried she'd lose her chance with her dream company if she didn't show up with her best foot forward.
But with her new resume, Sarah had the confidence to go after the position she wanted at her dream company without hesitation. And as a result? She was hired within 3 months.
"I felt 1000% more confident when I sent my new resume out. I felt so good about myself, and I think that had a huge impact on the result. Because it just changed my mental state, and I was much more positive going into these interviews or even just reaching out to people."
Why Sarah recommends Great Resumes Fast:
It's a key step in investing in your career growth.
"I really believe in investing in yourself, and hiring Great Resumes Fast is a great investment. It just makes your life much easier, being able to have a template that you can tailor each time you apply to different jobs, and I've already suggested it to quite a few friends who are in their job search process. 
I think the only reason that someone might not jump on the opportunity to work with Great Resumes Fast quickly might be the price point. But that's something that's really never bothered me. I'm always willing to pay for extremely good service. And if I believe something's valuable, I'll make the investment. Great Resumes Fast is worth the investment."
Ready to land your next perfect-fit position?
It starts with a phone call.