Great Resumes Fast vs TopResume: Which Resume Service is Right for You?
Resume writing services at the executive level are not all created equally.
Tons of companies can churn out a professional resume to save you the time and effort of updating yours. But few take the extra step to secure your next perfect-fit position.
So when comparing executive resume writing services, you'll want to learn how companies differ in their process, expertise, and convenience. You should also weigh whether the value (i.e., what you're getting) is worth the investment.
These differences each factor into your ability to land your next dream role.
I'll share a quick objective comparison between Great Resumes Fast and TopResume, so you can see what I mean.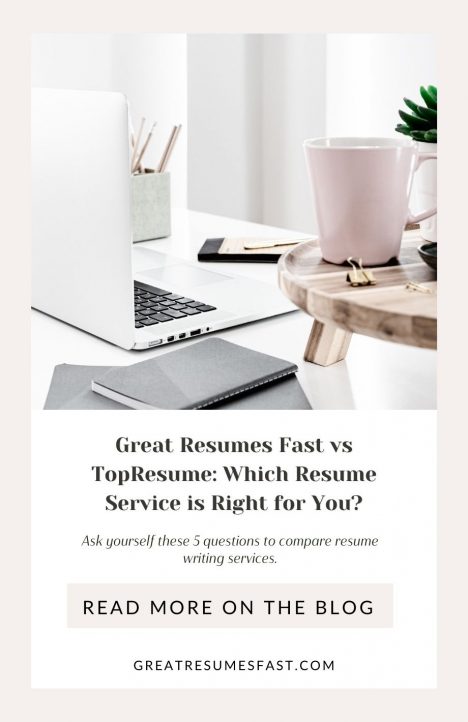 Great Resumes Fast vs TopResume: 5 Considerations
There are five big questions I like to ask when scouting the pros and cons of executive resume writing services:
1. Who's Actually Writing My Resume?
According to their website, TopResume's writers are a mix of career coaches, recruiters, and hiring professionals.
On the other hand, Great Resumes Fast has a team of resume writers with 10+ years of experience on the hiring side. They're also certified experts in what works and craft captivating resumes as their full-time careers.
Our writers also complete ongoing training to keep up with the latest hiring and resume trends. They'll ensure your resume passes applicant tracking systems and stands out to hiring managers.
Plus, we'll even match you with a writer who has an intimate understanding of your specific industry and your career level. They'll know exactly how to show off your value, which is precisely what you should be looking for.
2. How Will My Resume Be Personalized To Stand Out?
One of the biggest differences between Great Resumes Fast and TopResume is the overall process.
With TopResume, candidates fill out several questionnaires and worksheets to capture the personal information they need to write your resume.
On the flipside, Great Resumes Fast will have you hop on a 60 to 90-minute discovery call instead with the actual writer who will be crafting your resume and refining your personal brand.
This intimate conversation allows your writer to get to know your career goals, accomplishments, and unique differentiators. They'll also discover key selling points that may be hard for you to articulate about yourself.
These "intangibles" tell hiring managers you're the perfect fit for the role. So presenting them in the best possible way on your resume will help you land more interviews faster.
3. What's the Turnaround Time?
TopResume turnaround time is a week or more while you can expect your Great Resumes Fast documents within 3 to 5 days of completing your discovery call.
4. What am I Really Getting for My Investment?
TopResume and Great Resumes Fast both offer three packages to choose from, each ranging in price and services. TopResume will write a resume, cover letter, and LinkedIn profile, depending on which option you select.
Great Resumes Fast offers expertly-crafted resumes, customizable e-note-style cover letters, and SEO-optimized LinkedIn profiles. You'll receive your documents in three versions: Microsoft Word, PDF, and an ATS-optimized format to minimize automated rejections from screening systems, which TopResume doesn't provide.
We then go a step further to invest time and effort into your personal branding. We'll convey your value, express your accomplishments, and help you get noticed by decision-makers.
With that highly-effective combination, our white-glove service delivers everything an executive needs to land their next-level position and attract amazing job offers.
Our whole process actually saves you 20+ hours because that's how much time we invest from start to finish with each client.
5. What Happens If My Resume Fails To Gain Traction?
Impressive, professionally-written resumes snag more interviews and job offers sooner. So what happens if the one you pay for doesn't attract any interest from hiring teams?
The team at TopResume will write your resume again "one time, free-of-charge," if you don't get an interview but that's only with certain packages.
Great Resumes Fast, on the other hand, has a different guarantee:
If you don't receive an offer in 90 days, we'll help troubleshoot your entire job search process to understand exactly what's going wrong — and then help you fix it.
We'll be right by your side until you get an offer.
Great Resumes Fast vs TopResume: So Which One is Right For You?
I hope comparing the differences between Great Resumes Fast and TopResume gave you some intel to think about. Save this quick summary of everything outlined in this article to make your final decision easier:
In the end, you have to go with the resume writing service that makes the most sense for your future — and remember that landing your next role depends on it.
If you're ready to get started with one of our certified resume writers, reach out today! We can't wait to hear about your dream job.
For more expert tips, tricks, and tools for your career follow Great Resumes Fast on LinkedIn.
Jessica Hernandez, President, CEO & Founder of Great Resumes Fast
Hi, I'm Jessica. I started this company back in 2008 after more than a decade directing hiring practices at Fortune 500 companies.
What started as a side hustle (before that was even a word!) helping friends of friends with their resumes has now grown into a company that serves hundreds of happy clients a year. But the personal touch? I've kept that.
You might have seen me featured as a resume expert in publications like Forbes, Fast Company, and Fortune. And in 2020, I was honored to be named as a LinkedIn Top Voice of the year!
I'm so glad you're here, and I can't wait to help you find your next perfect-fit position!
Will your resume impress employers? Take this 2-minute quiz to find out.
Get your personalized plan for a resume that stands out and lands you your dream job!
Need a little help getting hiring managers to take notice? Find out what's standing between you and those magic words "You're exactly who we've been looking for!"