I hear from so many clients that they haven't needed a professional resume or cover letter before, or that they've always been recruited to their roles and not had to conduct job searches. They're unsure of where to start or what their executive resume and cover letter should look and sound like.
Executive resumes have changed a lot over the last five years—never mind the last ten. Before you haul out that old resume or think about just adding your most recent job to your current resume, think about what's changed—and what might get you an interview for an executive-level position now. It's important to have an updated, modern resume to impress HR professionals. You might be wondering how someone who isn't a professional writer can craft a quality resume. As a professional resume writer, I'd like to share some of my easy to follow, go-to tips for doing so. So how do you write an impressive professional resume to increase your chances of success?
Here are ten tips to get you started on your way to an attention-grabbing executive resume:
AIM, Then Fire
Don't go for a generic resume and don't just fill in the blanks on one of the resume templates available on the web. It's tempting to try to cover all the bases and your entire experience and use that to send out to all jobs that interest you, but it's just not going to work. Resume writing can be time-consuming because each position you are applying to should have a specifically tailored resume. Your potential employer is trying to fill a specific executive position, and managers need to be able to connect you to the job that's available. Effective resumes allow them to do that right off the bat. They're not going to want to read through a lot of generic information, a full list of decades of work experience and lists of irrelevant skills and achievements to see if you're worth interviewing. Everything that you present in your professional resume is going to have to be in line with what they're specifically looking for. So if you're in doubt, look around for C-level executive job descriptions that sound like what they want, and then begin writing a resume accordingly.
Brand Yourself
You have to show how you fit the job. Essentially, you need to talk about your values, your attributes, and your passions in a way that links you with the job you're looking for. Personal branding is important and you have to market yourself. Show how you differ from the competition. Think carefully about your qualifications and talk about how they specifically fit this job and how they make you distinctive. You might even want to create a tagline that distinguishes you and will catch an employer or recruiters' attention. Be inventive.
Tell Your Success Stories
When applying for a job, show your potential employer how you achieve results. What did you do to make a difference in your previous position? You have an audience, so help them to see what you have done—and what you can do. Talk about challenges, what you did to overcome them, and what the end results were. Use specific achievements and accomplishments to demonstrate concrete proof of your abilities and success. That way, potential employers will see how you can do similar things for them. Use numbers; it's a lot more effective stating: "I increased sales by 33% over a one-year period" than it is writing a bland, generic: "Used innovative methods to drive sales results."
Don't Waste Time Stating Your Generic Career Objectives
Hiring managers, executive recruiters, and human resources departments don't care that you "want to utilize my skills to foster growth." What have you done lately for your current employer—and what can you do for prospective future employers?
Say It Now
On page one of your resume or executive CV, use keywords and quotes, brief summaries of your most recent achievements, and mention your most relevant skills and strengths. The hiring process can be time-consuming, and hiring managers want to make it efficient. So most people won't read beyond the first page of your resume and you need to get the crucial information out there right away. When creating a resume, focus on your potential employer's priorities to determine what is most important for you to put out front.
Make It Readable
Chances are that your potential employer will be reading your resume on a smartphone or tablet. So it's more important than ever to make sure that your content isn't densely packed and the resume layout isn't hard to follow. Make sure that your resume format is friendly on all devices.
Avoid giving away all your information; keep it concise. Remember that the goal is to get yourself in the door, so just deliver enough information about your achievements and experience to generate interest. A good executive resume will catch a prospective employer's attention right away. You can provide a more comprehensive resume and discussion of your work history once you've actually gotten the interview.
PROOFREAD
Mr. Spell Checker is not always your friend. It won't catch everything. Proofread repeatedly, and get a friend to proofread as well. Nothing makes you look more incompetent than spelling mistakes and grammatical errors. Even a professional writer will have someone look over their work for errors. Everyone makes mistakes, and you can't afford to have an easily fixable typo hurt your career. You could have the perfect resume in terms of experience, but one typo can very quickly sabotage your chances at getting the job.
Resume Formatting
Don't go crazy with the fonts. Keep the formatting clean, consistent, and attractive. Ideally, use one font consistently for body copy, and use a variation for headings. Example—body copy is Times New Roman 11-point, header is Times New Roman 12-point bold. And by the way, don't underline; it makes you look like a high school kid. Use bold if you want to emphasize, but use it sparingly. Be sure to use spacing between categories; no one wants to read abunchofjumbled-upwords.
Avoid Jargon
Don't use phrases such as "going forward" unless you're using it to distinguish from going backward. Don't describe yourself as a "forward thinker," and don't talk about what you hope to achieve "at the end of the day." Other bad choices include: "best of breed," "strategic thinker," "team player," "excellent communication skills," or "problem solver." These are terms hiring managers have identified as useless.
Don't Repeat Yourself and Don't Use Passive Verbs
We know that you were "responsible for" [insert area for which you were responsible here]. Instead, state that you: envisioned, benchmarked, accelerated, drove, leveraged, etc. Those are all active words—and much better than the passive "responsible for." By the same token, don't repeat your verbs. By the time you've said that you leveraged change, leveraged financial improvement, and leveraged increased productivity, people are going to get pretty bored.
Remember at all times that the people who are reading your resume are real people; write the way you would speak—clearly, concisely, and with a focus toward delivering your message in the most effective way possible.
If you're looking for more assistance with your executive resume, check out these career-level specific pages for CEOs, CFOs, CTOs, CIOs, and VPs. You can also take a look at resume samples across a number of industries on our website.
A professional executive resume writer can help you get your career moving, and at Great Resumes Fast our goal is to provide you with personalized, expert-level service that lands you the executive job you want. Our executive resume writing services are highly respected because our professional resume writers have industry experience and are certified resume writers. We believe it's important that an executive resume writer have the applicable experience and knowledge to craft effective, modern resumes, and we work hard to help you achieve your career goals.
Our executive resume writing services go above and beyond to create a resume that reflects your personal brand and is aimed at achieving your specific professional goals. If you'd like to get started on your own professionally written resume, please reach out to us.
Are you tired of your resume being rejected by applicant tracking systems? I know how frustrating it is to submit your resume and receive no response. I hate seeing qualified people never breakthrough the screening process. It shouldn't be that way. That's why I created this guide and I encourage you to download the FREE PDF so you can start seeing better resume response rates!
---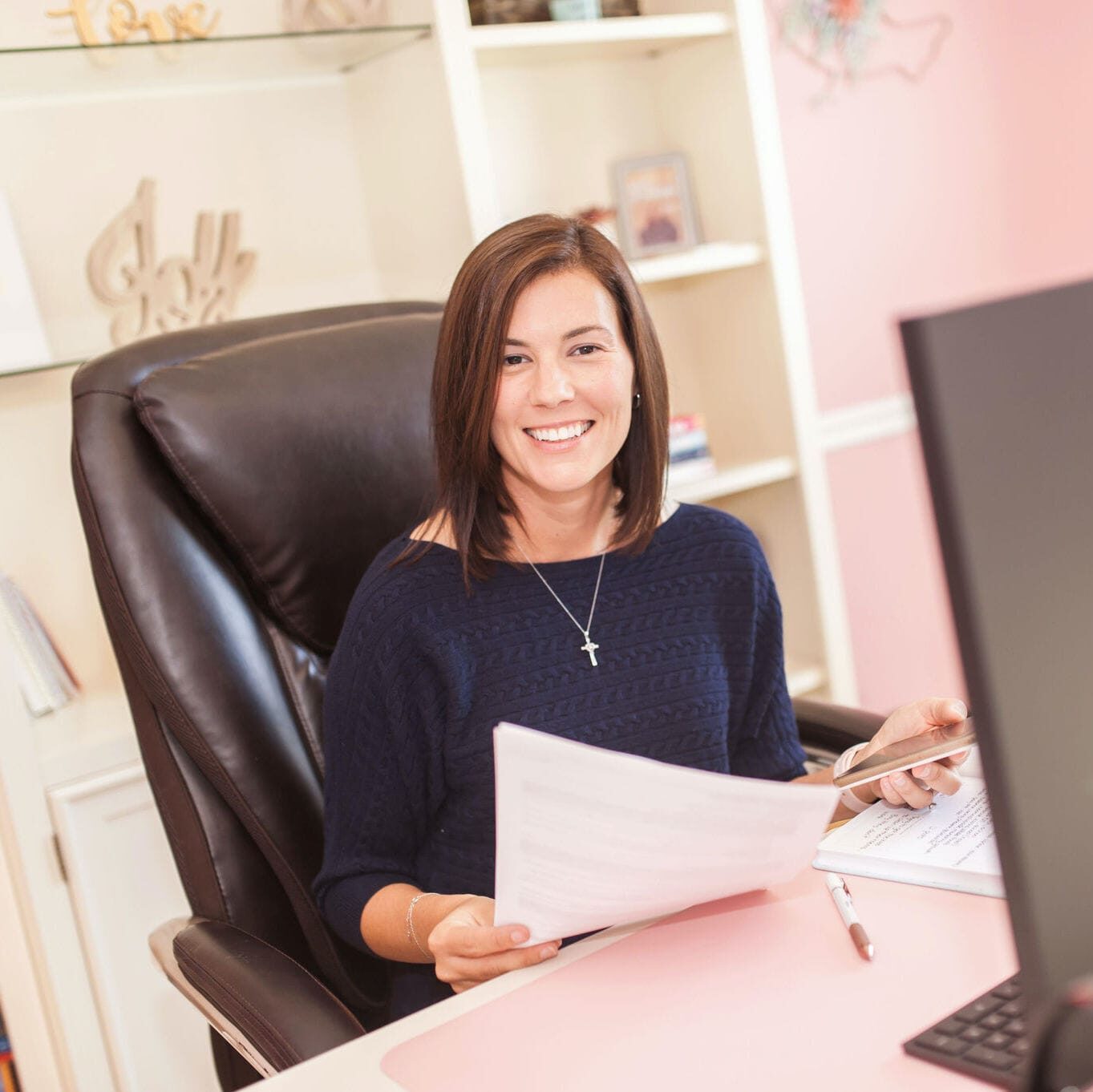 Jessica Hernandez, President, CEO & Founder of Great Resumes Fast
Hi, I'm Jessica. I started this company back in 2008 after more than a decade directing hiring practices at Fortune 500 companies.
What started as a side hustle (before that was even a word!) helping friends of friends with their resumes has now grown into a company that serves hundreds of happy clients a year. But the personal touch? I've kept that.
You might have seen me featured as a resume expert in publications like Forbes, Fast Company, and Fortune. And in 2020, I was honored to be named as a LinkedIn Top Voice of the year!
I'm so glad you're here, and I can't wait to help you find your next perfect-fit position!
Will your resume impress employers? Take this 2-minute quiz to find out.
Get your personalized plan for a resume that stands out and lands you your dream job!
Need a little help getting hiring managers to take notice? Find out what's standing between you and those magic words "You're exactly who we've been looking for!"