Upgrade your resume and hook hiring managers at first glance with these proven and punchy phrases
If I asked you to list 10 words that describe your personal brand to include on your resume could you do it? You might think it's an easy task, but the numbers say it's pretty difficult.

Would you be surprised to hear that while 92% of people *think* they're self-aware, in reality only 15% of people actually are self-aware?

What does this have to do with your resume and job search, I hear you asking?

Well . . . a lot actually.

In this article, I'm going to discuss:
– the importance of self-awareness and its role in writing your resume
– where to uncover accurate phrases that best reflect your accomplishments
– how to incorporate these memorable phrases into your resume
– swipeable phrases that you can use for inspiration for your own resume

The Importance of Self-Awareness
Tasha Eurich, author of the book Insight reveals, "Self-awareness is critical for career success. People who are more self-aware tend to perform better at work, get more promotions and lead more effectively."

When you're aware of your talents, skills, unique differentiators, and strengths, you have a word bank to draw from when writing your resume, cover letter, and LinkedIn profile.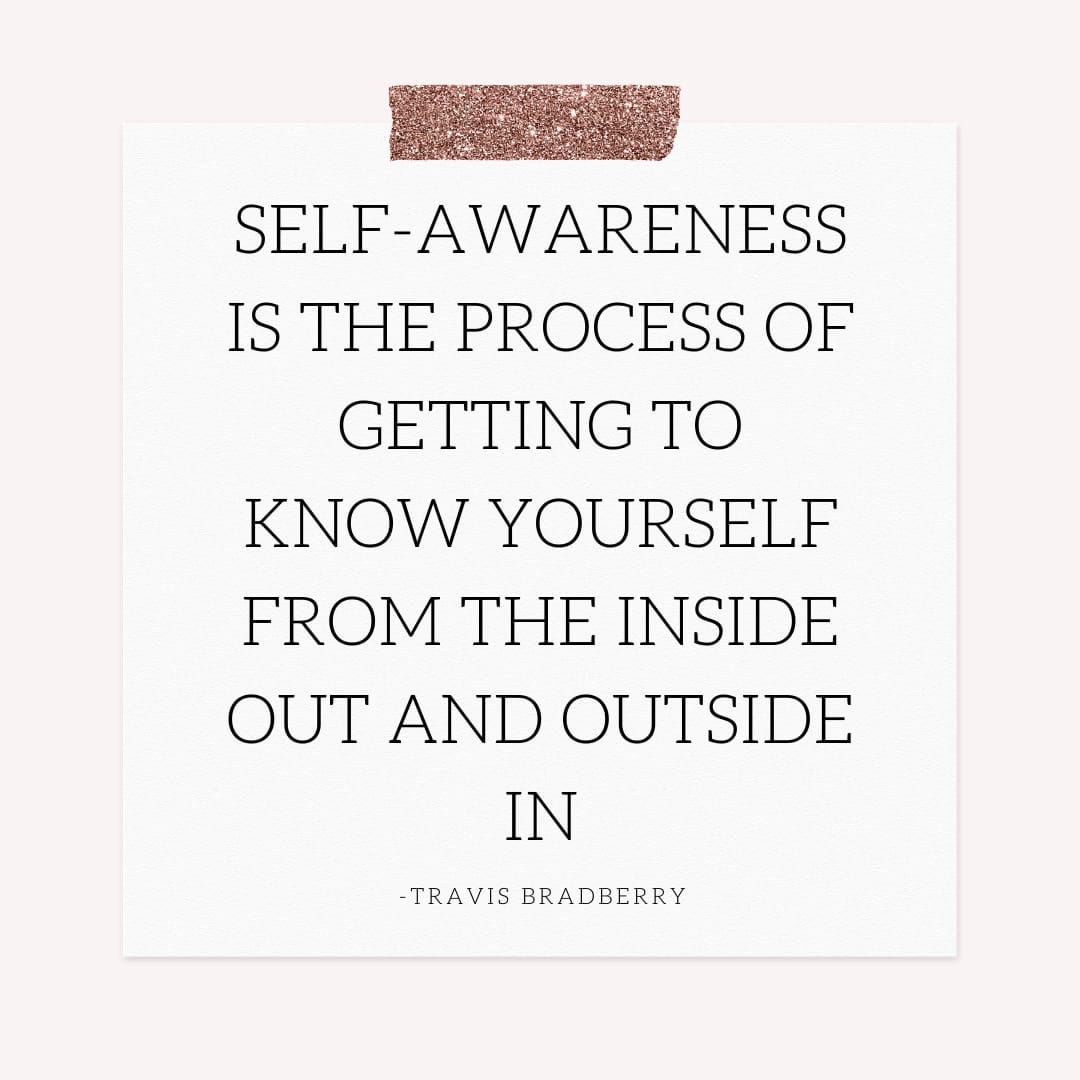 If you lack awareness of your strengths and differentiators it becomes virtually impossible to create a resume that will stand out from similarly qualified candidates.

Before you can articulate what makes you a great hire, you have to understand what makes you a great hire–which requires self-awareness.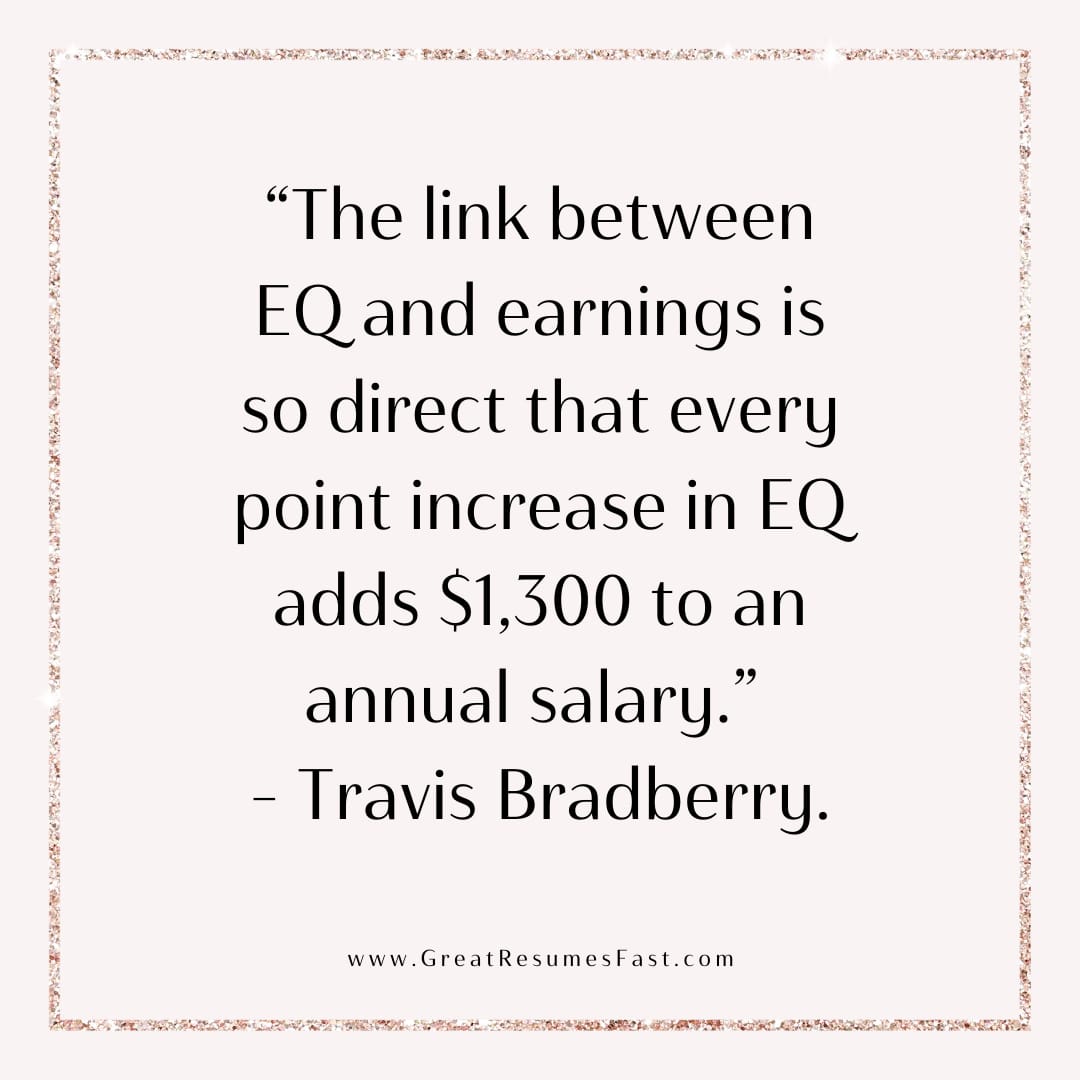 If you have not read Emotional Intelligence 2.0 or taken the EQ quiz, I encourage you to do so. My favorite aspect of the quiz is that it provides you with a list of actionable steps you can take to heighten your EQ. They're simple and doable like "greet people by name" but they help you strengthen your EQ in the areas you need it most.

Just so you know, I don't earn commission from recommending the book or quiz. I just think it's really that good.

Consider it taking your first step towards greater self-awareness. Your future salary is going to thank you.

Where to Uncover Hidden Gems That Convey Your Accomplishments
The foundation of the resume writing process in our work with clients is uncovering what makes them unique.

That's why we always start the resume writing process with an in-depth client interview. We're able to dig deep into our client's career history and painstakingly search for:

Repeated successes
Recurring themes
Strengths
Unique differentiators
Examples and stories of value added
Numerical data to back up and give credibility to accomplishments
If you're working on your resume, these six areas are where you'll find your secret sauce.

Your key differentiators–the content employers crave most in resumes–is just waiting to be discovered.

To help you root out your personal brand, look for areas of consistency and themes that recur no matter where you go.

Remember those little black chalkboard easels we had as kids? In second grade, I would gather my younger cousins around mine, write C-A-T on it, and teach them to read.

The desire to teach has stayed with me throughout my entire life.

My favorite articles to write are "how to's." Much to my husband's chagrin, I obsessively collect and share information. You don't want to see my bookshelves.

My top two Clifton Strengths are Input and Learner. I'm a big ol' information-collecting nerd.

Educating is one of my greatest strengths, and even though I am not a school teacher I still use my experience and knowledge to educate every single day.

Now it's your turn . . .
Where are there recurring themes in your life?

Are you an achiever?
Diplomatic?
Take charge?
A go-getter?
A powerful negotiator?

Ask yourself:

What am I known for?
What do my supervisors, colleagues, friends, and family members come to me for?
What am I most proud of in my career?
What brings me immeasurable fulfillment?
Try to create a list of at least ten strengths, talents, or skills.

Next search for examples of these strengths in action.

What challenge were you facing when this strength was utilized?

How did you use the strength to take action?

What happened as a result of your efforts?

Before you know it you have the key ingredients to powerful resume bullets that reflect your value.
How to Incorporate Noteworthy Phrases into Your Resume
I see the same phrases repeated on hundreds of resumes. (I'm looking at you "responsible for" and "duties included"!)

The problem with these worn-out words is that they carry no weight or power.

They're weak and vague.

One surefire way to pack more punch in your resume is to switch out the tired, overused phrases with strong action verbs that tell your story.

Strong action verbs are perfect to energize your resume bullets so they "WOW" employers.

Extra credit: they're also great for leading into results-based statements.

An example of an accomplishment bullet using action verbs and stand-out phrases could sound like:

Turned around $750M budget deficit into a $300K surplus within 1 year by creating infrastructure, optimizing expenses, and cultivating strategic partnerships with 21 hospitals and medical device manufacturers.
When we work with clients we use a C.A.R. formula to help us create memorable bullets.

C – Challenge
A – Action
R – Result

I also often recommend this formula to my LinkedIn connections when they ask for resume writing advice:

(Action verb)(noun)(quantifiable metric or result)(action you took to achieve result)

An example of this formula filled out as a resume bullet would sound something like this:

Boosted revenue 64.5% by designing and implementing strategies to cut costs, improve efficiencies, and optimize production of 325 styles and 6.2M SKUs.
Try the formula out in your resume as you work to write about your accomplishments.

33 Swipeable Phrases to Inspire You
I spoke with a senior-level job seeker last week who confided to me how hard it was to assess her own work.

She hesitantly shared, "I struggle to convey my value."

I get it. Boy, do I get it.

Most of us struggle to explain our value. We know we're talented and competent, but conveying that on a resume suddenly induces all kinds of writer's block and analysis paralysis.
If you want to reflect what you've accomplished and point out your value to employers, try using a few of these proven resume phrases: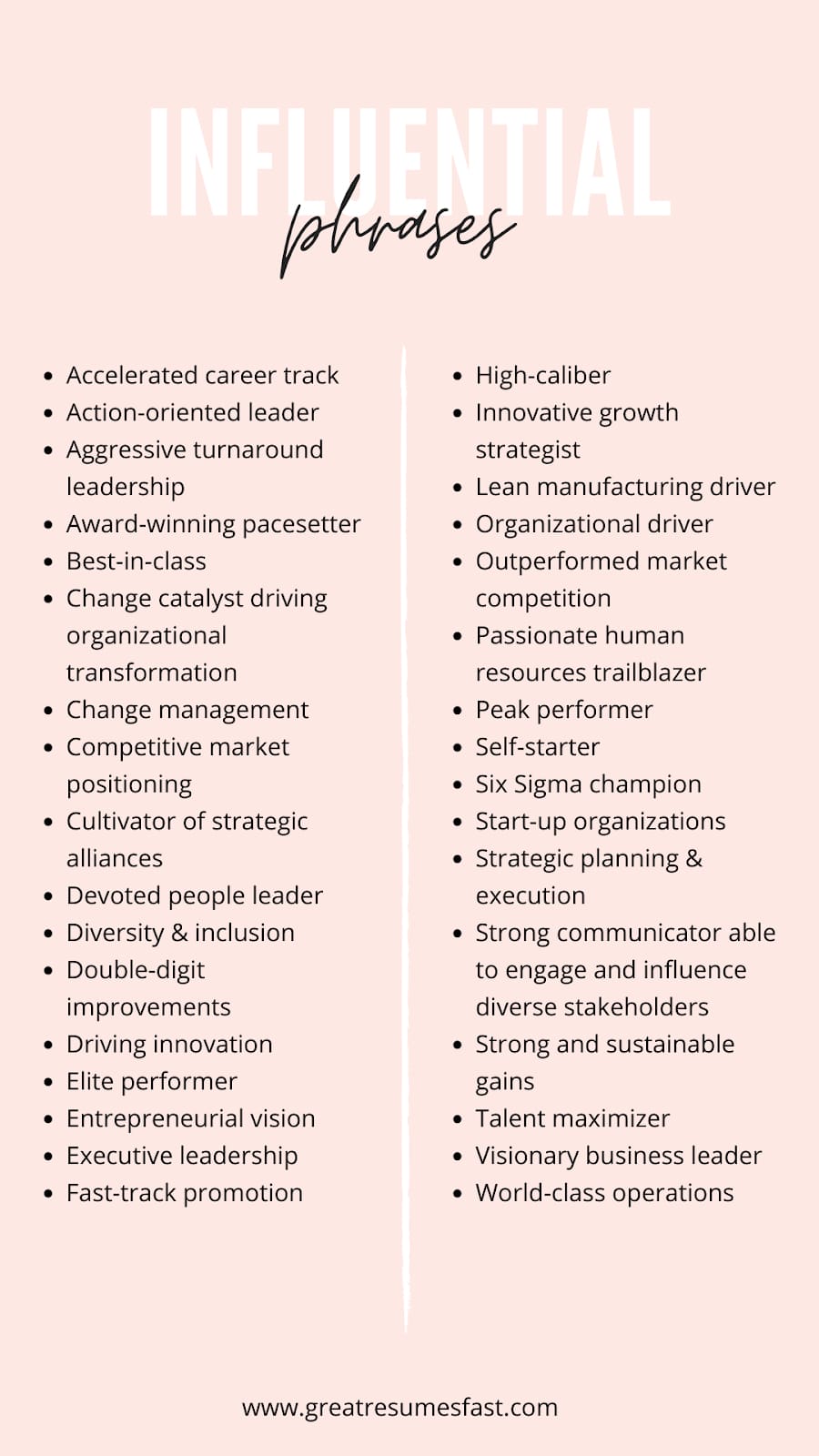 The key is not to throw all of them into your resume. You want to use these sparingly so that they'll have maximum impact.

Read through the list and choose 2-3 that reflect you most accurately.

Include one in your career summary and another in your "notable accomplishments" section in the top third of your resume.

These 33 phrases are high-impact and sure to grab attention–but only if you choose ones that accurately reflect YOU and your personal brand.

Employers will be looking for evidence that you possess these qualities as they read through the remainder of your resume.

That's where the formula comes in that I shared with you earlier in the article. Use that formula to create bullets that prove you possess these qualities and characteristics.

If you need more inspiration for resume power words, I wrote this article with 178 words and phrases that you can incorporate into your resume.

You might also like this "how-to" for using action verbs or this one on resume keywords.

Phew… we've covered a lot in a short time.

We discussed the importance of self-awareness and its effect on your career (and earnings!). That was certainly a wake-up call.

I showed you where to uncover phrases that best reflect your accomplishments and how to incorporate these memorable words into your resume, and gave you a list of the top swipeable phrases we use with our own clients so you can use them for inspiration in your resume.

Want to binge-read more resume articles?

Check out this guide we use as an internal reference tool for career summaries when we write our client's resumes.

Let's be real for a second . . . with errands to run, meals to cook, the kids' practices, work, and the 100 other plates you're spinning, trying to DIY may be too much.

Whether you're over trying to write your own resume or discouraged with the lack of responses from your applications, we're here to help.

We equip strong, smart women like you with knockout career marketing materials so you can get in front of hiring managers, communicate your value, and land the position you deserve.

Ready to punch job search frustration in the face?

Me too.

Let's do this.

Other articles you might like:
Jessica Hernandez, President, CEO & Founder of Great Resumes Fast
Hi, I'm Jessica. I started this company back in 2008 after more than a decade directing hiring practices at Fortune 500 companies.
What started as a side hustle (before that was even a word!) helping friends of friends with their resumes has now grown into a company that serves hundreds of happy clients a year. But the personal touch? I've kept that.
You might have seen me featured as a resume expert in publications like Forbes, Fast Company, and Fortune. And in 2020, I was honored to be named as a LinkedIn Top Voice of the year!
I'm so glad you're here, and I can't wait to help you find your next perfect-fit position!
Will your resume impress employers? Take this 2-minute quiz to find out.
Get your personalized plan for a resume that stands out and lands you your dream job!
Need a little help getting hiring managers to take notice? Find out what's standing between you and those magic words "You're exactly who we've been looking for!"