Are you a job seeker wondering if LinkedIn Premium is worth it? If you're mid-job search, LinkedIn offers more than a dozen free tools, features, and resources that you can leverage in your job search. I'm often asked if it's worth the money to upgrade to the Career Premium account. To answer that question, today I'm covering what LinkedIn Premium offers, how to get a 30-day free trial, what features are included, and how to use them in your job search so you can decide if it's worth it for you.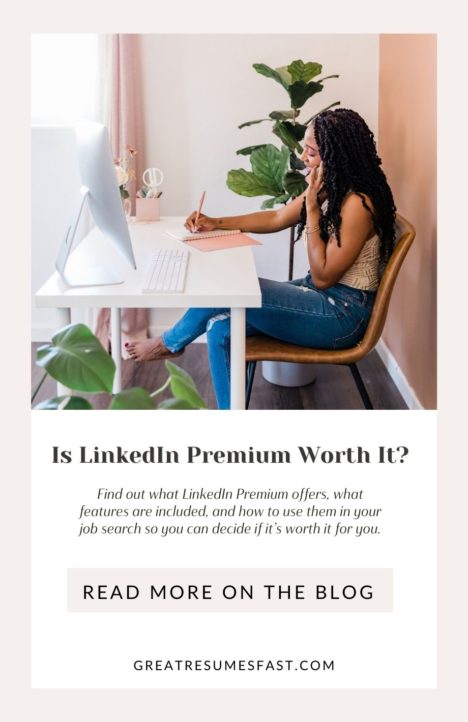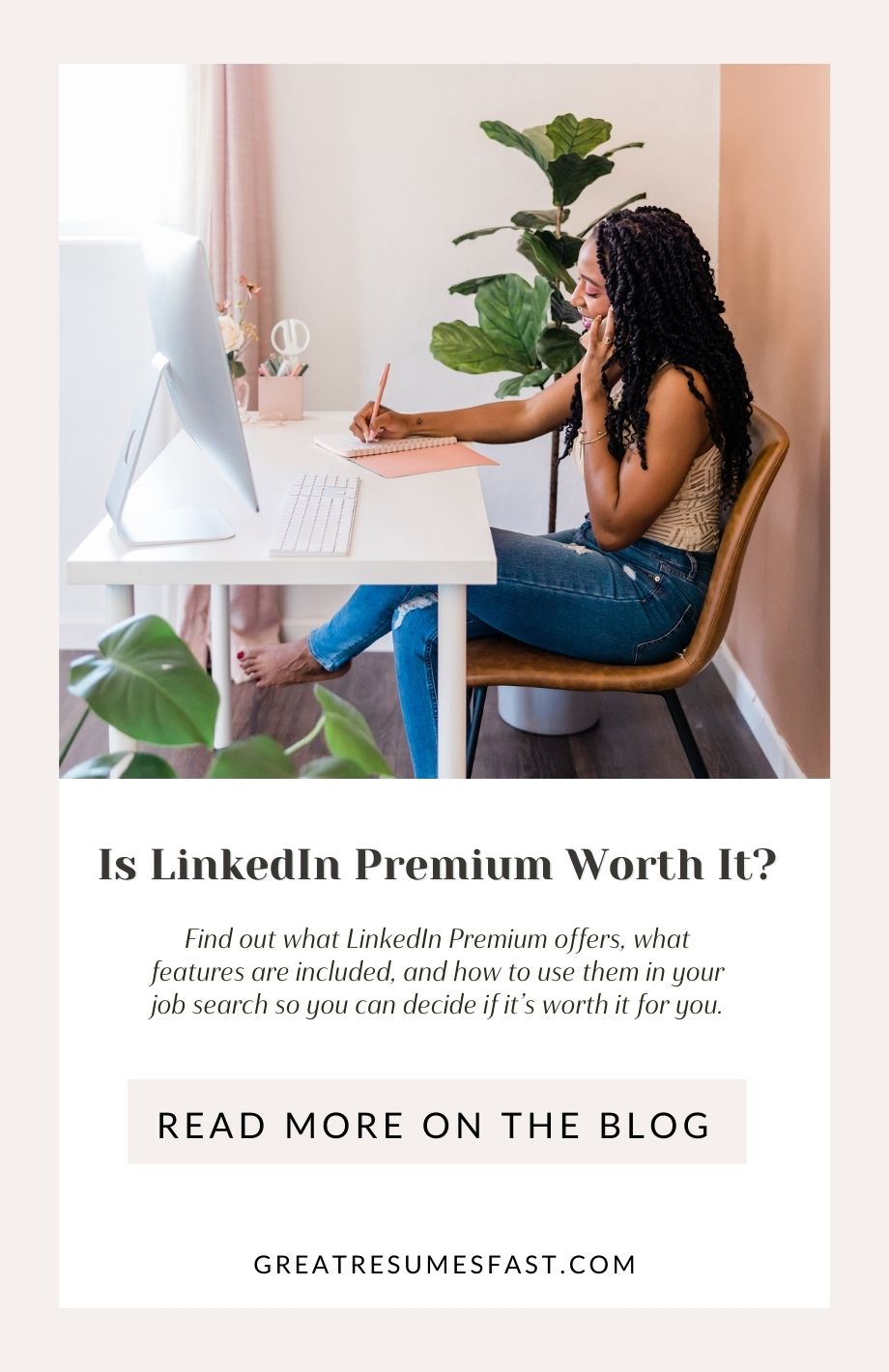 What Does LinkedIn Premium Offer?
The Career Plan of LinkedIn Premium for job seekers is the plan that I'll be discussing throughout this article. It's the one that most job seekers would need and use as opposed to the business plan. The Career Plan offers job seekers InMail credits, profile views for 90 days, and access to 17,000+ LinkedIn Learning courses.
InMail Credits
LinkedIn offers different Premium plans but the base Career plan for Premium gives you 3 InMail credits per month that you can use to connect with recruiters or hiring managers at your target companies or to expand your industry contacts. I have the Business Premium version of LinkedIn and with it, I get 45 InMail credits per month. I don't think I've ever used all 45 in one month but I will use about 10-15. The great thing about InMail credits is that if/when the person responds to your message you get that InMail credit back and you're able to message someone else.
Who Has Viewed Your Profile
With a basic LinkedIn profile, you can see your profile views from the past five days. However, with LinkedIn Premium you can review who has viewed your profile for the past 90 days. If you're in the midst of a job search and you're on LinkedIn daily, it's easy to check your profile views every day so the five days may not matter as much. However, some of the profiles will be hidden and just say "LinkedIn Member" with no picture and only a basic description like "recruiter at tech company."
With the Premium Plan, you can see who has viewed your profile for 90 days, including what LinkedIn deems as "Interesting" profile views. On my profile, the interesting views are typically leaders in my industry or parallel industries and recruiters. It will show me all the C-suite execs who've looked at my profile recently and how long it's been since they've looked at it.
Interesting side note, I've found that if you send a connection request to people who've recently viewed your profile (that same day) they're likely to accept your invite quickly. If I check my profile views and someone interesting looked at my profile five minutes ago and I send them a connection request, they almost always accept immediately. This may be a great option for you to expand your network. Review who is looking at your profile and send them a request to connect.
LinkedIn Learning Courses
As a lifelong learner, this has to be one of my favorite LinkedIn Premium features. There are so many quality courses taught by excellent experts and thought leaders. Virtually anything you can imagine is taught in these courses.
I had a job seeker recently ask me about landing a role with a company that would train her to do the job. It was in an industry where she'd need specific experience. She was having trouble landing a position with a company that would train her and she was feeling discouraged. My advice to her was to take matters into her own hands and work on the skill herself. She could log into LinkedIn Learning, find the topic she needed to learn, take the Learning Path, earn the certification/credential, add it to her profile, and voilà—she now has the skill listed on her profile. This will make it easier for her to get her foot in the door at a company where she can get on-the-job training in that particular field.
What Features Are Included with LinkedIn Premium?
The Career Plan of LinkedIn Premium offers some great competitive advantages in your job search compared to the basic profile.
Featured Applicant
When you sign up for the Career Premium plan and apply for a job on LinkedIn, it highlights your application and puts your submission at the top of the list recruiters view in their dashboard. This is one great way to stand out from the competing applicants.
Reach Hiring Managers with InMail
With the Career Plan, you get three InMail credits that you can use to contact the poster of the job. With many job postings, LinkedIn will show you who posted the job with an invitation to contact them. Many recruiters choose this option so that candidates will contact them directly. Not all job postings will include a link to the person's profile but there are plenty that do. If the job poster is listed for your target company, I strongly recommend that you reach out to them and let them know you've applied to the role, why you're excited/interested in the position, and how you can add value.
If you have a good-sized network, you may already be a first- or second-degree connection of the hiring manager who posted the opening. If that's the case, you won't need to use an InMail credit. However, if you're not connected to the person or they are a third-degree connection, then you can use one of your InMail credits to connect. It's worth it to be able to message the person who is actually doing the hiring. The job poster has to select/agree to add their profile to the posting—this isn't something LinkedIn just does. The benefit is that this lets you know that the person wants to be contacted about the job and you can feel comfortable reaching out.
Job Search Premium Insights
If you've ever wondered about your competition when it comes to applying for jobs, LinkedIn's Premium Insights and competitor intelligence will give you great information. You'll find out
How many applicants there are for the job
The top 10 skills the other applicants possess
Seniority level
Education
Location
An inside look at the company's hiring trends over the past two years
Employee distribution and headcount growth by function
New hires
Recent management hires (with profile links)
Notable company alumni
Total job openings and separated by functions/industries.
All this data is great because you can see how your skills and qualifications compare to other candidates, plus you can see if the company is hiring for your industry, seniority level, other alumni they've hired (great for inside connections and requesting informational interviews), and who they've hired so you can start making the right connections.
Salary Information
Have you ever tried LinkedIn's Salary tool? This is definitely the place I would go for market research before I stated a salary range or started negotiating salary. With LinkedIn Premium you get instant access to Salary insights. You can look up position titles and location, and then filter results by company size, education, and field of study. It's the best way to get accurate and specific salary information.
How Can I Get LinkedIn Premium for Free?
If you've never tried LinkedIn Premium or their Career Plan before, you can access a 30-day free trial here. If you're a job seeker, I cannot more strongly urge you to take advantage of this free trial. When my husband launched his job search in March 2022, the very first thing we did was sign him up for a LinkedIn Premium account, so that he could access all the job search insights and start contacting hiring managers. He was able to see how he compared to other applicants and also who posted the jobs he wanted to apply to.
After using LinkedIn Premium professionally and personally for ten years and working with countless job seekers who use it, I believe it's a worthy investment. And if you're not able to engage with a monthly or annual plan, you can still access the free trial.
Note: I'm a LinkedIn Premium partner so I receive a small commission if you choose to sign up for LinkedIn Premium. This does not affect my beliefs that LinkedIn Premium is a competitive advantage for job seekers. I would continue to recommend it even if I did not receive a commission.
How Do I Use LinkedIn Premium for My Job Search?
Reach Out to the Job Poster
The very first step I would take after signing up for LinkedIn Premium is to start searching for job postings at my target companies. I advise my clients to create a target company list that includes their top 10-20 target companies. You can follow them on LinkedIn and engage. Then, check out their job postings to see what is listed. Once you find an opening you're interested in, click on it and see if the job poster is listed. If they are, apply to the job and after you've applied send the job poster a quick note letting them know you've applied to the role, why you're excited/interested in the position, and how you can add value.
Connect with Profile Viewers
The second thing I would do is take a look at my profile views over the past 90 days. LinkedIn offers an "interesting views" filter that you can select that highlights views that come from hiring managers, executives, and recruiters. If you have a lot of profile views, this is a quick way to sift through. More often though, I find that job seekers who aren't used to using all the tools and features that LinkedIn offers will not have a large number of profile views.
I would still recommend scanning through your profile views to see if there are any people who've viewed your profile who are recruiters, hiring managers, or work within your target companies. If so, send them a connection request. This opens the door to building a relationship.
Stand Out to Hiring Managers
Don't forget that with LinkedIn Premium you're starred as a "Featured Applicant" when you apply for jobs, so don't wait to start applying. Identify those dream roles at your target companies and make sure you submit your application. Any applications submitted when you have LinkedIn Premium Career Plan automatically get featured applicant status with a top result and star/bold by your name.
Take Courses to Get Certifications for Important Skills
With LinkedIn Premium comes access to LinkedIn Learning's database of 17,000+ courses (and it's continuing to grow!). What I love most about LinkedIn Learning besides access to ALL THIS KNOWLEDGE (the lifelong learner in me is like a kid at Christmas) is that once you complete a course you can add it to your profile. LinkedIn will ask you upon completion if you want to add the course to your profile. I recommend adding it because it helps bolster your profile SEO. Whenever a recruiter searches for that specific skill, software, certification, or credential, your profile will show up higher in search results because you have the course completion added to your profile.
A strategic way to take advantage of LinkedIn Learning is to take courses for skills, certifications, or credentials that you know are needed for your target job or the field that you want to transition into. This is a great way to fill a skills/experience gap.
Is LinkedIn Premium Worth It for Job Seekers?
I recommend at least signing up for the 30-day free trial because you get to be a featured applicant for 30 days, get competitive intelligence, and you can contact the job poster. These three features make the free trial worth it! Add to that you get to see anyone who has viewed your profile for the past 90 days and you have a great jump-start to your job search.
How Do You Cancel LinkedIn Premium?
It's super easy to cancel LinkedIn Premium before your trial ends if you decide you do not want to pay for a monthly or annual membership. Here's how to do that:
Click the Me icon at the top of your LinkedIn homepage.
Select Access My Premium from the drop-down.
Click the Manage Premium account button on the right rail.
Under Manage subscription, click Cancel subscription.
Don't forget to take advantage of your free 30-day trial if you're just launching your job search or looking for a way to bolster your job search efforts. I also offer a free five-day mini-course on how to leverage LinkedIn and increase your profile views by 1000% or more. You can sign up for that free mini-course here.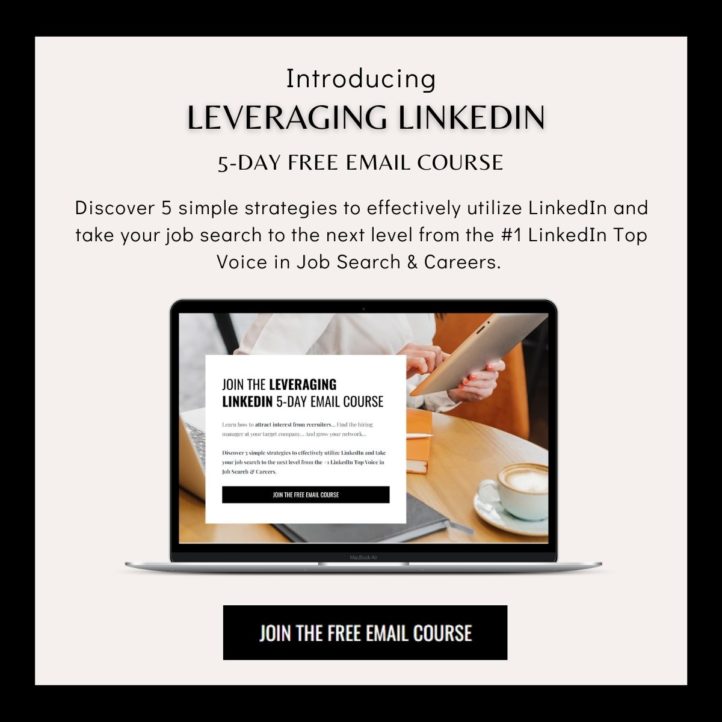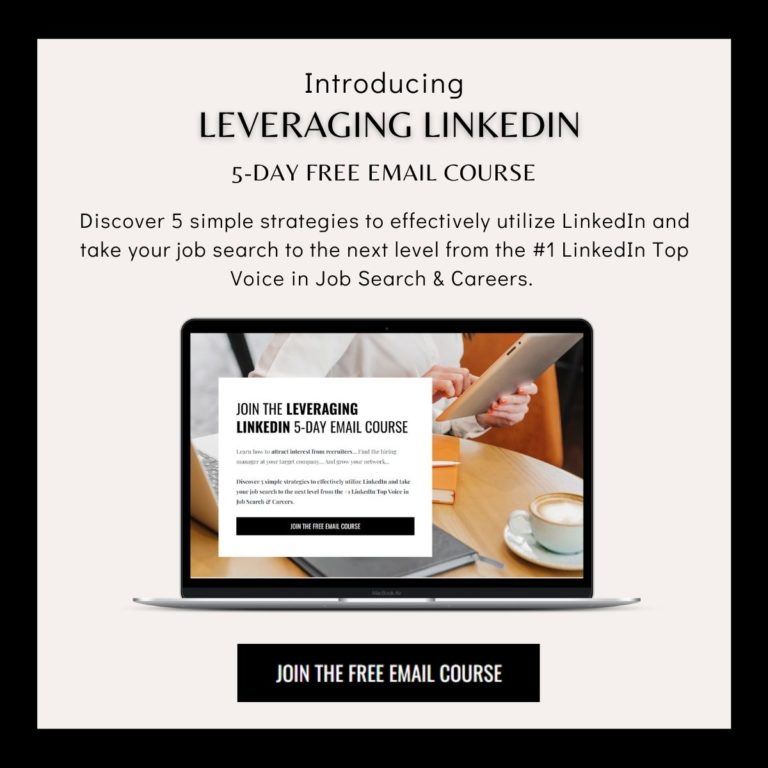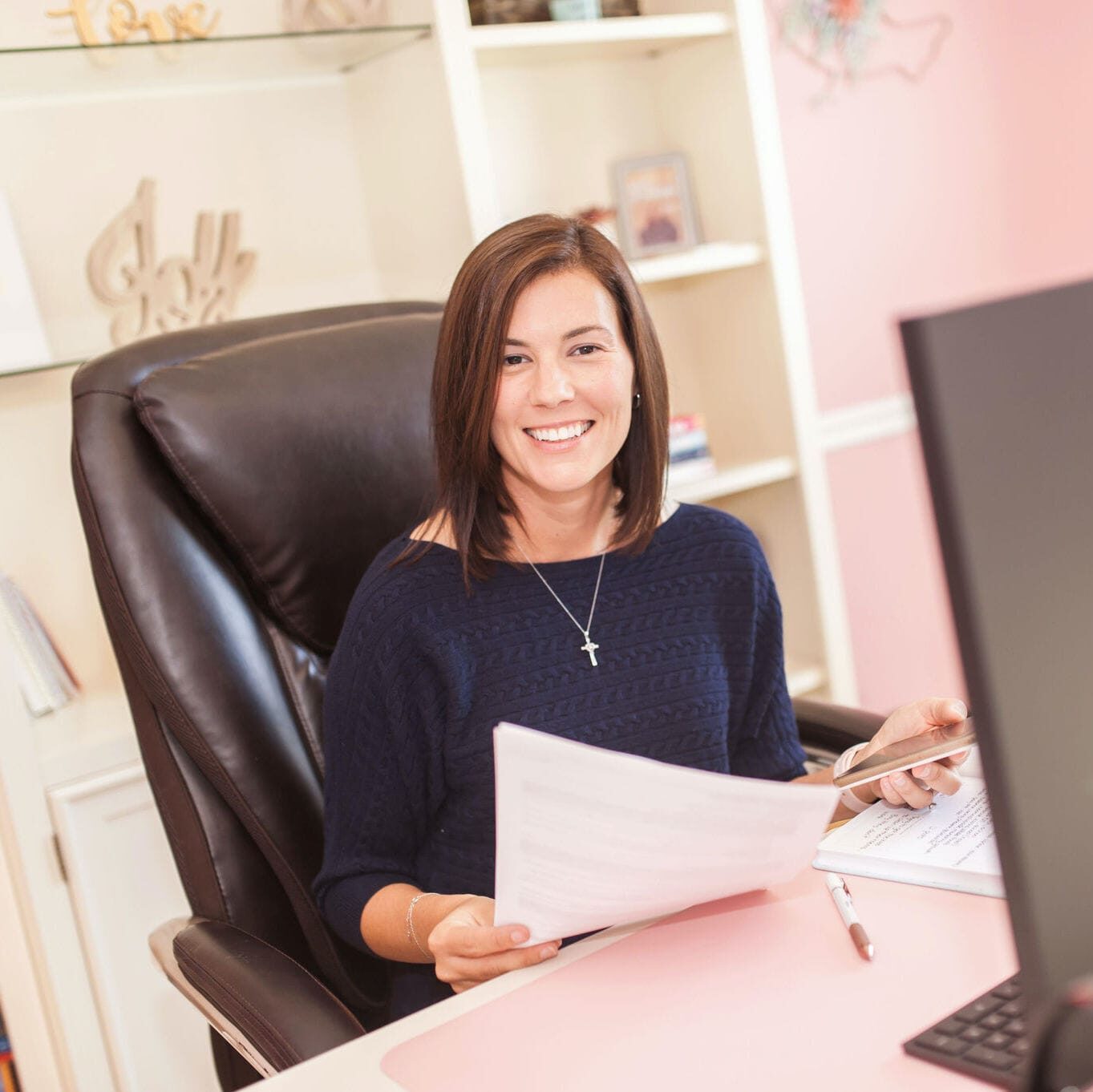 Jessica Hernandez, President, CEO & Founder of Great Resumes Fast
Hi, I'm Jessica. I started this company back in 2008 after more than a decade directing hiring practices at Fortune 500 companies.
What started as a side hustle (before that was even a word!) helping friends of friends with their resumes has now grown into a company that serves hundreds of happy clients a year. But the personal touch? I've kept that.
You might have seen me featured as a resume expert in publications like Forbes, Fast Company, and Fortune. And in 2020, I was honored to be named as a LinkedIn Top Voice of the year!
I'm so glad you're here, and I can't wait to help you find your next perfect-fit position!
Will your resume impress employers? Take this 2-minute quiz to find out.
Get your personalized plan for a resume that stands out and lands you your dream job!
Need a little help getting hiring managers to take notice? Find out what's standing between you and those magic words "You're exactly who we've been looking for!"