Whether you feel stuck in your current position and need to move up, have heard about a position opening up that you have been watching for years, or you're just toying with the idea of moving up the career ladder, it's always a good idea to have your resume updated and ready to go.
For 2019, a resume refresh to get you that promotion should go above and beyond just updating the dates beside your current position. One way to impress the hiring manager and be more than just another piece of paper in a pile is to modernize your resume to get it noticed.
Use Visuals
Whether we like it or not, the internet has trained us all to take in bite-size chunks of information. And bright colors and graphics simply have a universal appeal that draws the eye. Your 12-point Times New Roman, paragraph-long description of your sales accomplishments might be perfectly written, but a bar graph that shows growth year after year will be more immediately impactful.
You can also use visual elements simply to call attention to your skill set or other information that is especially important for earning a promotion. Here, you see a resume with the applicant's areas of expertise highlighted in brightly colored arrow visuals. Rather than being hidden among the blocks of text, the skills that could get you that promotion jump right out in front of the hiring manager.

While you may not be ready to take the plunge to a fully graphic resume, or you're not applying for a job where doing so is appropriate, these resumes on our resume samples page could provide you with some inspiration for using visual elements on your own resume. You can also read about my advice for incorporating visual elements into your resume in my article 131 Resume Writing Tips.
Make Your Resume AI-Friendly
We're nearly two decades into the 21st Century, and artificial intelligence is doing more and more work for us. Screening resumes is one area where AI has made a notable impact, and applicant tracking systems (ATS) are now widely used.
Making your resume ATS-friendly for a promotion may be most applicable if you are working at a large company where you have to submit an online application even if you are applying for a promotion from within the company, but it can't hurt to assess your resume for ATS-friendly features and formatting as it becomes more important in job searches overall.
To get your resume through an applicant tracking system it is crucial that you use keywords that are relevant to the job you want and that you are clear about the positions you've held and the companies at which you have worked. Don't use abbreviations—spell out the names of companies like Bank of America (don't use BoA or something like that)—and look to the job listing to find keywords to use in your resume.
If you work at the company for which you are applying for a promotion, you should have an extra step up, and you're ahead of the game when it comes to internal networking. However, today's economy offers plenty of opportunity for people to move from company to company, and you need to get through the initial ATS screening if you want to be able to get an interview and compete with outside applicants whose resumes are in that same ATS system.
For a more detailed look at prepping your resume for AI systems, check out this article in which I share information from my conversation with Arran Stewart, co-founder and chief visionary officer (CVO) of Job.com.
Show Accomplishments, Don't Just Tell
If you're applying for a promotion, you clearly believe you deserve it. That means you have accomplishments to speak about, accomplishments that have benefitted the company. When you're applying for a job within your current company, it's extremely easy for the hiring manager or committee to check on claims you make, and if you're vague about your accomplishments they might not even bother and just set your resume aside.
When you put together your resume in 2019, get specific for a better chance at getting that promotion. People are busy, and they want to be told directly what they need to know.
Saying "Successfully increased 2018 sales" might tell that you did something good, but it is nowhere near as clear as saying, "Increased sales by $2 million per quarter through acquisition of four new clients."
The career highlights in this Healthcare President/CEO resume example demonstrate very well how you should be showing accomplishments and not just telling them.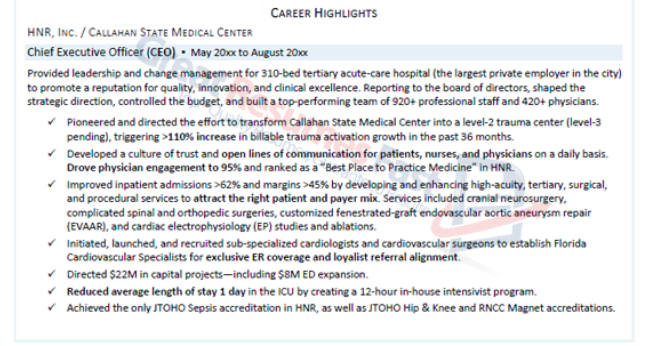 It's 2019. People see through buzzwords and vague references. If you're applying for a promotion, you need to be above that. As you work your way through your resume, ask yourself at every bullet and every sentence, how can I make this stronger and show evidence of this accomplishment?
Quick Tips
In addition to revamping the content of your resume to make it more effective for a promotion in 2019, you might also consider making formatting changes. Does the following need to be updated?
● Font—use Georgia or a similar clean and professional font
● File format you save and send your resume in (PDF is best—it works across all systems and preserves formatting)
● Your email address—it might be time to upgrade from AOL or Hotmail to show you are in sync with today's technology. Not to sound like your kid or grandkid, but what are you doing with an AOL email address?
If you are serious about getting a promotion in 2019, you need to revamp your resume to reflect both your current skill set and experience level as well as to better fit the modern needs of recruiters and hiring managers. Format can make as big a difference as content in today's world, so keep your resume easily readable while you highlight your major points rather than keeping them hidden among blocks of text.
Are you tired of your resume being rejected by applicant tracking systems? I know how frustrating it is to submit your resume and receive no response. I hate seeing qualified people never breakthrough the screening process. It shouldn't be that way. That's why I created this guide and I encourage you to download the FREE PDF so you can start seeing better resume response rates!
Jessica Hernandez, President, CEO & Founder of Great Resumes Fast
Hi, I'm Jessica. I started this company back in 2008 after more than a decade directing hiring practices at Fortune 500 companies.
What started as a side hustle (before that was even a word!) helping friends of friends with their resumes has now grown into a company that serves hundreds of happy clients a year. But the personal touch? I've kept that.
You might have seen me featured as a resume expert in publications like Forbes, Fast Company, and Fortune. And in 2020, I was honored to be named as a LinkedIn Top Voice of the year!
I'm so glad you're here, and I can't wait to help you find your next perfect-fit position!
Will your resume impress employers? Take this 2-minute quiz to find out.
Get your personalized plan for a resume that stands out and lands you your dream job!
Need a little help getting hiring managers to take notice? Find out what's standing between you and those magic words "You're exactly who we've been looking for!"