Executive resume writing service costs can range from $300-3,000 depending on the process, years of experience of your resume writer or career coach, how many hours they're investing into writing a resume, your work history, experience, and the credentials of your writer.
An executive resume that is developed from a questionnaire you complete online, does not include a telephone consult with the resume writer, a writer who does not hold a certification or may not be based in the US, and is written using a company-mandated resume template and wording will cost between $300-600.
For an executive resume writer who is certified, US-based, conducts a 60-90-minute telephone consultation, does not use questionnaires, and develops personal-brand-focused resumes you can expect to invest between $1,200-$4,000. Pricing will vary based on your experience and any resume writing package extras that are included such as LinkedIn profile writing, coaching, or educational material.
Request service and pricing information for executive resume writing services here.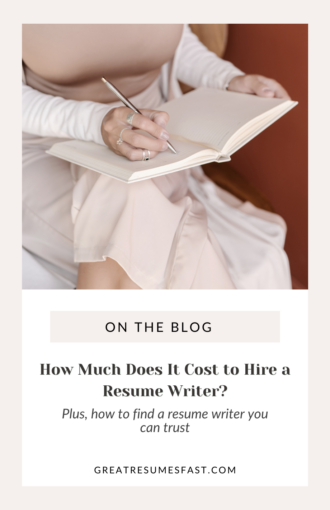 Professional resume writing service costs can range between $200-2,000. The fees will depend largely on the type of resume written, the experience of the certified resume writer, the process the resume writing company uses, and the skills and experience of the professional writer.
A professional resume that is written from answers provided on a worksheet or questionnaire and that do not include a telephone consultation will trend on the lower end of the price range. If the resume writing service uses writers who are not US-based, do not hold a certification in resume writing and are reliant on company-mandated resume templates and wording you can expect to pay between $100-$300 for the professional resume.
Resume writing services that include a 60-90-minute consultation with your resume writer, are personal-brand-focused, developed by a certified resume writer based in the US will be on the upper end of the pricing spectrum between $1,000-$2,000 depending on your career level and the experience of the resume writer.
Crafting a quality resume that will catch a potential employer's eye takes a lot of time, attention to detail, and expertise—three things that most people searching for a job do not have. Enter professional resume writers.
Professional resume writers are people who have dedicated their careers to crafting documents that will help you reach your career goals. An executive resume writer can create an executive resume and cover letter that will blend your work experience, accomplishments, and skills in a way that attracts the attention of potential employers.
The results from hiring a certified resume writer usually speak for themselves; higher resume response rates, double and triple the income, more interviews, more offers – these are usually the results of a good executive resume or professionally written resume.
– Are Executive Resume Writers Worth It?

Professional resume writing services can be a great choice when you're struggling to find the right wording or make the right impression with your current resume.
Ever heard the saying you get what you pay for? It holds very true in the world of professionally written resumes. If you're paying for a $50-100 resume, you're likely getting a resume template that has been used with thousands of other people (probably your competition) with your same content plugged into a dressed-up format. On the other hand, if you're investing $500+ into professional resume writing, committing to a 60-minute or longer telephone consultation, and the process includes revisions and a guarantee with a trusted and certified resume writer, you're likely on the right path. In the world of executive resume writing, resume services can range anywhere from $50-$1000+.
If you don't want to write your resume and you want a good resume that is polished, concise, and professional, here are a few things to look for:
Resume writing service costs usually equal the amount of time needed to create a truly distinctive and branded resume.
If you are an executive looking for a six-figure position, you want an executive resume that positions you well for the role. I love the math Louise Fletcher of BlueSkyResumes uses in her article when she explains the investment. Here's what she has to say:
Here's a very rough ballpark way to estimate the payback time for your resume and cover letter.
An average work year, taking into account holidays, weekends and vacations, is 2,000 hours (yes, I know you work a lot more than that! But let's start there). So to calculate your hourly rate, just divide your salary by 2,000.
Now multiply that by eight, and you have your base daily salary.
So, an making $150,000 is making $75/hour or $600 per day.
At that rate, a $1,200 resume has paid for itself in just 2 days of employment. (And that doesn't take into account bonuses, benefits, equity, and other employment perks).
Resume Writing Packages

| Resume Package Costs
Many resume writing companies offer resume packages which may be an ideal option to get a bundle price. I know that many services offer resume packages. We offer three packages:
Our executive resume package includes an executive resume and cover letter, Microsoft Word, Adobe PDF, and an applicant tracking system-optimized version of your resume. It also includes a 60-90 minute telephone consultation, two rounds of revisions, and 3-5 business day turnaround time.
We offer a VIP premium package that includes an executive resume, cover letter, and LinkedIn profile content writing service. It also includes the three resume documents, the phone consultation, revisions, and a 3-5 business day turnaround time.
The third executive resume writing service package we offer is the VIP platinum package. It adds the remaining career documents that we create, a thank you letter, and a career biography and also adds the executive recruiter distribution.
Resume Writing

Guarantees Are Worth It
Reputable resume writing services generally offer a guarantee for their work. An example of a common guarantee would be free resume revisions or a rewrite if you don't land an interview within 60 days. Some resume writers offer complimentary job search coaching, too.
60-Day Interview Guarantee – this guarantee basically states that if your resume does not generate any interviews in 60 days, the resume writer will write you a new resume at no charge.
100% Satisfaction Guarantee – a satisfaction guarantee normally means that the resume writing service guarantees that you will be happy with your resume, and if you're not, they will do whatever it takes to ensure you are satisfied.
How to find

a resume writing

service you can trust
When looking for a certified professional resume writer to help you write a professional resume, it's important to remember price isn't the only factor. I advise you to review resume samples the service creates so you'll know if the quality of their work aligns with your expectations. If you're looking at resume samples and the quality is poor, it's a good sign to walk away.
After you've reviewed resume samples, look at their Better Business Bureau rating to read real client reviews and complaints and ensure they have an A or A+ rating. It's one of the only true ways to verify the background of a company.
Look for third-party review websites and scrutinize the reviews you read. Do the reviews include the writer's name and details about the experience working with the resume writing company? If so, it's probably a trustworthy review. If the review is vague or generic, like "I didn't like working with this company" or "I enjoyed working with this company" they're probably not a legitimate review. Take that into account when you're doing your research.
Speaking of research, look up the company owner or resume writer on LinkedIn. If prospective employers can look you up on LinkedIn, then you can certainly look up the person behind the company. Find out how long they've been in the industry, what their brand is, what they're known for, and how active they are on LinkedIn. This is a great way to judge the character and values of the company.
You can also check out their website and blog to find out what the company values and the principles the company is based on. Are they a golden rule company that believes in treating others the way they would want to be treated? Are their blogs informative and helpful? Are their blogs self-promoting or negative about others in the industry?
I also advise you to reflect on the investment in terms of how many days of employment it would take to cover the price of the executive resume. A great executive resume can shorten your job search by weeks or months and result in a substantial increase in income, more than covering the price of the professional service. Think about the long-term value that you're receiving in terms of time saved, income doubled, and job search shortened. What is that worth to you? That should be how you decide how much you're willing to invest in a resume writing service.
Here's feedback from a client of ours named Carlos:
"I tried your services blindly three years ago, and after my initial results, I utilized your services three more times as I sought growth in my career. Each time accounted for exponential and explosive growth. I went from making $50k to $175k in just three short years. I also saw a 30% increase and a two-level bump. Excellent work. I now run a regional Logistics and Supply Chain network supporting operations in 12 states and an account valued in excess of $160M. My resume writer was able to portray my skills and personality on paper, revealing my personal brand to the world. The document matched my personality to a T. Everyone I interviewed with saw me as a total package and complimented my resume for being concise and matching my personality and skill set. I have recommended your services to over 50 associates." – Carlos Llanes.
If you want prospective employers to contact you for an interview, you need a resume that will attract the attention of the hiring manager.
If you're ready to hire a professional resume writing service to work with a professional resume writer, we'd be happy to review your resume and discuss your career goals. You can review services on our website at Great Resumes Fast.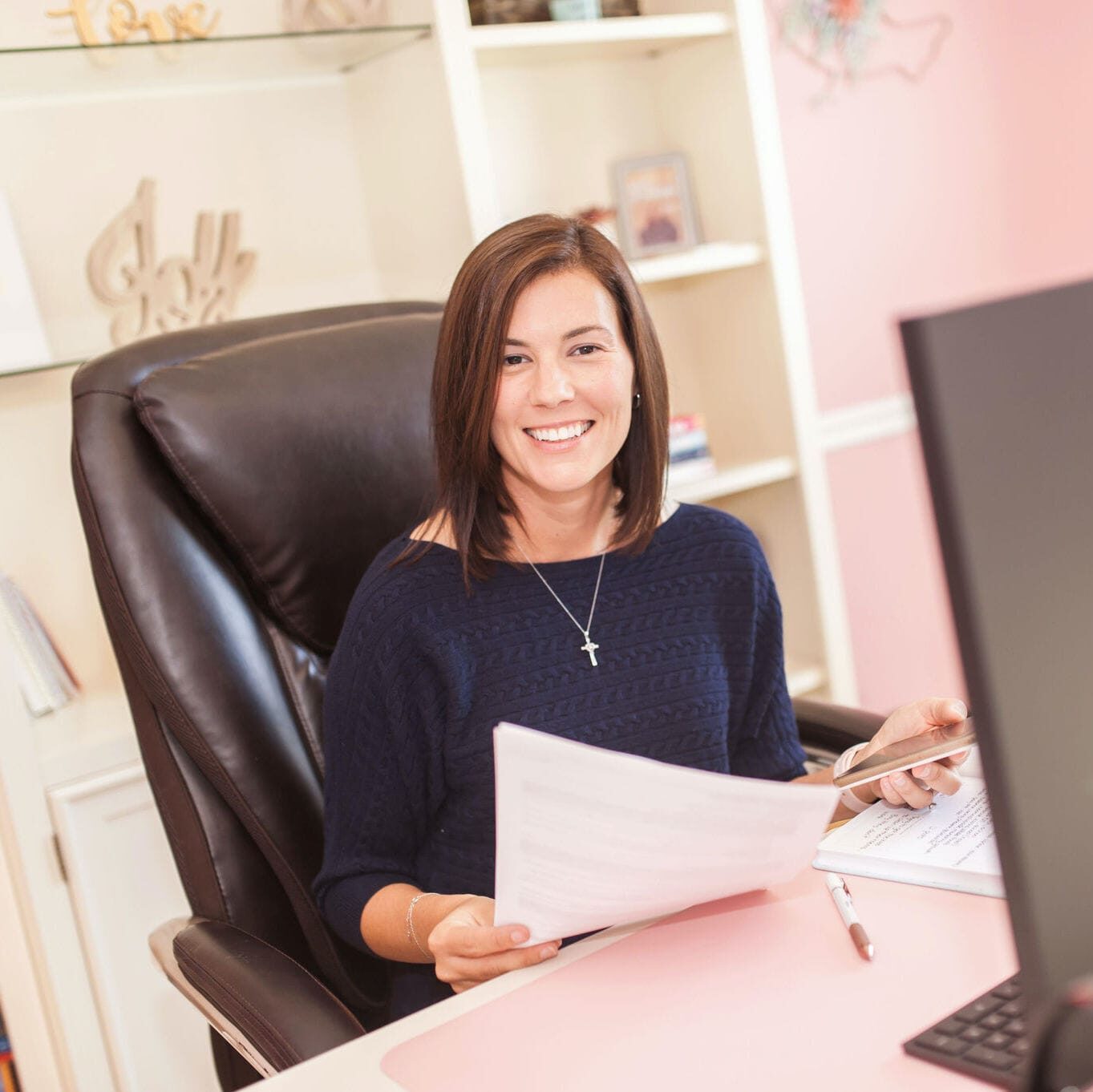 Jessica Hernandez, President, CEO & Founder of Great Resumes Fast
Hi, I'm Jessica. I started this company back in 2008 after more than a decade directing hiring practices at Fortune 500 companies.
What started as a side hustle (before that was even a word!) helping friends of friends with their resumes has now grown into a company that serves hundreds of happy clients a year. But the personal touch? I've kept that.
You might have seen me featured as a resume expert in publications like Forbes, Fast Company, and Fortune. And in 2020, I was honored to be named as a LinkedIn Top Voice of the year!
I'm so glad you're here, and I can't wait to help you find your next perfect-fit position!
Will your resume impress employers? Take this 2-minute quiz to find out.
Get your personalized plan for a resume that stands out and lands you your dream job!
Need a little help getting hiring managers to take notice? Find out what's standing between you and those magic words "You're exactly who we've been looking for!"