One of the biggest mysteries of resume writing is trying to decode the minds of hiring managers.  How in the world can we possibly know what they want when each person is different?  The truth is, each hiring manager may look for something slightly different, but on the whole, they hope to find blanket basics in all resumes.  Take a look at four ways that can help you to get that much closer to giving most hiring mangers what they want in your resume: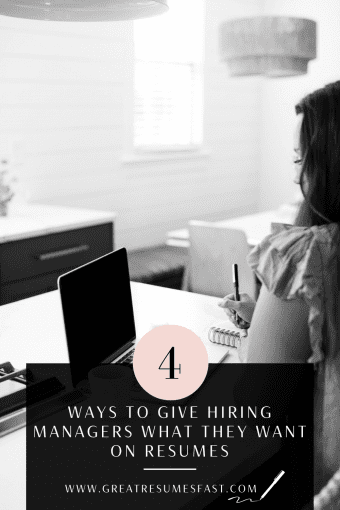 1. Provide a Stable Work History
Employers want to see consistency in the resumes they review.  Unfortunately, if you have changed jobs a lot, this could mean to an employer that you might jump ship soon after they've hired you—which, of course, is something they don't want to see happen.  So if you have gaps in your history but have filled them in as a volunteer or temp, be sure to include it to show some level of consistency in your history.
2. Connect with Company Initiatives
It's crucial that your resume exhibits your understanding of the company's needs—as well as an ability to meet those needs.  Look closely at the job posting—and even dig deeper by looking at the company's mission and any recent news in the media to find out what it is lacking and wants from its next employee.  Then list accomplishments and skills that align with those wants.
Use action verbs to help describe your accomplishments. They make a bigger impact than passive phrases like "responsible for" or "duties included". Need some inspiration? You can download a list of 178 action verbs here.
3. Include Awards and Testimonials
Making your resume unique not only helps it stand out from the pack but actually makes the process easier for the hiring manager who is thumbing through what seems to be a mountain of carbon-copy resumes.  So be sure to include awards you've won that could spark the manager's interest.  And even include testimonials from people who recommend you for employment.  Listing two or three testimonials right on your resume could entice the manager enough to want to know even more about you via an interview.
4. Make Formatting a Priority
Hiring managers already have huge jobs ahead of them when faced with a stack of resumes to look through.  You definitely don't want to make their jobs more difficult by submitting a document that's formatted in such a way that it's challenging to scan quickly for vital information.  Be sure to include numerous headings, subheadings, bullet points, and other tools to create white space and make reading simple.  As you can imagine, getting your resume read gets you that much closer to an interview.
Hiring managers aren't puzzling like Rubik's Cubes, as we might assume.  They're human and simply want to effectively complete the task of hiring a qualified candidate to fill a position.  By spending time giving them want they want in a resume, your chances of being hired improve significantly.
Another way to improve your resume is to replace passive phrases with action verbs. In this free downloadable PDF there's 178 employer-approved action verbs and high-impact phrases you can use to quickly refresh your resume.

Jessica Hernandez, President, CEO & Founder of Great Resumes Fast
Hi, I'm Jessica. I started this company back in 2008 after more than a decade directing hiring practices at Fortune 500 companies.
What started as a side hustle (before that was even a word!) helping friends of friends with their resumes has now grown into a company that serves hundreds of happy clients a year. But the personal touch? I've kept that.
You might have seen me featured as a resume expert in publications like Forbes, Fast Company, and Fortune. And in 2020, I was honored to be named as a LinkedIn Top Voice of the year!
I'm so glad you're here, and I can't wait to help you find your next perfect-fit position!
Will your resume impress employers? Take this 2-minute quiz to find out.
Get your personalized plan for a resume that stands out and lands you your dream job!
Need a little help getting hiring managers to take notice? Find out what's standing between you and those magic words "You're exactly who we've been looking for!"