Company Research Leads to Interview Success – Knock em Dead Secrets & Strategies
As you sit down across from yet another interviewer, you feel strangely confident. After countless bad interviews you've fixed all your we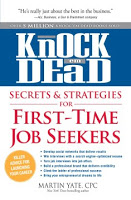 ak spots. Your resume is in good shape, you have an understanding of the job you're applying for, and you can relate your skills and experiences to the requirements of the position. All the pieces are falling into place, and you know, just know, that nothing can go wrong this time. That's when it happens. The interviewer looks up from your resume and asks: "Tell me what you know about our company."

You Don't Know The Company, You Don't Get The Offer
Company research may seem optional, but it's not. The interviewer will expect you to know about the company's operations, and doesn't expect to spend valuable time explaining what the organization does or how it's positioned in the industry. Having the right skills and being able to tell a story about your professionalism isn't enough. If you cannot answer this convincingly, it will demonstrate a lack of sincere interest, and you will compare poorly against other candidates who have made the effort to research the company. Jessica Hernandez, career expert and CEO of GreatResumesFast.com gives you the right focus: "You aren't expected to know company financials for the last five years, but you need to know enough to ask good questions."
What You Must Know
Discover what you can about the position the company occupies within its industry. Is it a leader? Is it growing? How are its products/services distributed? How do these products/services compare to its competitors in terms of functionality, pricing, and availability? If you have done your research, it will show your sincerity and enable you to ask intelligent questions. You should know:
What the company does, its locations and subsidiaries
Its current product line and any new products
News about the company, its products, and key executives
Its competitors in the industry and in the local market
Its competitive edge in the market
To gather this information, visit the company website and Google the company name, brands, products, and/or services, along with the names of any interviewers or other company executives of whom you are aware. Having done this, use Google News to  to track media coverage of the company.
How To Get The Inside Scoop
You should also tap into your networks and social networking groups and talk with people who work, or have worked, at this company. Learning that you have an upcoming interview will encourage most people to give you any insights they can. At the same time, if you know any interviewers' names, search these same social networking sites for their profiles; you won't always find anything, but when you do, it's a nice bonus.
Knowledge of the company and its market position can also pay off after the interview ends. When you make your follow-up contact s after the interview, you can gain points and memorability if you attach a current news story or other media item relevant to the company's concerns.
Company Research Pays Dividends
Company research pays dividends in many different areas. Ignorance could come off as laziness and torpedo your candidacy, while a little extra effort might be the deciding factor that helps you nose out the last of the competition. It can help you personalize your cover letters, learn how to dress, and give you ammunition for follow-up contacts. And if nothing else, it can save you from ever again having to give that embarrassing, paper-thin answer to the inevitable interview question: "What do you know about our company?"  For more advice on taking control of your professional destiny check out Knock Em Dead – Secrets & Strategies For First-Time Job Seekers.
Thank you for the guest post Martin Yate CPC and for including me as one of your expert panelists.
Jessica Hernandez, President, CEO & Founder of Great Resumes Fast
Hi, I'm Jessica. I started this company back in 2008 after more than a decade directing hiring practices at Fortune 500 companies.
What started as a side hustle (before that was even a word!) helping friends of friends with their resumes has now grown into a company that serves hundreds of happy clients a year. But the personal touch? I've kept that.
You might have seen me featured as a resume expert in publications like Forbes, Fast Company, and Fortune. And in 2020, I was honored to be named as a LinkedIn Top Voice of the year!
I'm so glad you're here, and I can't wait to help you find your next perfect-fit position!
Will your resume impress employers? Take this 2-minute quiz to find out.
Get your personalized plan for a resume that stands out and lands you your dream job!
Need a little help getting hiring managers to take notice? Find out what's standing between you and those magic words "You're exactly who we've been looking for!"