All this advice on the Web about what your cover letter should say, how to write one, what to include … but do you ever wonder what should never go in your cover letter?  Below, I'll shed some light on five things better left unsaid:
Please accept this resume in response to …
This worn out old opening line is better left to the cover letter templates you find on the Internet.  Instead, open with something more original.
I really need this job …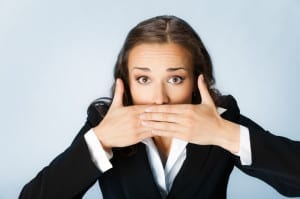 Don't sound desperate.  Desperation is not attractive in dating or job hunting.
Personal life stories.
Be personable, make a connection, but don't give them your whole life story.  It can be tempting to go into a long, drawn out "this is why …" scenario—but save it.  The employer is only interested in hearing why you're the ideal fit for the job.
Salary expectations.
Unless specifically requested by the employer, save this for the interview or the negotiation phase once the employer has made an offer.  Additionally, don't discuss your desire for fewer hours, more time off, more time with family, etc.  While they may all be valid reasons for why you're searching for employment, the cover letter isn't the right time or place to mention them.
Why you're looking to leave your current employer.
Employers are searching for candidates that offer stability and longevity.  Sharing up front in your cover letter why you're hoping to make a change isn't always the best strategy.  There's a time and place to discuss this with the employer, but the cover letter isn't it.
And one extra tip … leave out anything NEGATIVE.
Don't over share details of your personal life or career history that might be misconstrued negatively by a potential employer; and never speak badly about a past employer.  Believe the best and speak the best of everyone; it makes you look good.  No company wants to hire someone that's bad mouthing a former employer—because they know, should they hire you and the relationship doesn't work out, they'll be bad mouthed next.
So there you have it—my top six tips on what you should never say in your cover letter.  If you have a tip you'd like to share regarding what you should never say in a cover letter, I'd love to hear it! Share it below.
P.S. I'd love to meet you on Twitter here.
WANT TO WORK WITH US? If you would like us to personally work on your resume and cover letter and dramatically improve their response rate, then check out our top-rated resume writing services or contact us for more information if you have any questions.
FURTHER READING:
15 Expert Job Search Tips for 2014
Top 9 Cover Letter Tips for 2014
Top Cover Letter Trends for 2014
Jessica Hernandez, President, CEO & Founder of Great Resumes Fast
Hi, I'm Jessica. I started this company back in 2008 after more than a decade directing hiring practices at Fortune 500 companies.
What started as a side hustle (before that was even a word!) helping friends of friends with their resumes has now grown into a company that serves hundreds of happy clients a year. But the personal touch? I've kept that.
You might have seen me featured as a resume expert in publications like Forbes, Fast Company, and Fortune. And in 2020, I was honored to be named as a LinkedIn Top Voice of the year!
I'm so glad you're here, and I can't wait to help you find your next perfect-fit position!
Will your resume impress employers? Take this 2-minute quiz to find out.
Get your personalized plan for a resume that stands out and lands you your dream job!
Need a little help getting hiring managers to take notice? Find out what's standing between you and those magic words "You're exactly who we've been looking for!"