When comparing Great Resumes Fast to working with an individual executive resume writer, look for these 8 signs to find the best partner for your needs: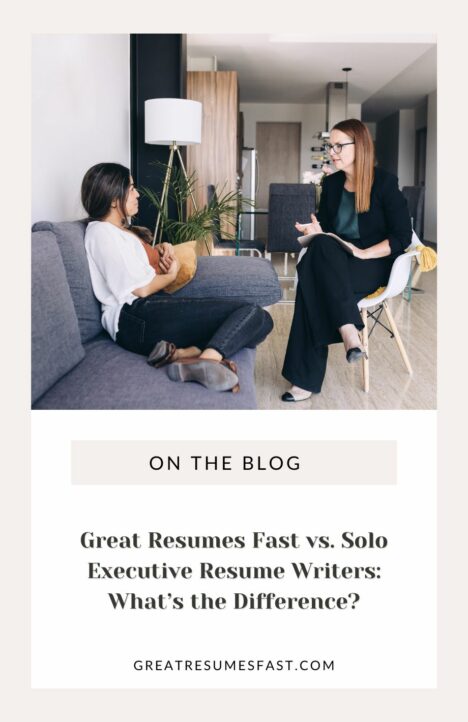 I'm willing to bet that executive resume writers play a role in at least 90% of hiring decisions at the senior level.
Professionals in the C-Suite and key leadership positions don't have time to spare on the nuances of resume writing. Nor do they want to take on such a critical endeavor when so much is on the line.
Think of it this way: you could technically do your own taxes and research weird medical symptoms you're feeling online. But you'd probably want the expert advice of a trustworthy accountant or doctor instead.
Executive resume writers provide that necessary expertise. They know how to shine a light on your best career accomplishments and leave an unforgettable impression on hiring teams.
However, with so many executive resume writers to choose from, it can be challenging to find the right one for you. So I'll share a few signs to look for in a potential partner and how working with Great Resumes Fast compares in this post.
But first, let's make sure we're all on the same page about:
What are Individual Executive Resume Writers?
When I say individual or solo executive resume writers, I mean someone who operates independently rather than working on a team for a resume writing company.
These individuals typically offer their services on freelance marketplaces like Fiverr and LinkedIn Services (formerly LinkedIn ProFinder) or directly on their own websites. Resume writing may be their full-time gig or a side hustle they use to supplement their full-time employment.
You may see ads or receive direct messages from executive resume writers on LinkedIn and other social media channels. So how do you vet these options for your needs?
Great Resumes Fast vs. Individual Executive Resume Writers: 8 Things To Look For
When scouting for an executive resume writer, look for these telltale signs you've found the perfect fit:
1. Impressive Resume Writing Experience
Resume writing isn't like other types of writing. Being skilled in this area takes understanding resume writing best practices, the current labor market and recruiting environment, industry hiring trends, and much more.
Look for resume writers who are members of credible resume writing associations. They'll hold titles such as:
Certified Professional Resume Writer (CPRW)
Academy Certified Resume Writer (ACRW)
Certified Executive Resume Master (CERM)
ATS Compliance Certified (ATSCC)
They might also be members of the Professional Association of Resume Writers (PARW), the National Resume Writers' Association (NRWA), or Career Directors International (CDI).
These credentials prove the writer not only understands resume writing, but stays up to date on the latest recruiting, hiring, and resume trends.
Everyone on the team at Great Resumes Fast is a US-based executive resume writer with 10+ years of experience on the hiring side. You can check out their career bios, certifications, and backgrounds here.
Our certified writers also complete ongoing training, so your resume delivers exactly what today's hiring teams and executive recruiters are looking for. They'll ensure your resume passes applicant tracking systems and actually makes it to a hiring manager's desk (rather than getting lost in a resume abyss).
2. A Deep Understanding Of Your Specific Industry
Though resume writing best practices are standard across industries, sector-specific nuances do exist. So a deep understanding of the metrics that matter for someone in your field is essential to standing out from your competition.
Since no single resume writer will have experience working with clients in every position across every industry, you may have to spend more time sleuthing out a resume writer who specializes in your niche.
At Great Resumes Fast, we match you with a writer who intimately understands your industry, role, and career level. Our writers have expertise spanning 40+ industries. And their knowledge helps transform generic resumes into resumes overflowing with selling points, industry keywords, and noteworthy metrics hiring professionals want to see.
3. Professional Executive Resume Samples and Glowing Client Testimonials/Customer Reviews
It takes a lot of time and effort to run a resume writing business. So some freelance resume writers outsource the actual resume writing to non-native English speakers overseas while they handle the business side.
That's why you should always ask for and look at the resume samples these writers provide on their websites and social media channels. If you don't see any examples, that may be a red flag.
You want to feel 100% confident in your executive resume writer and be able to trust their process. So they should be available to answer all your questions and direct you to all their glowing client testimonials and customer reviews.
Great Resumes Fast has served over 12,000 clients. You can check out our executive resume writing samples and read our stellar reviews. We have a 4.9 Trustpilot score and a 5 (A+) score on BBB.
4. A Comprehensive Discovery Process To Learn About the Unique Value You Add
An expertly-crafted executive resume shows the value you'll add to an organization, department, and company culture. It also highlights the unique selling points that make you stand out from similar applicants.
So how will your resume writer gather all this intel about you?
Many freelance resume writers glean this information from your current resume. They may also send you a questionnaire about your work history and career goals. Some might offer a phone consultation, but this is rare for those moonlighting as resume writers.
Great Resumes Fast is the only executive resume writing service that captures how you want to be known in the world. Your resume writer will start with a 60-90 minute discovery call to hear about your current role, future career goals, dream job, and more.
This intimate conversation allows your writer to uncover your accomplishments, unique differentiators, and examples of your skills. They'll also discover key selling points that may be hard for you to articulate about yourself.
These "intangibles" tell hiring managers you're the perfect fit for the role. They also make up the basis of your personal brand. So your achievement-driven resume and branding will attract interviews and job offers sooner.
5. Quick Turnaround Time
In-demand solo executive resume writers may have a weeks- or months-long waitlist. Their turnaround time may also depend on how busy they are with their full-time job.
Great Resumes Fast has a dedicated team of 12+ expert, full-time resume writers who are available to work with you as soon as you contact us. Thanks to our streamlined process, we usually don't have a waitlist for new clients either.
So you can expect your Great Resumes Fast documents within 3 to 5 days of completing your discovery call.
6. A Transparent Quality Assurance Process
An executive resume should go through stricter quality assurance standards than a typical resume. There's more at stake for an executive than an entry-level candidate; you need something that exceeds expectations, not just meets them.
So how does a solo executive resume writer take on quality assurance checks? Do they hire an outside editor to proofread their work?
Great Resumes Fast takes a team approach to every client. It's not just your resume writer who's writing and reviewing your resume. We also have two full-time editors who review and provide feedback on each client's documents. We believe the more eyes on a resume, the stronger and more effective it will be!
7. The Value Seems Worth Your Investment
You get what you pay for in the world of executive resume writing. Low prices may reflect a writer's inexperience or the level of work they're going to commit to. But premium executive resume writers are an investment in your future.
Executives and leaders in the C-Suite may spend less than 0.5% of their salary on a professional resume writer. This investment will be worth it if it means landing your dream role or scoring a career-changing promotion. If you're in a mid-level position, this investment could be precisely what you need to catapult yourself to that senior-level role you've been striving for.
Great Resumes Fast is a white-glove service that does it all for you. We focus on brand-building and personalization to convey your value, express your accomplishments, and help you get noticed by decision-makers.
Our whole process actually saves you 20+ hours because that's how much time we invest from start to finish with our clients. And we deliver everything an executive needs to land their next-level position and attract amazing job offers.
8. A Guarantee for Success
Your resume is the most vital document in your job search, but it's not the only factor in whether you'll be called for interviews. Your fit for the role, your experience, the quality of the other applicants you're competing with, and even your job search process might affect your success.
So make sure you know what your executive resume writer offers if your resume doesn't gain any traction with hiring teams. Will they rework your documents to make them more ATS-friendly?
You'll receive your Great Resumes Fast documents in three versions: Microsoft Word, PDF, and an ATS-optimized format to minimize automated rejections from screening systems. You can also score an e-note-style cover letter and SEO-optimized LinkedIn profile to boost your chances of landing an interview.
Then we'll be by your side until you get an offer. Our unique guarantee protects your investment:
If you don't receive an offer in 90 days, we'll help troubleshoot your entire job search process to understand what's going wrong — and then help you fix it.
Great Resumes Fast vs. Individual Executive Resume Writers: Which Makes the Most Sense for You?
I hope comparing the differences between Great Resumes Fast and independent executive resume writers puts both options into better perspective. In the end, you have to go with the resume writing service that makes the most sense for your career — and remember that landing your next role depends on it. 
If you're ready to get started with one of our certified resume writers, reach out today! We can't wait to hear about your dream job.
Are you struggling to create an executive resume that will impress employers? Download this free executive resume template and receive a series of 10 emails with expert guidance on how to write resume content that resonates with employers so you get more interviews.
Sign up now to get your free executive resume template and improve your resume.
Jessica Hernandez, President, CEO & Founder of Great Resumes Fast
Hi, I'm Jessica. I started this company back in 2008 after more than a decade directing hiring practices at Fortune 500 companies.
What started as a side hustle (before that was even a word!) helping friends of friends with their resumes has now grown into a company that serves hundreds of happy clients a year. But the personal touch? I've kept that.
You might have seen me featured as a resume expert in publications like Forbes, Fast Company, and Fortune. And in 2020, I was honored to be named as a LinkedIn Top Voice of the year!
I'm so glad you're here, and I can't wait to help you find your next perfect-fit position!
Will your resume impress employers? Take this 2-minute quiz to find out.
Get your personalized plan for a resume that stands out and lands you your dream job!
Need a little help getting hiring managers to take notice? Find out what's standing between you and those magic words "You're exactly who we've been looking for!"