How to Find the Right LinkedIn Contacts and Get Responses to Your Messages
With more than 14 million jobs posted, 1.9 million talent professionals searching for candidates, and someone hired every 15 seconds, LinkedIn is THE professional platform for your job search and long-term career management.
Even with all the opportunity that abounds on LinkedIn, it can be a challenge to find the right contacts and get responses to your messages. So today I want to share with you how to find helpful connections—whether that's someone in a similar industry, a key decision-maker, or a recruiter—and how to get responses to your messages so they don't go unanswered.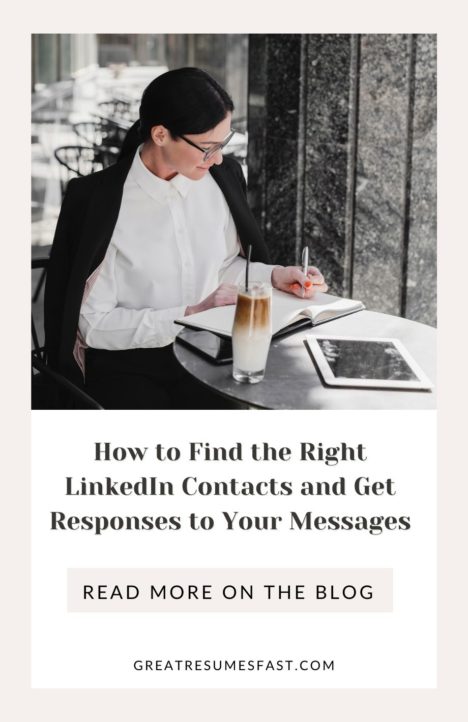 How to Find the Right Contacts on LinkedIn
When searching for a new connection or a decision-maker, the first place you want to start is the LinkedIn search bar.
The search bar
You can search by keyword, name, company, or any variation. If you don't know the person's name but you know their company, you can search for the job title and company name.
For example, "Talent acquisition Pfizer" or "Editor LinkedIn News."
Then filter by people and it will show you profiles of those who fit the search results.
If you're looking to connect with others in your industry, you can type in your industry then filter by people. I suggest being more specific and adding a location, job title, or company name. This will give you more common points of connection. The more common points of connection you share with someone, the more likely they are to connect, engage, and help you.
You can also search for recruiters in specific industries by using terms like "recruiter pharmaceutical" or "recruiter data analysts."
Company pages
One of the best ways to find connections is to head to the specific company you're targeting and click on their People tab. There you'll see employees of the organization that are on LinkedIn and you can locate the hiring manager, decision-maker, or recruiter you want to contact.
I also recommend connecting with employees at your target company so that you can expand your connections. A referral from a current employee is four times more likely to be hired.
You can also visit the company's Life tab on their company page. Most of the larger organizations have this feature on their company pages and many smaller companies are adding it. On the Life tab, you'll see great insights about the company and their culture, but the real value lies in the section titled "Trending Employee Content."
This section is a gold mine for your job search. First, you'll see what employees of the company have to say about working there. Secondly, you'll discover active LinkedIn members that you can connect and engage with on a regular basis. This leads me to my next tip.
Best practices to help you make connections
It's not enough to find the right contact. The magic happens when you can engage with your connections and build relationships. Relationships have to be win-win, and they take time to build. It's hard to build a relationship with someone on LinkedIn if they don't respond to your messages and they don't post so you have nothing to interact with.
That's why I recommend you start by connecting with active employees at your target companies. That's where the Trending Employee Content section of LinkedIn comes in. You get to find employees of your target companies who are actively sharing on LinkedIn. This gives you an opportunity to comment and engage with their posts.
Try congratulating them on their recent award or work anniversary, share your advice or your experience in response to a recent post, or let them know you appreciate their post and that it resonated with you. These are simple yet meaningful ways to make a connection.
When you're searching for new connections, I strongly recommend that you focus on active LinkedIn members.
If you run a search for project managers in finance and it gives you a result of ten people who are second-degree connections, visit each of their LinkedIn pages and check out their posts and activity. You'll likely see one of three things:
They haven't posted on LinkedIn or engaged with anyone else's posts in a year.
They have commented and liked other people's activity but haven't posted anything themselves.
They post status updates and comment on other people's posts regularly.
Prioritize the people in that last group.
These are the people that who it will be the easiest for you to build a mutually beneficial relationship with. It will be easy to support and engage with them because they post frequently. The more they see your name on their posts and your support, the more likely they'll be to comment and engage on your posts.
You'll end up supporting each other, getting to know each other, and helping each other.
You can still connect with the people in the second group (those that comment on or engage with other posts but don't post updates themselves). Chances are they'll connect with you and may even comment on your status updates. However, it won't be as easy for you to engage with them if they aren't posting. You'll have to do a little more work by finding where they're joining conversations, and then jumping in. This is a great strategy for a priority contact by the way, like a key decision-maker you've identified that you really want and need to get to know.
The people who aren't engaging and posting probably came to LinkedIn, created a profile, and haven't been on since. Or, they're likely only using LinkedIn when they're job searching instead of using it as a career management and networking tool. They may respond to your request to connect or they may not.
If you send a message to someone who falls in this category, it's highly likely your message will go unanswered. This is where a lot of frustration comes in for people when they're job searching and trying to make the right contacts and build their network. They try to connect with someone who isn't active.
Instead, I'd focus your time on narrowing down the active members and engaging with them. That way you're sowing seeds that will reap a harvest.
In my LinkedIn Unlocked course, I go into more depth teaching you how to research companies, people, and connections so you can grow a stronger network of the right contacts to advance your career. I also dive into becoming a thought leader and posting authentic content that gets you connections to engage.
What to Say When You Reach Out
Before I give you a script for what to say when reaching out to connections, I want to share a couple of best practices with you.
Consider the people you know best—friends, family, past colleagues, and those you've built a solid relationship with on LinkedIn. These are the people you can ask for a referral.
You need to build rapport with someone BEFORE you make an ask of them. Do not ask people you've never spoken to for a referral, recommendation, etc.
OK, now that we have that out of the way. Let's start with the easiest ask first: a connection request.
When you find someone you want to connect with, send them a message with the request to let them know why you'd like to connect.
Include a brief message about why you want to connect.
Hi James,
I saw your post about the challenges that project managers are facing in the midst of the pandemic and it resonated with me. I'd appreciate connecting with you so that I can follow your posts.
Hi Jennifer,
I'm new to the field of sales and I've been researching industry leaders to follow and learn from so that I can grow my career. I'd appreciate the opportunity to connect and learn from the content you share.
Hi Maureen,
I read your recent article in the Harvard Business Review and enjoyed hearing your perspective on career management. I'd like to connect with you on LinkedIn so that I may follow and engage with your work.
Hi Michael,
I see that we're both graduates of UNF with a focus in human resources. I'm also in the Jacksonville area and looking to expand my network of industry connections. Would you be open to connecting with a fellow Florida native?
In each of these sample messages, I'm sharing the reason that I want to connect. One of the best things you can do is mention common points of connection. In the message to Michael, it mentions that the person is an alumnus of the same school, works in the same industry, and is in the same location. Three common points of connection mean this active member is going to be way more likely to connect and build a relationship.
Is it guaranteed? No, but it's much more likely because the two people share more in common.
Asking for job search help
Let's say you've previously had an informational interview with someone in your industry who works at one of your target companies. You met over coffee a few weeks back and they were very helpful and provided some great industry insights.
Since then, you've identified a role at the company that you want to apply to and you're hoping this contact will give you a referral.
Here's your next step—send your contact an email message that says:
Hi Mark,
Thank you again for speaking with me last month. I'm checking in with you because I found a project manager role at LG that I'd like to apply to but before I send in my application I wanted to see if you had any advice for me on skills I should include that would be important to the role or information that would be good to include in my cover letter. I appreciate any insights you can share with me.
Notice that the person is not asking for a referral. They're asking for information and advice. Now, it may be that this contact replies back and offers an introduction or a referral for the role. If that's the case, great! You can graciously accept the referral and submit your application.
Messaging the job poster or recruiter
One of my favorite job search shortcuts is messaging the job poster. Most people don't even notice that there's a profile linked to the job posting. They kind of gloss right over it. Not every posting has the poster's profile attached to it, but you will often see this when it's a small or medium-sized company or an internal recruiter who wants candidates to connect with them.
When you're applying to jobs on LinkedIn, definitely check to see if the job poster's profile is attached to the job posting. If so, this is your invitation to message the person who posted the role and share with them that you applied and mention why you applied, that you're excited about the role, and how you can offer value to the company.
This is a prime opportunity that you don't want to miss.
The same goes for jobs that aren't posted on LinkedIn's job board but that you see in status updates and posts in your feed.
You can follow the link to apply to the job but then circle back with the person who posted about it and let them know that you applied, why you're excited about the role, and how you can add value.
Hi Dorie,
I noticed your profile linked to the posting for the digital marketing strategist position with 3M. I applied to the role and wanted to follow up with a quick message to let you know how excited I am about this role.
I've followed 3M's growth this past year and I'm impressed that 3M is the biggest maker of N95 respirators, which I know are critically important to the fight against COVID. I would love the opportunity to support the amazing work that 3M is doing from a digital marketing perspective.
I've specialized in the development of mobile marketing campaigns and I understand this is an area of development that 3M wants to expand. In my current position, I've tripled their mobile marketing audience and increased their participation rates by 32%. I'm confident that I can bring similar results to a mobile marketing program launch with 3M.
I'd appreciate the opportunity to discuss the value I can bring to 3M's digital marketing efforts. Please feel free to contact me here on LinkedIn or via email at ________.
What are your favorite ways to connect with others and grow a healthy network?
Thanks for reading! Want more strategies for leveraging LinkedIn? I recorded 5 short videos showing improvements I made to my husband's LinkedIn profile when he launched his job search. You can sign up for the 5-day mini-email course here to watch those videos.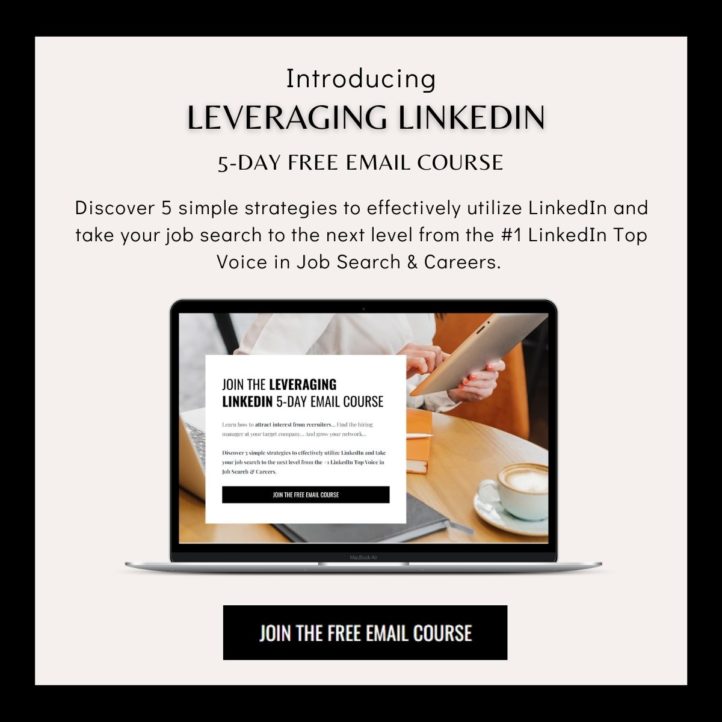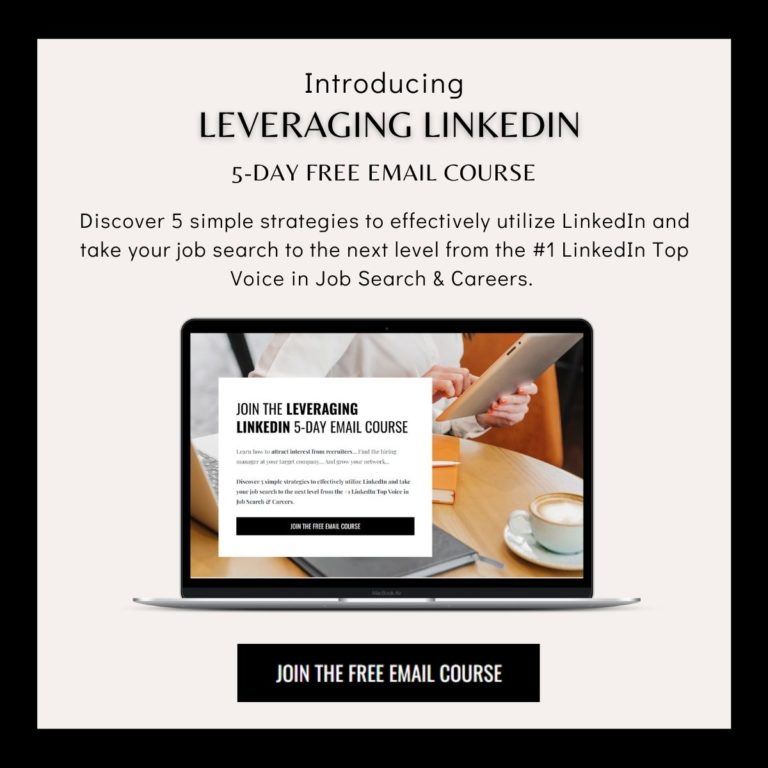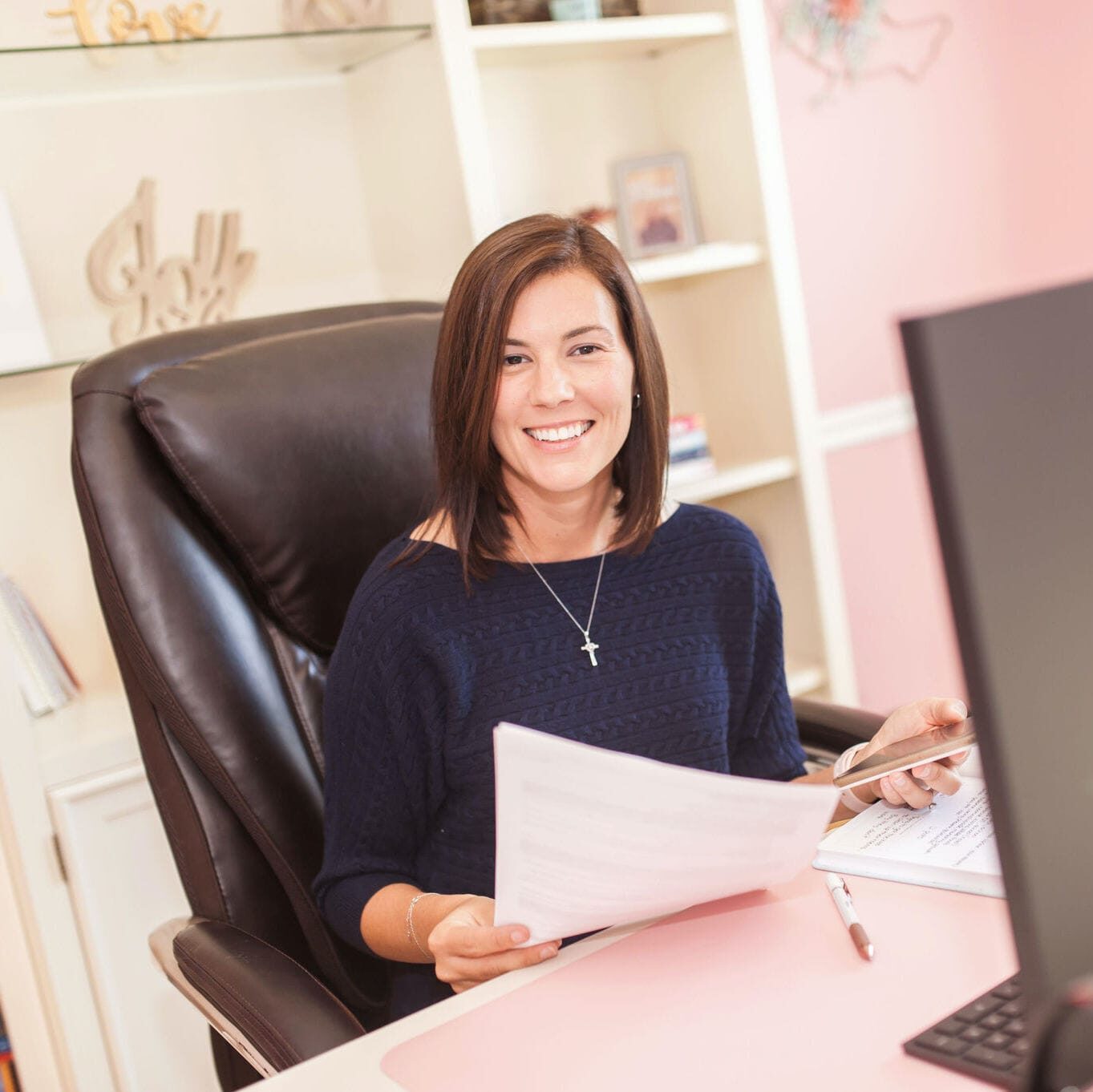 Jessica Hernandez, President, CEO & Founder of Great Resumes Fast
Hi, I'm Jessica. I started this company back in 2008 after more than a decade directing hiring practices at Fortune 500 companies.
What started as a side hustle (before that was even a word!) helping friends of friends with their resumes has now grown into a company that serves hundreds of happy clients a year. But the personal touch? I've kept that.
You might have seen me featured as a resume expert in publications like Forbes, Fast Company, and Fortune. And in 2020, I was honored to be named as a LinkedIn Top Voice of the year!
I'm so glad you're here, and I can't wait to help you find your next perfect-fit position!
Will your resume impress employers? Take this 2-minute quiz to find out.
Get your personalized plan for a resume that stands out and lands you your dream job!
Need a little help getting hiring managers to take notice? Find out what's standing between you and those magic words "You're exactly who we've been looking for!"