Have you considered including a research paper, presentation, dissertation, or speaking engagement on your resume but you're not sure if you should? The answer depends on your field, target position, and goals for your next career move. In this article, I'm sharing scenarios where it's a good idea to include papers, presentations, and speeches, and situations where it's better to leave it off.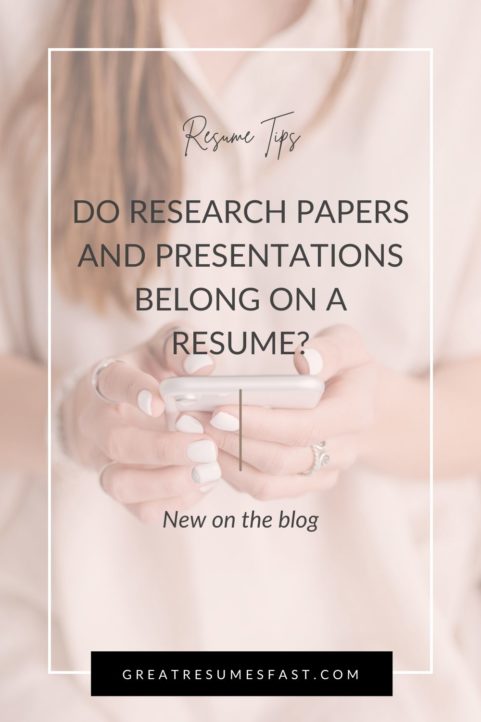 Is It Common in Your Field?
The first question you need to ask before deciding whether to include papers, presentations and speeches on your resume is whether it is required or common in your industry. For example, in the academic field all pertinent research, papers, presentations, and lectures are often included in a resume addendum, or if space allows within the second or third page of the resume or CV. This of course will depend on how many papers and presentations you need to cite. I've seen academic CVs that were 12 pages long with the first two pages elucidating the work experience and the remaining 10 a biography of all the research that had been completed in the past couple of years.
It's also common to see papers and presentations on the resumes and CVs of scientists, researchers, and medical professionals. The length of the citations varies depending on the amount of research, papers, or presentations that have been completed. The number of citations to be included could also determine whether to include it as part of the resume or whether to employ a separate addendum.
Is It Beneficial?
It may not be common to include research, white papers, presentations, or speaking engagements in your field, but it may be beneficial. Ask yourself if including it will give you a competitive edge for the position you're targeting. Would it be relevant to the role you're seeking? Would it impress a hiring manager or decision-maker to see your research or thought leadership in the field? Is speaking or leading a part of the role you're targeting? If the answer is yes, it would benefit you to include it. Where you include it will depend on how you're presenting yourself on your resume.
How and Where on My Resume Do I Include Papers, Presentations, and Research?
If you're in an academic, medical, or scientific field, you'll likely need an addendum to your two-page resume that includes your various papers, presentations, and research. It's a good idea to create a separate addendum that lists these as you'll likely be adding to it and may receive requests specifically for this information at some point during your job search. You can choose to include it with your resume or send it separately. Follow whatever instructions are given to you by your contact or within the position description.
If you're not in a field where it is common to possess an addendum that includes this information but you've determined it would be beneficial to mention it within your resume, you can include it in a couple of different places.
The first option is to include the presentation or speaking engagement within the context of the position that you held at the time you gave the presentation or speech. Was it a normal part of your job? Will public speaking be a normal part of any new roles you're targeting?
The second option is to give it special attention. Was this a special honor or special occasion that would be extremely noteworthy in your industry? Perhaps you delivered a keynote address at a major convention in your industry or were asked to present to a government committee on your research findings or industry needs. Consider including this in your career snapshot or in the top third of your resume. If it's noteworthy, give it prominence and prime resume real estate. Don't bury it at the bottom.
The third option pertains to situations where you have multiple speaking engagements, presentations, or papers you want to list. In this instance, include them all together in a separate section towards the end of your resume after your chronological work history. This way the recruiter or decision-maker can scan through all the presentations and research you've conducted to see the bigger picture of what you're able to contribute and where you're an authority in your field.
When considering whether to include papers and presentations on your resume, ask yourself whether it's common or uncommon in your field so you'll know the best step forward for how and where to include it on your resume.
If you have been submitting applications and resumes to open positions but receiving zero responses, I recommend checking out The 5 Must-Have Components of an Effective Resume.
Your words carry power. With our words, we can paint a vivid picture for someone. If you are looking to increase responses to your applications, I have created this guide which includes 118 action verbs, 33 impactful phrases, and 27 strength descriptors because we all know how hard it is to convey our value and we definitely don't want to sound like we're bragging. Download your copy now!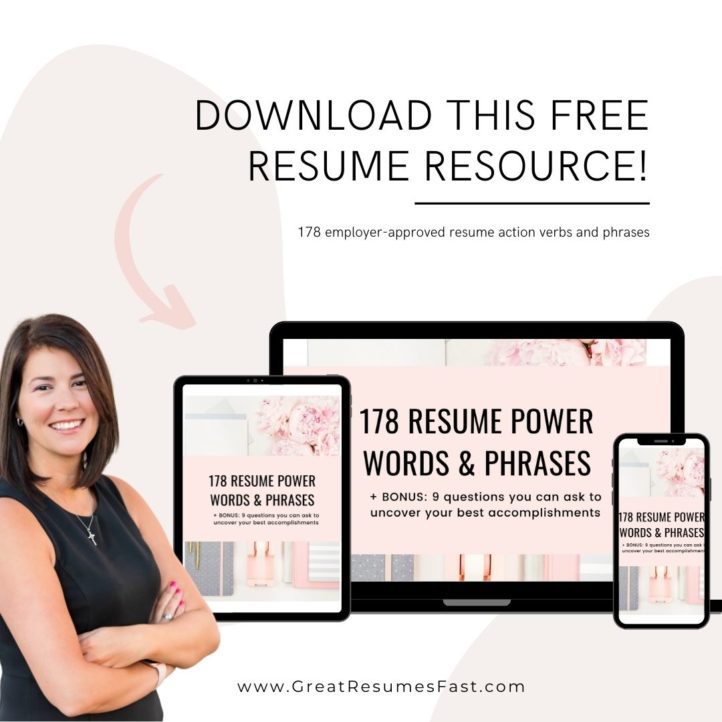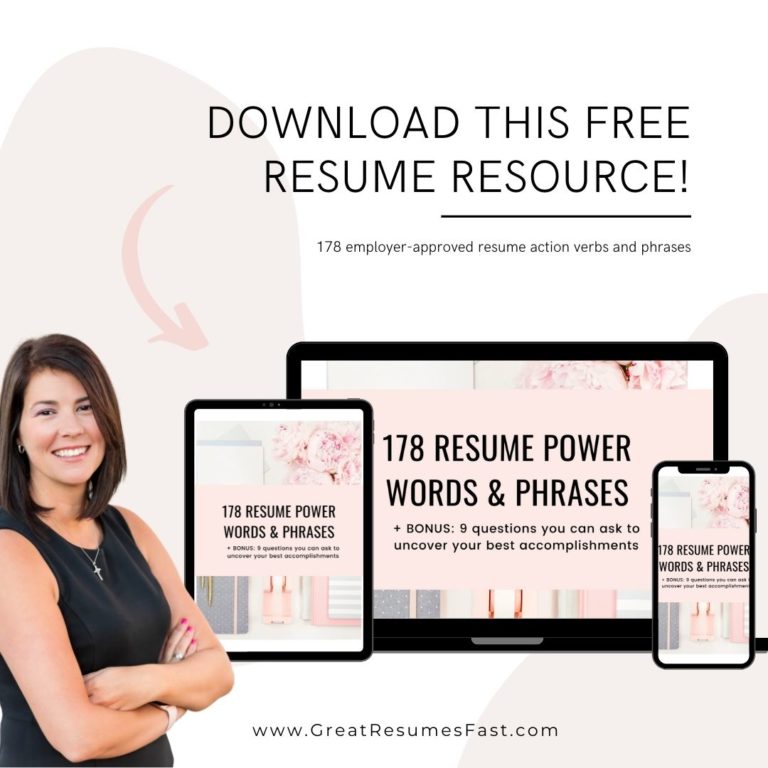 If you are wondering how to stand out in the proverbial stack and make recruiters take notice, then take a few minutes right now to take this quiz and get a detailed breakdown of your resume stand out success formula.
Your result will include:
==> the answer to the question "how do I stand out in the proverbial stack?" and make recruiters take notice.
==> a breakdown of the 3 phases of the hiring process you need to understand in 2021 and how to master each one.
==> an overview of your unique strengths and how to position your soft skills alongside the logistics that make you impossible to ignore.
==> insight into your blind spots and strategies for turning your perceived weaknesses into strengths.
==> easy to reference resume examples and so much more…
TAKE THE QUIZ NOW & GET YOUR RESUME SUCCESS FORMULA
I would love to connect and continue the conversation on Linkedin. You can send me an invite here.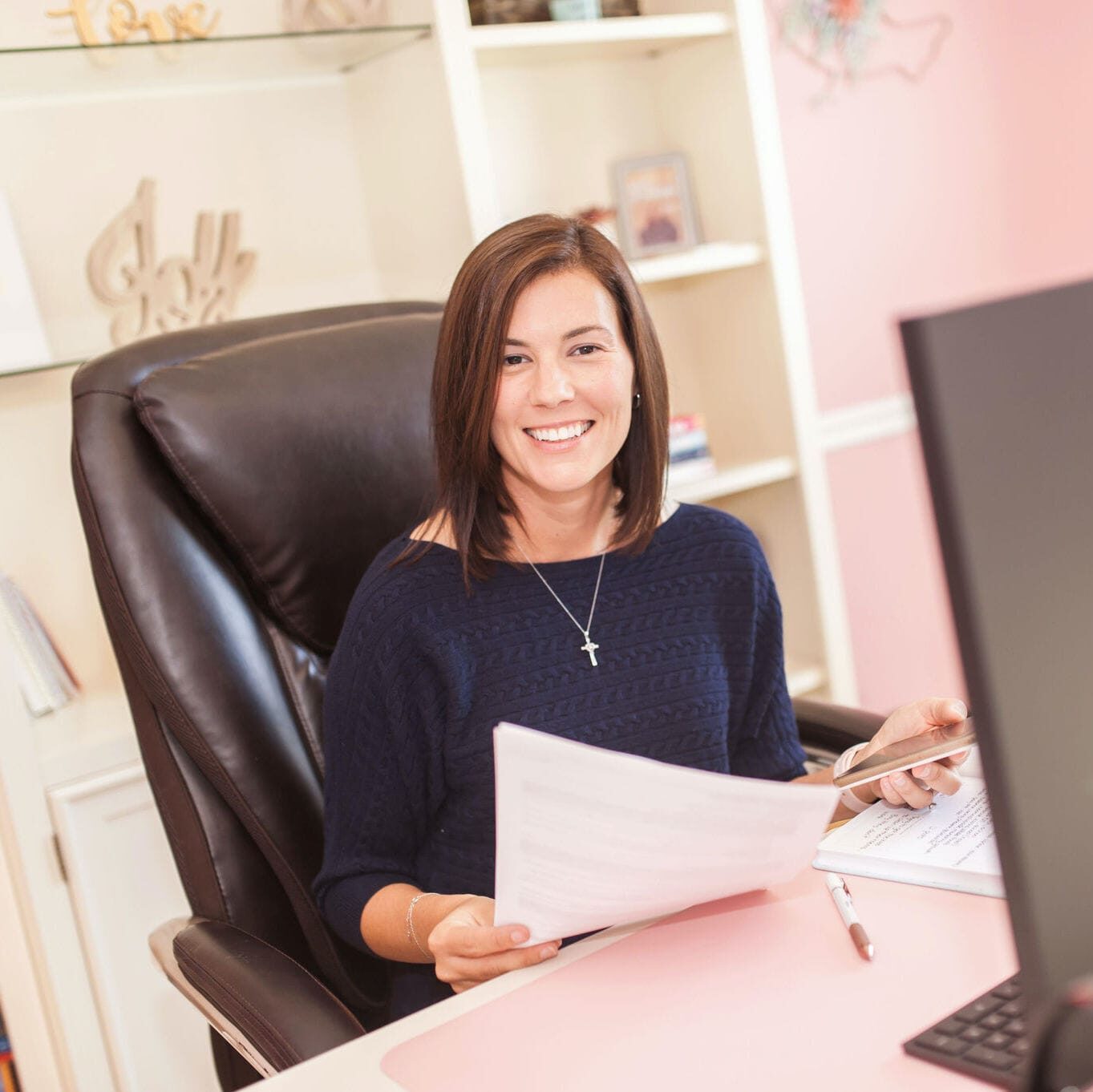 Jessica Hernandez, President, CEO & Founder of Great Resumes Fast
Hi, I'm Jessica. I started this company back in 2008 after more than a decade directing hiring practices at Fortune 500 companies.
What started as a side hustle (before that was even a word!) helping friends of friends with their resumes has now grown into a company that serves hundreds of happy clients a year. But the personal touch? I've kept that.
You might have seen me featured as a resume expert in publications like Forbes, Fast Company, and Fortune. And in 2020, I was honored to be named as a LinkedIn Top Voice of the year!
I'm so glad you're here, and I can't wait to help you find your next perfect-fit position!
Will your resume impress employers? Take this 2-minute quiz to find out.
Get your personalized plan for a resume that stands out and lands you your dream job!
Need a little help getting hiring managers to take notice? Find out what's standing between you and those magic words "You're exactly who we've been looking for!"