You've probably heard the saying: "Looking for a job is a full-time job". While many people find themselves in the position of searching for a new job while still employed at their current one, that doesn't change the fact that you need to handle your job search process as professionally as you would handle the new job if you were to get it. Here's some key job search advice—organization is one of the most important job search skills. It can be the difference between being an outstanding candidate and someone who doesn't get a second look. From an entry-level job to executive-level jobs, being organized will help all job seekers.
So how can you effectively organize your job search to make it more efficient, effective, and avoid embarrassment? If you're not a naturally organized person, it may seem like a daunting task to create a system for organizing your job search. But doing this legwork will help you and your career in the long run. To get you started, I've written about 5 job search tips that can help you stay organized no matter how many jobs you're applying to or networking events you're attending.
More details are included below about how and why to do each of these during your job hunt, but I recommend you take the following steps to help you stay organized as you search for jobs:
● Create a spreadsheet or document to track the companies you research.
● Create a spreadsheet or document to track the decision makers and employers you encounter on LinkedIn.
● Create a spreadsheet or document to record the networking events you attend and the people you meet at them.
● Create a spreadsheet or document to track each job application you have actually sent.
● Update all of these as part of your daily routine.
So let's dive into these in more detail …
Start Organizing From the Beginning of Your Job Hunt
From the first time you fire up the search engine to look for open positions at companies, you should have an Excel spreadsheet or Microsoft Word document started to help you track the research you are doing. Excel makes sorting different data points easier, but if Word is what works best for you, then by all means, use it.
As you research companies, make note of the key information you find about each. Do they have open positions listed on their website or on job boards? Where are they located? Do they have a strong company culture? Is there a major pro or con for you about them? Who is the primary contact for more information about a job with them and what is their contact information? Do any of your skills match exactly what they are looking for? If you have all of this information in one place, it will both be easier to find the company info again as you start actually applying, and it will also be easier for you to compare company to company and see where you want to first spend your time applying. And, you'll have a place to look for ideas for where to apply down the road—maybe they don't have any open job opportunities now, but they might have job openings in a couple of months when you've sent out job applications to the rest of your list!
Make the information that you track the information that is most important to you—what do you think you'd be going back to company websites or job sites to look for? What are your job search considerations? What do you look for first when you peruse a job posting? If you keep this information handy in one place as you do your research, you won't constantly have to be going back to job postings or a company site to double-check as you search for jobs.
It will also be a nice resource when you get an interview – think about getting interview questions like "What first attracted you to the company?"—and you have an answer readily prepared because you had a neat, organized, detailed spreadsheet to look at the night before the job interview!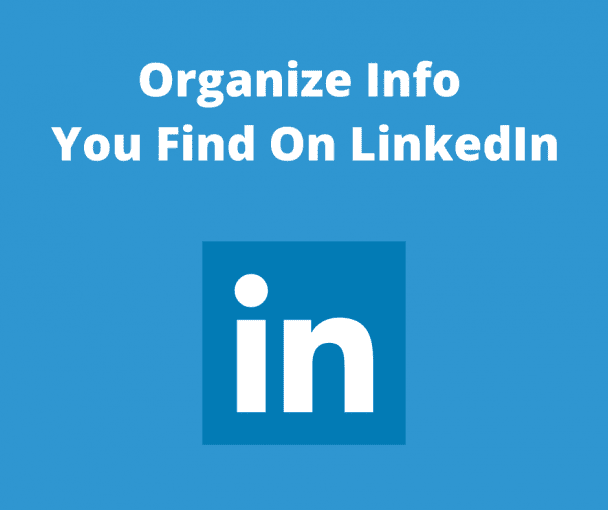 Keep an Organized Record of People You Find Online Too
When you're perusing LinkedIn, looking for interesting companies or job opportunities, you're bound to come across people who are decision makers. Whether hiring managers, a recruiter, or simply employees with clout at a company, these are people whose attention you want to get. You might even come across people on other social media sites! Don't discount information you find on a company's Facebook page, for example.
Keep a file where you record their information. Name, job title, company, and contact information if it is available. Perhaps even include a brief description of what struck you about them—is it the company or industry they're associated with? Do you have something in common with them? Do you know people in common? When it comes time to apply for jobs, or to look for companies at which you'd like to apply, you can look to this list as a reference.
Don't do this after you've closed out of LinkedIn—do it while you are on the site, browsing. Keep your Excel sheet or Word document open and fill in info as you go. It's a lot easier than trying to recall anything from memory.
Make Notes About Networking Events
This week, someone e-mailed me and requested that we get together to discuss her job search. This was a woman I had met at a networking event, and she began her message by saying, "This is Jane Doe, I either met you at this event or this one." While I know that Jane Doe has been searching for jobs for quite some time and attends numerous networking functions, the opening of her message was off-putting. If you're not really sure how you know me, why are you contacting me for assistance? Candidates who make a bad first impression like this are probably not going to get the job.
If networking is a big part of your job searching process (and it should be!), be sure to organize your contacts in a way that prevents these types of situations from occurring. If you're not a rock star when it comes to remembering names, make notes for yourself on the back of someone's business card, or when you enter their information into your e-mail address book. If you have to, start an Excel sheet that is dedicated just to maintaining records of networking events and the people you have met there.
As soon as you can after an event, take the business cards you've collected and write the event you got it at on the back of the card along with anything you distinctly remember about your conversation with that person. Then, sit down and enter it into your electronic file. You'll be surprised how much this can help you with your job search. People appreciate when someone remembers even a little thing about them—and forgetting something like where you met them can be insulting—so these records are invaluable to you as a job seeker.
If you go to career fairs, be sure to note who you gave a resume to—and when you follow up. Depending on how much information or how formal the conversation you had at the career fair was, this may go into the networking records or the job application records you are keeping.
I also recommend cross-referencing this information with other files. Did you meet someone from a company you researched? Note that in your 'company research' file. That way, in case you don't remember that meeting off the top of your head when applying you have it right there in your file and you know to go look in your networking information to see if getting in touch with that person about your application might be helpful for you! Plus, imagine the embarrassment of going into an interview and not realizing you've met the person before, or recognizing them but not knowing quite sure from where! Organized job search records can help you avoid this kind of awkward, and potentially damaging, situation.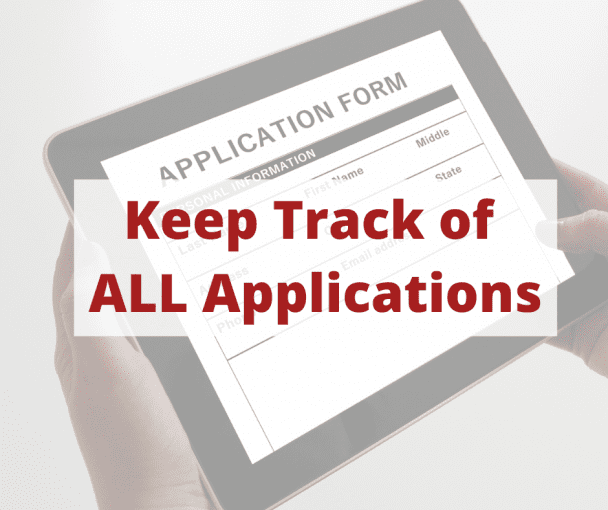 Track the Applications You've Sent
If you're one of the many job seekers who applies for dozens, possibly even hundreds, of jobs, it can be easy to lose track of where you've sent your cover letter and resume already. This is especially true A spreadsheet is the easiest way to keep track of what you've sent, to what employers you've sent it, and when you've sent it.
There are a few reasons for doing this. First, avoiding the embarrassment of sending an application for the same position twice. Doing that just makes you look disorganized and irresponsible to a hiring manager, and would be a major strike against you as a candidate for a job. The second reason? If you're applying to many jobs, you might forget whether you've already applied to one – —and think you have when you haven't. Imagine missing out on your dream job because you didn't actually send in an application—and then, even worse, sending a follow-up email for an application you never even actually submitted.
With a spreadsheet (or Word document) that tracks your applications, you can tell at a glance what you've actually sent to potential employers. This is much easier than searching through emails, or trying to rack your brain to remember what you've sent in through job search websites or a company's system.
I also recommend including columns in a spreadsheet for the people—or to what email addresses—you sent the application to so you can reference that if you follow up.
And dates! Include the dates sent, dates heard back, dates followed up, dates of interviews, etc. You will be glad you have this information as you conduct your search and wonder when to follow up.
Update Your Records Daily
If you're in the midst of a job search, it's unlikely a day is going to pass by where you don't do a quick internet search, look through some job listings, take a glance through LinkedIn, or have a conversation about career opportunities to some extent. While you certainly shouldn't be updating your job search records at your desk at your current job, I do recommend taking some time out of your day to open each spreadsheet, think back if you have anything relevant to add from the day, and then do so. You might be surprised at what conversations were actually 'networking' when you think back on them.
Build this time in when you first get home from work, right before bed, or on your lunch break. The more you make being organized about your job search a habit, the easier it will become, and your job search—and career—will benefit.
Job hunting can be time-consuming and daunting; there's no doubt about it. Being organized can make it easier and more successful, though. If you are trying to get organized, but creating your own tracking system for your job search seems daunting, there are tools out there that you can use. I recommend Jibber Jobber, which has tools for tracking applications, research, and networking.
If you'd like to bolster your job search with a professionally written resume, reach out to the Great Resumes Fast team. We're committed to helping professionals achieve their career goals with custom professional resumes, cover letters, LinkedIn profiles, and other career documents. Learn more and contact us here.
For resume writing advice and general career advice, visit our blog. Here, you'll find hundreds of articles covering dozens of job search-related topics.
Are you tired of your resume being rejected by applicant tracking systems? I know how frustrating it is to submit your resume and receive no response. I hate seeing qualified people never break through the screening process. It shouldn't be that way. That's why I created this guide and I encourage you to download the FREE PDF so you can start seeing better resume response rates!
Jessica Hernandez, President, CEO & Founder of Great Resumes Fast
Hi, I'm Jessica. I started this company back in 2008 after more than a decade directing hiring practices at Fortune 500 companies.
What started as a side hustle (before that was even a word!) helping friends of friends with their resumes has now grown into a company that serves hundreds of happy clients a year. But the personal touch? I've kept that.
You might have seen me featured as a resume expert in publications like Forbes, Fast Company, and Fortune. And in 2020, I was honored to be named as a LinkedIn Top Voice of the year!
I'm so glad you're here, and I can't wait to help you find your next perfect-fit position!
Will your resume impress employers? Take this 2-minute quiz to find out.
Get your personalized plan for a resume that stands out and lands you your dream job!
Need a little help getting hiring managers to take notice? Find out what's standing between you and those magic words "You're exactly who we've been looking for!"