Many of you may be familiar with the job board www.simplyhired.com. In fact, you may already be using it to locate potential opportunities. But did you know that you can connect your Facebook and LinkedIn accounts to the job board to better leverage your network and find an exciting new career?
How to Leverage SimplyHired.com
I had to try it out for myself—and it's actually really useful. First, I connected through my Facebook account—and it automatically pulled a list of my friends, the companies they worked for, and any job openings that were connected to those companies and friends. Ok, so how amazingly awesome is that? Ever hear that phrase "it's all about who you know"? Very true in this case—who you know can make an introduction or pass along your resume to the hiring manager.
After you've connected your Facebook account, scouted out openings that may be a fit, and discovered the connection you have with the company, it's time to leverage your network. Hopefully, you've been a good social networking person and have developed and cultivated meaningful connections. If you have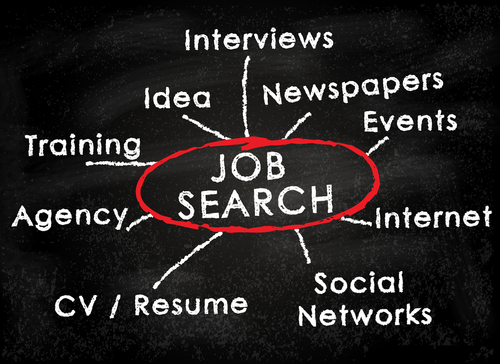 , then contacting your connection and requesting an introduction or a personal hand-off of your application or resume should not be a problem. If you haven't, then consider this your WAKE-UP CALL. Start developing and cultivating meaningful connections with people already in your network and with other people who may not be in your network but who may be great connections.
Adding LinkedIn to the Mix
Once you've connected with Facebook and leveraged those connections, you can also turn LinkedIn profile settings on (it's in the upper-right corner). This will allow you to see who you're connected with on LinkedIn and how they're connected with the openings on simplyhired.com. You can repeat the process of making a connection or introduction request or, depending on how well you know the person requesting, they personally hand your application or resume to the hiring manager.
Find Jobs at Your Friends' Companies
When I go to simplyhired.com now it has a section that pops up on the homepage titled Find Jobs at Your Friend's Companies. You can click See All to see a list of your friends and their companies, and you can click on each company name to see openings. This also redirects you to a new page with a section on the left side where you can research openings by company, or by friends, or find "fun facts" about your friends.
Fun Facts
I really like the "fun facts" link because it allows you to see the most popular companies and most popular locations. The most popular companies show you where most of your connections are employed. How helpful is that when wanting an introduction to the hiring manager?!
Searching on job boards is about more than clicking APPLY all day. It's about making meaningful connections and networking. This is just one more way you can leverage the power of your online network to help you more quickly find a new position.
How Can We Help You?
Want more how-to advice on job searching and resumes? Check out our blog at https://greatresumesfast.com.
Want to work with us? If you want us to personally work on your resume—and dramatically improve its response rate check out our professional and executive resume writing services at http://www.greatresumesfast.com and contact us for more information, or if you have any questions.
Jessica Hernandez, President, CEO & Founder of Great Resumes Fast
Hi, I'm Jessica. I started this company back in 2008 after more than a decade directing hiring practices at Fortune 500 companies.
What started as a side hustle (before that was even a word!) helping friends of friends with their resumes has now grown into a company that serves hundreds of happy clients a year. But the personal touch? I've kept that.
You might have seen me featured as a resume expert in publications like Forbes, Fast Company, and Fortune. And in 2020, I was honored to be named as a LinkedIn Top Voice of the year!
I'm so glad you're here, and I can't wait to help you find your next perfect-fit position!
Will your resume impress employers? Take this 2-minute quiz to find out.
Get your personalized plan for a resume that stands out and lands you your dream job!
Need a little help getting hiring managers to take notice? Find out what's standing between you and those magic words "You're exactly who we've been looking for!"