Do you ever wish there were a way to guarantee you an interview for that perfect-fit position? Today I'm sharing three cover letter strategies with you that can do just that. One of these strategies alone doubles your chances for an interview, but put all three together and you've multiplied the chances you'll get interviewed by 10.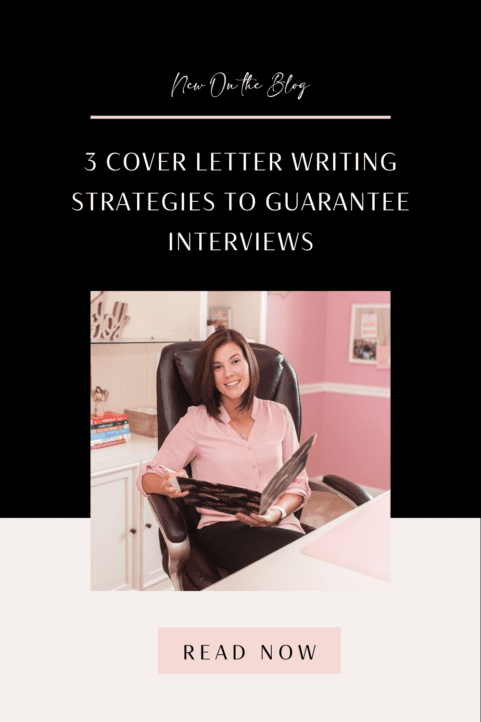 State Who Referred You
Did you know that referred candidates are twice as likely to get an interview and 40% more likely to be hired?
Instead of starting your cover letter with "To whom it may concern" followed by, "I'm submitting my resume in response to the position of ________," start your cover letter with the hiring manager's name and follow it with "I was referred to you by _______."
To begin your cover letter this way you must do two things:
1 – You must research and locate the hiring manager's name. This is easy to do on LinkedIn.
2 – You need a referral. If you're actively engaging and networking, opportunities will come up to be referred. Always mention the referral in your cover letter, emails, and communication with hiring managers. A referral is a golden ticket to an interview and possibly even an offer.
If you need help working on networking, or networking your way to a referral, Austin Belcak of Cultivated Culture has a great article on how to network here.
Here are some more tips on how you can ditch a traditional cover letter: Ditch the Traditional Cover Letter and Opt for This Instead to Get More Interviews.
Address How and Why You're a Fit
Researchers at the University of Michigan conducted a study on resumes and cover letters that evaluated the effectiveness of impression management on interviews. Basically, they were looking to see what worked and what did not when it came to writing your resume and cover letter.
Of all the different elements they tested, the one finding that stood out the most was that employers like for you to say you want the job and why you want the job.
Specifically, the study noted, "Expressing values similar to those of the hiring institution or organization is likely to increase perceptions of person-organization fit." It also means you can't create a generic resume and cover letter.
I've long said that cover letters are the perfect place to share your "why." Employers want to know you're excited about the company and why you want to be there. Give them this information! If you've followed them forever and it's been a childhood dream to one day work there and contribute to their mission, share that.
If you resonate with their core values and mission and want to contribute to the impact they're making on society, share that too.
Ask for the Interview
Very few job seekers actually ask for the interview in their cover letter. Even fewer follow up with the hiring manager.
Asking for the interview is incredibly simple.
If you have no qualms over requesting the interview, simply end your cover letter with the following:
Let's schedule a time to discuss these results and the many others that I can offer (company name). I can be reached at 555.555.5555 or jobseeker@jobseekeremail.com. I'll follow up on Thursday to schedule a call.
If you're the type of person who is a bit squeamish with being so upfront, you can tone it down some and write along these lines:
I would appreciate the opportunity to discuss the value that I can offer (company name). Can we schedule a time to chat? I can be reached at 555.555.5555 or jobseeker@jobseekeremail.com. I will follow up with you about the role next week.
The important points to note are that you want to ask for the interview and you want to share that you'll follow up with the hiring manager.
Then, follow up when you say you will.
The follow up is critical because few job seekers follow up on their applications, resume submissions, and recruiter or hiring manager contact. Yet, follow-up has a great ROI.
The next time you sit down to put together a cover letter, make sure that you're tailoring it to the specific opening by sharing who referred you, addressing your interest in the position along with why you're a fit, and closing your cover letter by asking for the interview. Then, be sure to follow up when you stated that you would do so.
By following these cover letter writing strategies you'll guarantee more interviews.
Want more cover letter help? Download my newest guide How NOT to Start Your Cover Letter (Plus 7 Examples of What to Say Instead).
Jessica Hernandez, President, CEO & Founder of Great Resumes Fast
Hi, I'm Jessica. I started this company back in 2008 after more than a decade directing hiring practices at Fortune 500 companies.
What started as a side hustle (before that was even a word!) helping friends of friends with their resumes has now grown into a company that serves hundreds of happy clients a year. But the personal touch? I've kept that.
You might have seen me featured as a resume expert in publications like Forbes, Fast Company, and Fortune. And in 2020, I was honored to be named as a LinkedIn Top Voice of the year!
I'm so glad you're here, and I can't wait to help you find your next perfect-fit position!
Will your resume impress employers? Take this 2-minute quiz to find out.
Get your personalized plan for a resume that stands out and lands you your dream job!
Need a little help getting hiring managers to take notice? Find out what's standing between you and those magic words "You're exactly who we've been looking for!"