How Great Resumes Fast Helped a Registered Nurse Make the Leap to a Healthcare VP Role (+Get an $80,000 Raise!)
"Sometimes I feel like I've to pinch myself because my new role is unreal." – Suzann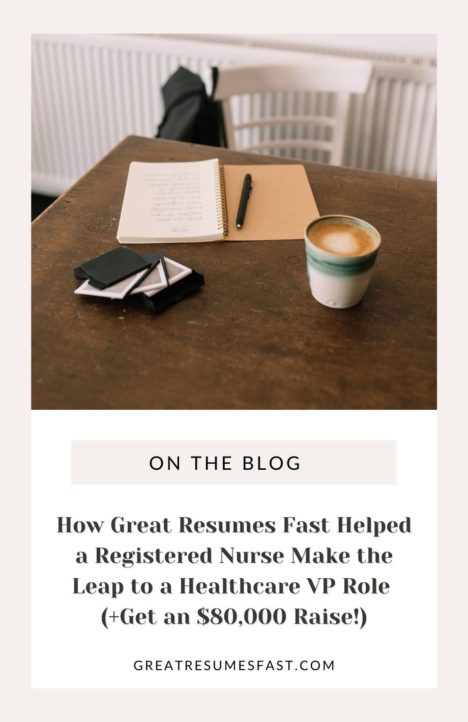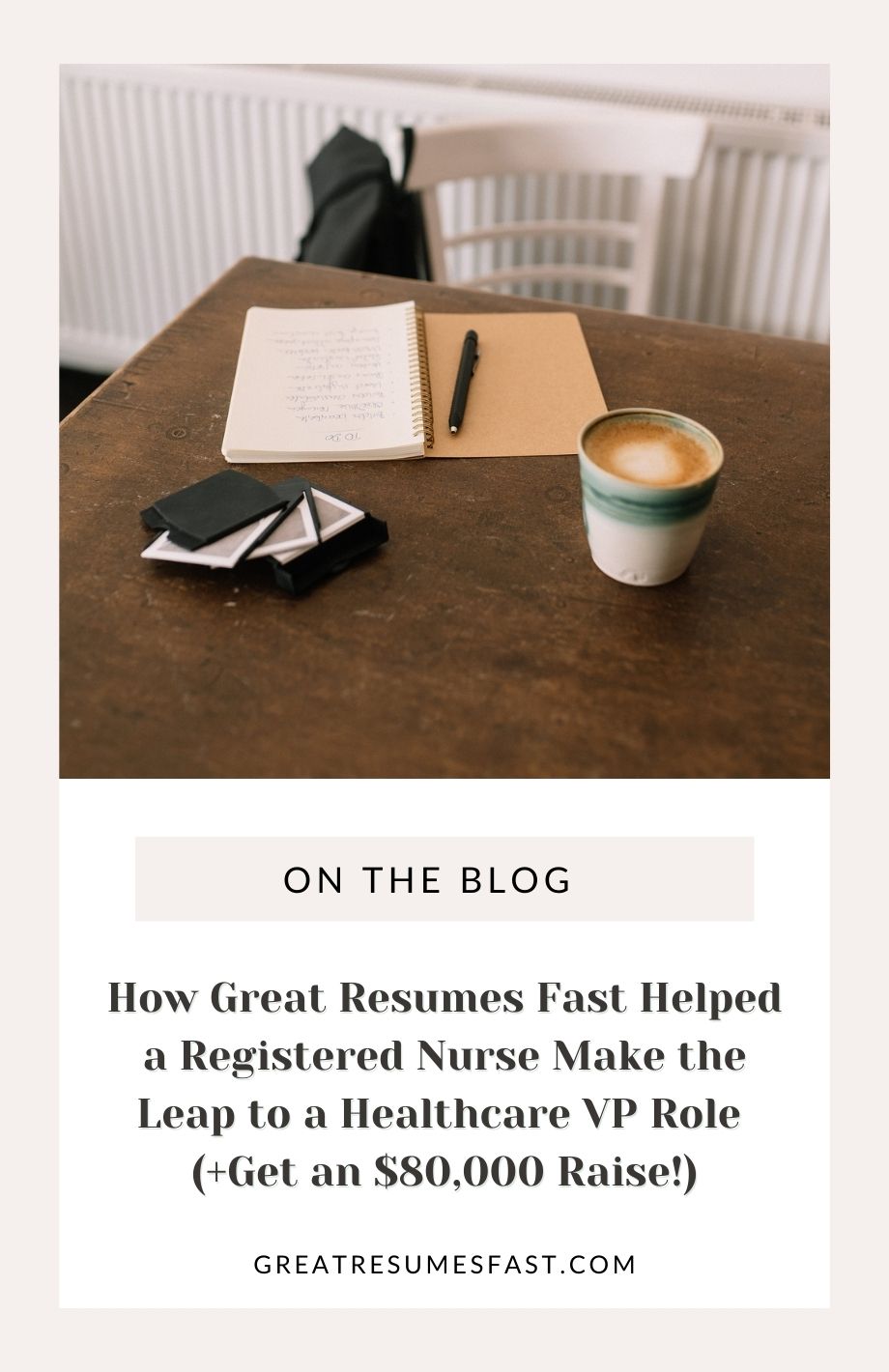 The Client
Suzann, Vice President of Care in the healthcare industry
After 15 years of working as a Registered Nurse, Suzann earned her MBA in Healthcare Management. She wanted to move out of acute care as an RN and into a leadership position in line with her education.
The Challenge
Suzann was only receiving offers for nursing positions, not leadership or management roles
Initially, Suzann refreshed her resume, cover letter, and LinkedIn profile on her own, aiming to attract interviews for leadership and management positions in the healthcare industry.
But despite her efforts, her skills didn't seem to be translating to others, as she continued to only receive attention for nursing positions. Moreover, the positions she attracted were offering even lower salaries than she earned currently, which would mean taking a large step backward, not forward.
"My resume would get some interest, but I just didn't feel like it was a good reflection of my experience and my education and what I was looking for…. I probably put in 40 applications, and I had offers, but they just weren't what I wanted. Everybody wanted to hire me as a nurse, not as a leader. And I couldn't afford to take the pay cut to go backward. These were roles that I should have had 10, 15 years ago, not at this point."
The Solution
Great Resumes Fast was able to position Suzann for the leadership positions she was capable of
Great Resumes Fast connected Suzann with a resume writer who understood the healthcare industry and knew how to connect the dots from Suzann's RN experience to her capabilities as a healthcare executive.
Here's how Great Resumes Fast did it…
A fast, done-for-you experience that didn't require much time out of Suzann's busy schedule
"The resume writing process mostly just required one conversation with me. My writer asked great questions. I gave her my previous resume as a starting point, so we could have specifics to talk about. And I answered a short questionnaire ahead of the call. So, I didn't put a ton of time into all of that. Again, that's not something I have a lot of — extra time — so it was important that the process didn't require a lot from me.
In all, it probably took me less than half an hour to implement everything on LinkedIn. It was really easy."
In all, it probably took me less than half an hour to implement everything on LinkedIn. It was really easy."
A resume that accurately reflected Suzann's high value as a "unicorn" in the healthcare field, with a balance of real-world nursing experience and business and leadership skills
"My writer was able to highlight the kind of background that I had and helped me make that pivot to finding a role that valued all aspects of it.
There are some people who think, 'Oh, nurses, they don't make good business people, I wouldn't want somebody with a nursing background making business decisions.' And vice versa: 'How can a nurse that has a business degree be empathetic?'
But I'm a nurse who has the ability to be empathetic and get great results in the business world. So it was validating to get that on paper and give me that affirmation that I'm not overreaching at all with the positions I wanted.
One of the recruiters I talked to called me a unicorn. He's said, 'You have this crazy combination of clinical expertise and business acumen, and that's really hard to find out there.'"
A full package of deliverables that gave Suzann everything she needed to get in front of the right people (beyond just a resume)
Thanks to her new resume, LinkedIn profile, and cover letters, that "activity" on career platforms quickly turned into the best job Suzann's ever had…
"My writer gave me everything that I needed. There was the cover letter template, the resume both in PDF and Word form, my new LinkedIn profile updates, and recommendations for how to use everything effectively.
Anything I had to do myself was just cut and paste. It took me very little time to get my resume on LinkedIn, Indeed, and Glassdoor. Within a few weeks, I had activity on all of the sites."
Results
Suzann accepted a VP position that checks all her boxes and continues to delight her with just how perfect it is
Not only does Suzann's new position exceed her financial expectations, but the culture of the company also fits her like a glove.
Here's what Suzann experienced after launching her new resume and LinkedIn profile:
Within just a few weeks, Suzann started getting attention from recruiters for positions that were in line with her career and financial goals
"The recruiters that contacted me were pretty much right on the money for what I was looking for."
One of those recruiters introduced Suzann to the position she ultimately accepted, which is perfect for her in every way (including job description, culture fit, the ability to work remotely, and salary)
"The company is fantastic. I keep referring to it as a unicorn — you hear that companies like this exist, but you never get to see one. The culture is unreal. It's truly a teamwork environment; it is supportive and collaborative. It's just incredible.
I don't know what I did to deserve this, but it's pretty wonderful. Additionally, I thought I would end up having to either relocate or go back to an office setting with a crazy commute, and I'm doing it all remotely, so it's even more perfect."
Suzann's take-home pay is $80,000 MORE than her previous salary
"Talk about a smart investment: put a little bit of money into a resume and you get about an $80,000 raise out of it."
Suzann finally feels like she's reaching her full potential in her career, and her confidence has skyrocketed because of that
"Before, I would look at different roles, and I always thought, 'I could do that job, I could make that money.' I knew the money was out there, I would see other people making it, and I'd think, 'Why can't I do that? I'm at least as smart as those people, I at least have as much experience.' So it's been pretty cool to finally be at that level!"
Why Suzann recommends Great Resumes Fast
Suzann would not have had the chance to shine in an interview without her resume opening the door first.
"With Great Resumes Fast, I don't think the recruiter would have even noticed me, to be honest. I don't think I would have had this opportunity.
If your resume doesn't get noticed, you're never going to get to talk to anybody. I felt like once I could talk to somebody, I could showcase what I've done and showcase my value. But if they don't like your resume, you're never going to get that opportunity. That resume is really the key to opening the door."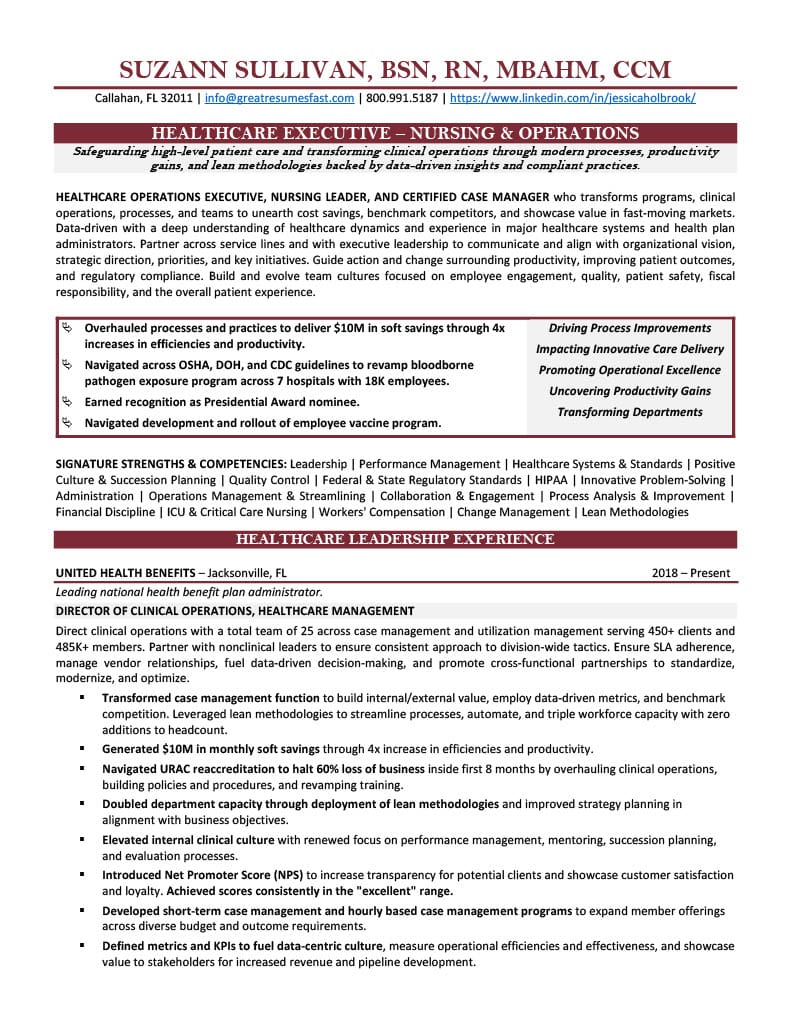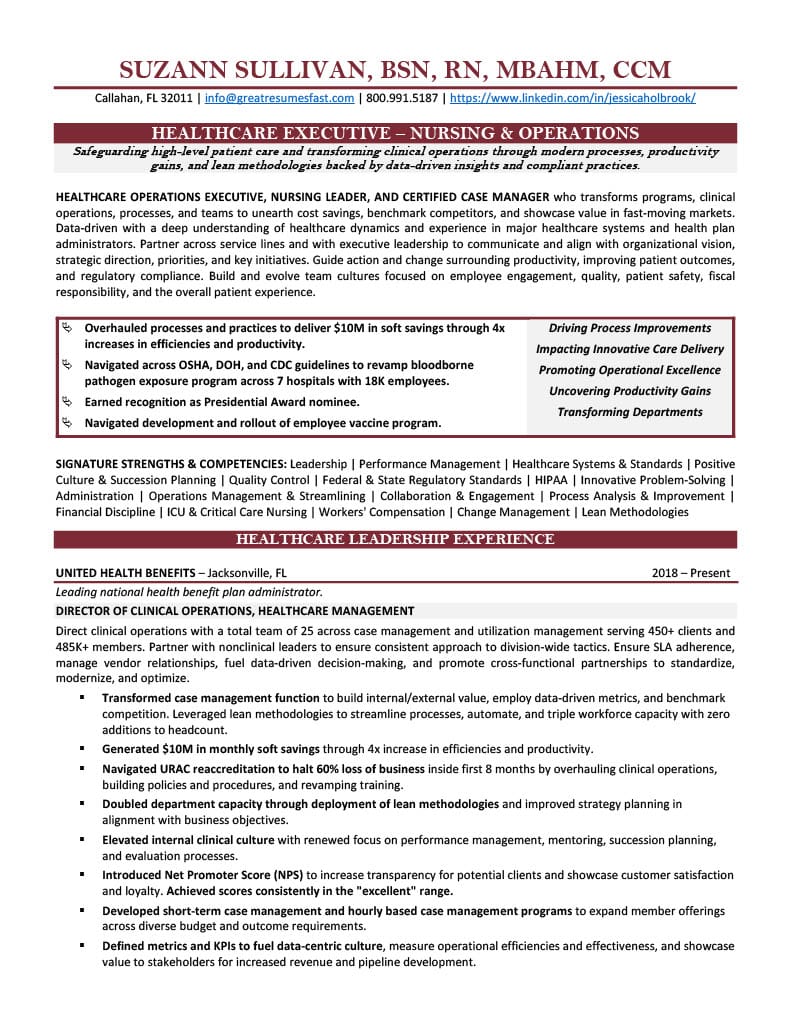 Ready to land your next perfect-fit position?
It starts with a phone call.
Click here to schedule your free strategy session
Are you struggling to create an executive resume that will impress employers? Download this FREE executive resume template and receive a series of 10 emails with expert guidance on how to write resume content that resonates with employers so you get more interviews.
Sign up now to get your free executive resume template and improve your resume.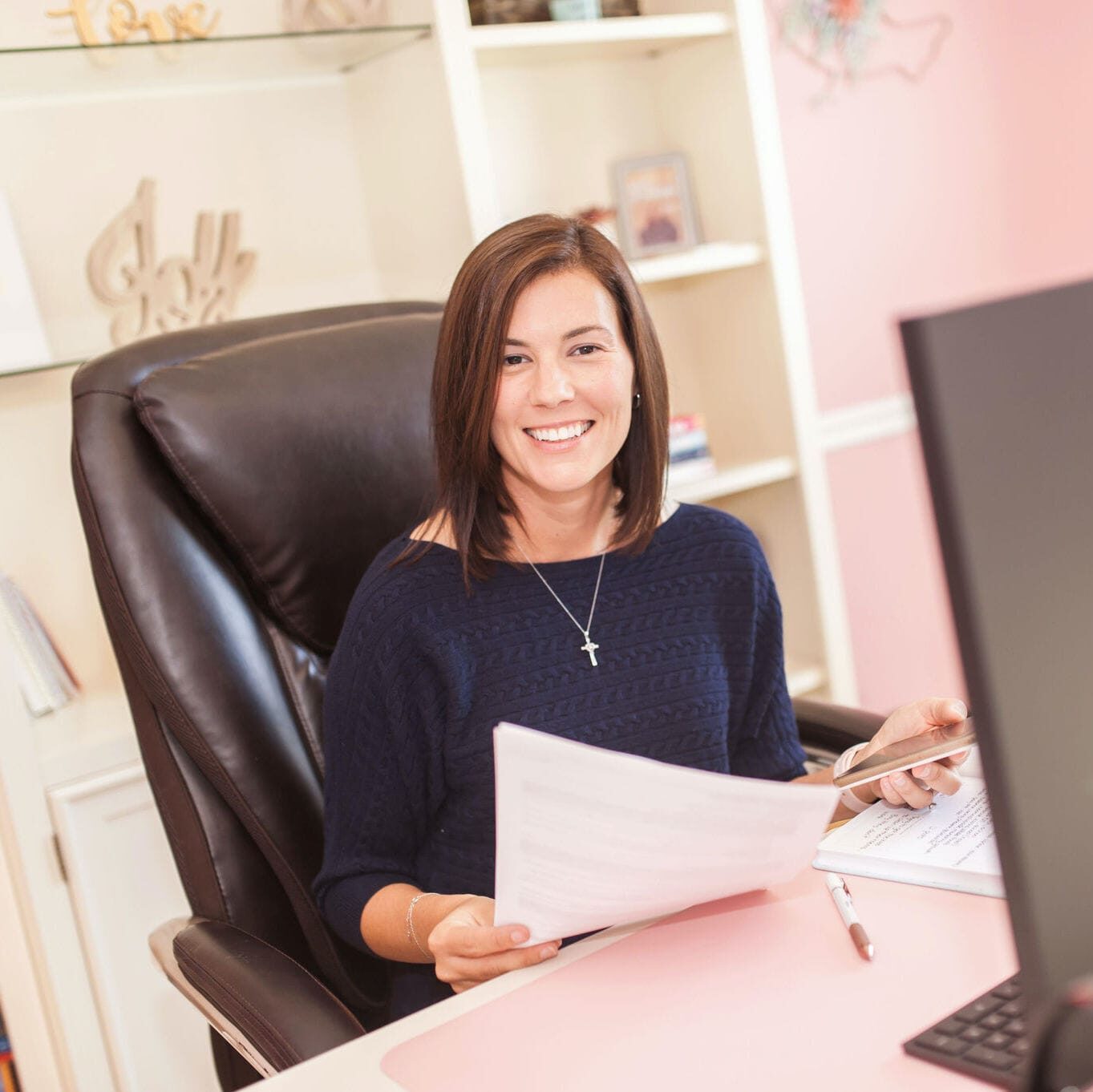 Jessica Hernandez, President, CEO & Founder of Great Resumes Fast
Hi, I'm Jessica. I started this company back in 2008 after more than a decade directing hiring practices at Fortune 500 companies.
What started as a side hustle (before that was even a word!) helping friends of friends with their resumes has now grown into a company that serves hundreds of happy clients a year. But the personal touch? I've kept that.
You might have seen me featured as a resume expert in publications like Forbes, Fast Company, and Fortune. And in 2020, I was honored to be named as a LinkedIn Top Voice of the year!
I'm so glad you're here, and I can't wait to help you find your next perfect-fit position!
Will your resume impress employers? Take this 2-minute quiz to find out.
Get your personalized plan for a resume that stands out and lands you your dream job!
Need a little help getting hiring managers to take notice? Find out what's standing between you and those magic words "You're exactly who we've been looking for!"