For the past 14 years, I've seen thousands of job seekers struggle and ask questions about writing an effective cover letter. One of the common questions I hear is "How long is a cover letter?" There's an abundance of outdated advice and obsolete cover letter samples on the internet, which makes it even more difficult to get the help you need.
In today's article, I'm discussing:
The right length for a cover letter.
If a long cover letter is bad.
Short, e-note-style cover letters.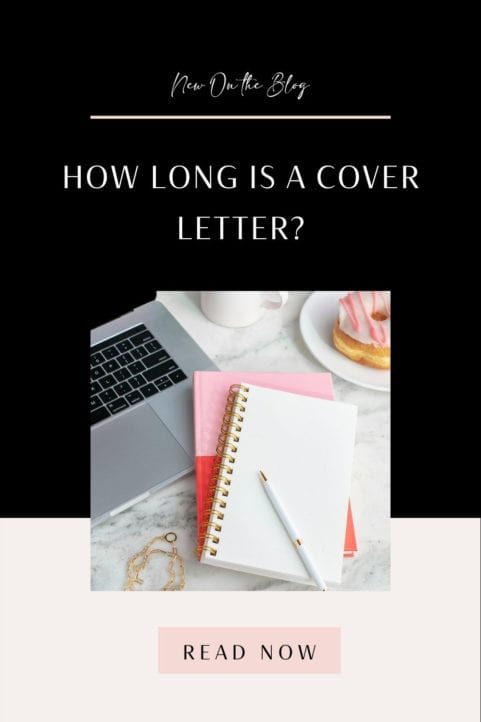 What's the Right Length for a Cover Letter?
If you do a Google search for cover letter examples, you're likely to find an endless compilation of full-page letters, with some even longer. In fact, when I searched I found the majority of examples of the first page of Google were 5+ paragraphs long and they all sounded very similar.
There's a big difference between a cover letter that's tailored to the role, speaks about values alignment, and shares accomplishments that hit on major pain points and one that is general and used to apply for every job opening.
The shorter you can be, the better—but don't give up substance for brevity. There's mounting evidence that shorter e-note style cover letters (much like you'd write in the body of an email) are more effective at garnering hiring manager attention over the longer, traditional style of cover letter.
I'll dive more into e-note specifics later in the article, but as for the question of what's the right length for a cover letter? I recommend aiming for 3-6 paragraphs, with four being the average. Or, three paragraphs and a middle section with bullets that focus on accomplishments and how you can meet the pain points of the employer.
If you struggle with writing cover letters or aren't sure how to write an effective cover letter then I encourage you to keep it short. It's better to use a shorter cover letter that quickly makes a point then to repeat generic and overused phrases from cover letter templates found all over the internet just to make it longer.
Is a Long Cover Letter Bad?
So, if shorter is better when it comes to cover letters, does that mean that a long cover letter is bad? Not necessarily.
There are certain situations where a long cover letter is fitting.
For instance, some employers or job postings may ask you to address and answer certain questions in your cover letter. In that case, you're writing to follow their direction and provide the information they've requested.
If you're making a pivot or complete career change and want to explain that in your cover letter, it may take more than three paragraphs.
If you are customizing your resume to show values alignment, and share accomplishments that hit on major pain points, then longer is OK. You're probably breaking it up with bullet points to show the accomplishments. (And if you're not, I recommend using bullets if you're including accomplishments in your cover letter).
Also, there are academic, research, medical, and other positions that do require formal, traditional-style cover letters. It's best to know what's required and to follow the directions.
If there are no specifications or requirements, then opt for a shorter cover letter.
Short, E-note-Style Cover Letters
Researchers at the University of Michigan studied impression management and its effects on resumes and cover letters.
They found that "expressing values similar to those of the hiring institution or organization is likely to increase perceptions of person-organization fit." These values were expressed in the candidate's cover letter.
The research study concluded that when job seekers spoke about an alignment of values in their cover letter, it made a good impression, increased likeability, and candidates got more interviews.
𝗘𝗺𝗽𝗹𝗼𝘆𝗲𝗿𝘀 𝘄𝗮𝗻𝘁 𝘆𝗼𝘂 𝘁𝗼 𝘀𝗮𝘆 𝘁𝗵𝗮𝘁 𝘆𝗼𝘂'll 𝗳𝗶𝘁 their culture 𝗮𝗻𝗱 𝘄𝗵𝘆 𝘆𝗼𝘂'𝗹𝗹 𝗳𝗶𝘁.
This means you can't create a generic cover letter and then reuse it for every posting. You'll need to tailor it for the opening if you want interviews.
This is much easier to do when you're writing a brief, e-note-style cover letter as opposed to a full-page traditional cover letter.
One example of the parts of an e-note looks like this:
Introduction (state if you were referred and by whom, or introduce yourself and what you do).
In the second paragraph, touch on a relevant accomplishment that hits on a pain point the employer has and discuss how your values align with the company's.
Close out the cover letter by asking for an interview.
Want more cover letter help? Download my newest guide How NOT to Start Your Cover Letter (Plus 7 Examples of What to Say Instead).
Jessica Hernandez, President, CEO & Founder of Great Resumes Fast
Hi, I'm Jessica. I started this company back in 2008 after more than a decade directing hiring practices at Fortune 500 companies.
What started as a side hustle (before that was even a word!) helping friends of friends with their resumes has now grown into a company that serves hundreds of happy clients a year. But the personal touch? I've kept that.
You might have seen me featured as a resume expert in publications like Forbes, Fast Company, and Fortune. And in 2020, I was honored to be named as a LinkedIn Top Voice of the year!
I'm so glad you're here, and I can't wait to help you find your next perfect-fit position!
Will your resume impress employers? Take this 2-minute quiz to find out.
Get your personalized plan for a resume that stands out and lands you your dream job!
Need a little help getting hiring managers to take notice? Find out what's standing between you and those magic words "You're exactly who we've been looking for!"